Research article

Open Access
Analysis of growth-phase regulated genes in Streptococcus agalactiaeby global transcript profiling
Received: 09 May 2008
Accepted: 10 February 2009
Published: 10 February 2009
Abstract
Background
Bacteria employ multiple mechanisms to control gene expression and react to their constantly changing environment. Bacterial growth in rich laboratory medium is a dynamic process in which bacteria utilize nutrients from simple to complex and change physical properties of the medium, as pH, during the process. To determine which genes are differentially expressed throughout growth from mid log to stationary phase, we performed global transcript analysis.
Results
The S. agalactiae transcriptome is dynamic in response to growth conditions. Several genes and regulons involved in virulence factor production and utilization of alternate carbon sources were differentially expressed throughout growth.
Conclusion
These data provide new information about the magnitude of plasticity of the S. agalactiae transcriptome and its adaptive response to changing environmental conditions. The resulting information will greatly assist investigators studying S. agalactiae physiology and pathogenesis.
Keywords
Alternative Sigma Factor
Biotin Carboxylase
Ornithine Carbamoyltransferase
Arginine Catabolism
Carbamate Kinase
Background
Bacteria employ multiple mechanisms to control gene expression and react to their constantly changing environment. These processes are especially critical for bacterial pathogens to survive and cause disease in humans and other hosts. Global control of gene expression is achieved using alternative sigma factors, two-component systems (TCSs), small regulatory RNAs, regulators such as RelA and LuxS, or concerted action of regulons (for a review see [1–6] and references therein). Gram positive pathogens such as group A Streptococcus (S. pyogenes, GAS) and group B Streptococcus (S. agalactiae, GBS) lack (or have limited number) of alternative sigma factors of fully confirmed function [7–9]. Analyses of global transcription in GAS under various growth conditions including saliva, blood, and tissue has shown that environmental response regulation is achieved using other mechanisms such RNA stability [10], "stand alone" regulators such as mga [11], or TCSs [12–15]. These transcriptome analyses have been especially useful in providing new information about microbial physiology and leads for pathogenesis research. However, the transcriptional response of GBS to changing growth conditions has not been fully analyzed, only single reports were recently published [16]. GBS is an important human and cow pathogen, responsible for thousands of severe invasive infections in man and large economic loss attributable to bovine mastitis (see [17, 18] and references therein).
One of the best examples of sequential gene regulation is bacterial growth in complex medium and activation of stationary phase genes. During growth, bacteria utilize available nutrients, presumably from simple to more complex, and alter their environment (e.g. decrease or increase in pH) as a result of metabolic byproduct release. Therefore, stationary phase can be considered the acid/alkali stress, depending on the type of metabolism and nutrients utilized. GAS grown to stationary phase sequentially expresses genes involved in various aspects of GAS physiology, metabolism and virulence, many genes activated or repressed during the transition to stationary phase have also been shown to play a role in GAS virulence [19]. The purpose of the present study was to identify growth phase-regulated genes in GBS, with a special interest in providing new information about virulence factor gene expression.
Methods
Sample collection for microarray analysis
GBS strain NEM316 [
7
] was grown as three static cultures (3 biological replicates) in liquid Todd Hewitt medium with 0.5% yeast extract in the 5% CO
2
atmosphere at 37°C [
12
]. Samples were collected at OD
600
approximately 0.5, 1.0, 2.0 and 2.5, representing mid-logarithmic (ML), late-logarithmic (LL), early stationary (ES) and stationary (S, about 3 h from entering the phase) growth phases, respectively. Growth curve of bacterial cultures used for data collection is presented as Figure
1
. Five ml of each sample were immediately mixed after collection with 10 ml of RNAProtect (Qiagen), centrifuged and stored at -80°C until processing.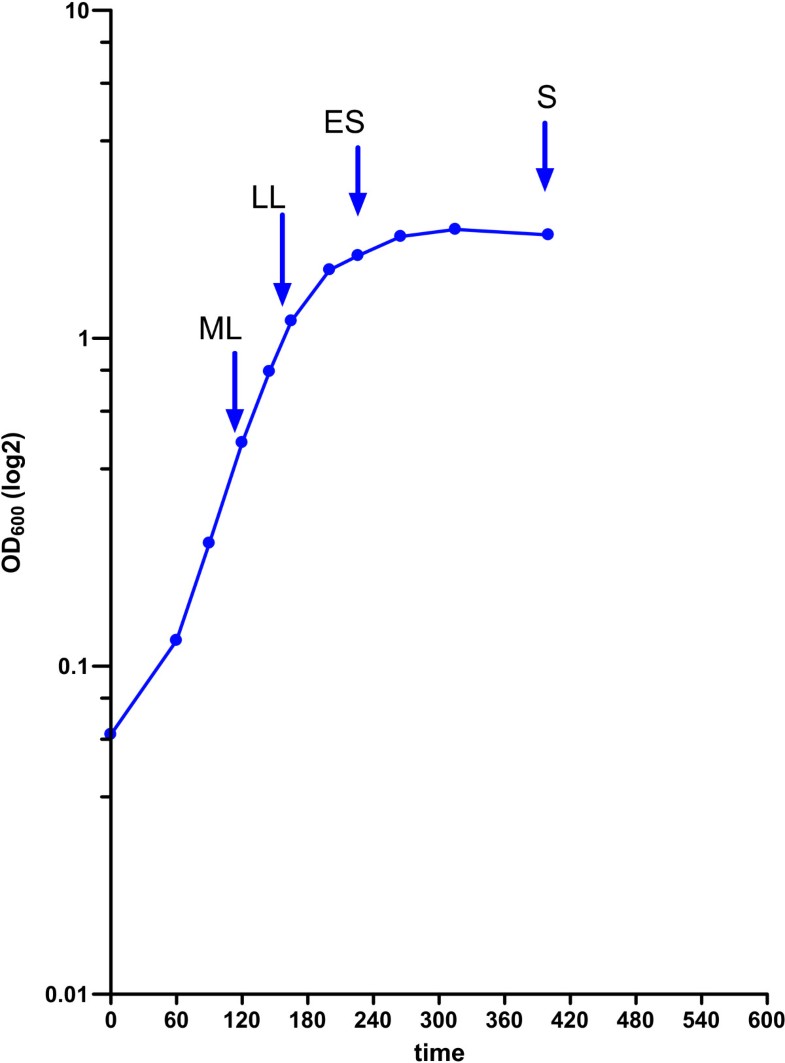 Glucose content of the medium at the beginning and end of the culture was measured using Optium Xido glucometer (Abbot) and pH was checked using pH test strips (Macherey Nagel).
RNA isolation
GBS cells were mechanically opened by shaking with glass beads (Lysing Matrix B, MPBio) and TRIZOL (Invitrogen). RNA was isolated according to Chomczynski and Sacchi [20], with an additional purification step using RNeasy columns (Qiagen). Targets for hybridization with the array were prepared according to array manufacturer (Affymetrix) as described previously [12].
Array hybridization and data acquisition
The custom expression array manufactured by Affymetrix [21] contained redundant sets of probes representing 1,994 open reading frames (ORFs) of previously sequenced GBS strain NEM316 [7]. Arrays were hybridized and scanned according to the manufacturers instructions. The results of hybridization were normalized to mean of total intensity of GBS probes to allow multiple time point comparison. Array hybridization results are presented as Additional file 1 and are deposited in GEO database http://0-www.ncbi.nlm.nih.gov.brum.beds.ac.uk/projects/geo/ under GSE12238 accession number.
Conclusion
Our results demonstrate that GBS gene transcript levels are highly dynamic throughout the growth cycle in vitro, likely reflecting exposure to an environment that is altering significantly during growth. The organism activates genes involved in metabolism of nutrients and carbon sources other than glucose such as complex carbohydrates and arginine and protect against changing pH. GBS slows down cell division and decreases transcription and translation. Production of virulence factors involved in establishment of the infection is reduced during growth. The global changes of transcript profiles we identified in GBS grown in rich medium are similar to patterns exhibited by GAS. Our results provide new information useful for the study of pathogen-host interactions and gene regulation in pathogenic bacteria.
Declarations
Acknowledgements
Authors would like to thank Kathryn Stockbauer for critical reading of the manuscript.
Authors' Affiliations
(1)
Center for Molecular and Translational Human Infectious Diseases Research, The Methodist Hospital Research Institute, Houston, Texas, USA
(2)
Department of Pathology, The Methodist Hospital, Houston, Texas, USA
(3)
Dept. of Epidemiology and Clinical Microbiology, National Medicines Institute, Warsaw, Poland
Copyright
© Sitkiewicz and Musser; licensee BioMed Central Ltd. 2009
This article is published under license to BioMed Central Ltd. This is an Open Access article distributed under the terms of the Creative Commons Attribution License (http://creativecommons.org/licenses/by/2.0), which permits unrestricted use, distribution, and reproduction in any medium, provided the original work is properly cited.