Research article

Open Access
Metabolic fluxes in the central carbon metabolism of Dinoroseobacter shibae and Phaeobacter gallaeciensis, two members of the marine Roseobacter clade
BMC Microbiology
2009
9:209
Received: 30 March 2009
Accepted: 29 September 2009
Published: 29 September 2009
Abstract
Background
In the present work the central carbon metabolism of Dinoroseobacter shibae and Phaeobacter gallaeciensis was studied at the level of metabolic fluxes. These two strains belong to the marine Roseobacter clade, a dominant bacterial group in various marine habitats, and represent surface-associated, biofilm-forming growth (P. gallaeciensis) and symbiotic growth with eukaryotic algae (D. shibae). Based on information from recently sequenced genomes, a rich repertoire of pathways has been identified in the carbon core metabolism of these organisms, but little is known about the actual contribution of the various reactions in vivo.
Results
Using 13C labelling techniques in specifically designed experiments, it could be shown that glucose-grown cells of D. shibae catabolise the carbon source exclusively via the Entner-Doudoroff pathway, whereas alternative routes of glycolysis and the pentose phosphate pathway are obviously utilised for anabolic purposes only. Enzyme assays confirmed this flux pattern and link the lack of glycolytic flux to the absence of phosphofructokinase activity. The previously suggested formation of phosphoenolpyruvate from pyruvate during mixotrophic CO2 assimilation was found to be inactive under the conditions studied. Moreover, it could be shown that pyruvate carboxylase is involved in CO2 assimilation and that the cyclic respiratory mode of the TCA cycle is utilised. Interestingly, the use of intracellular pathways was highly similar for P. gallaeciensis.
Conclusion
The present study reveals the first insight into pathway utilisation within the Roseobacter group. Fluxes through major intracellular pathways of the central carbon metabolism, which are closely linked to the various important traits found for the Roseobacter clade, could be determined. The close similarity of fluxes between the two physiologically rather different species might provide the first indication of more general key properties among members of the Roseobacter clade which may explain their enormous success in the marine realm.
Keywords
Pentose Phosphate Pathway
Pyruvate Carboxylase
Central Carbon Metabolism
Crude Cell Extract
Roseobacter Clade
Background
The
Roseobacter
lineage, representing a group of
Alphaproteobacteria
[
1
], is found in various marine habitats where it is present in high abundance, comprising up to 25% of the total bacterial community [
2
]. Overall, the diverse metabolic properties of the
Roseobacter
clade and its ubiquitous occurrence in marine ecosystems suggest that members of this clade play an important role in global biogeochemical processes such as cycling of carbon or sulphur [
3
]. Members of the
Roseobacter
clade participate in DMSP demethylation [
4
], the oxidation of carbon monoxide [
5
] and degradation of aromatic compounds [
6
,
7
]. Typically, they use external organic substrates as carbon sources [
8
]. Of outstanding interest is the fact that they are able to generate energy from light (aerobic anoxygenic phototrophy) [
9
] and thus contribute significantly to phototrophic energy generation [
10
,
11
]. All these important traits are linked to the core part of central carbon metabolism involved in the breakdown of nutrients and the supply of metabolites and energy for various cellular requirements. Recent efforts in genome sequencing and annotation of
Roseobacter
members have provided a first insight into the repertoire of underlying metabolic reactions available (Figure
1
) and have led to different suggestions for possible pathways that might be involved in important physiological functions [
12
]. As an example, a mixotrophic CO
2
assimilation pathway has been proposed for
R. denitrificans
, in which CO
2
is fixed either (i) via the combined action of pyruvate-orthophosphate dikinase and phosphoenolpyruvate carboxylase or (ii) via pyruvate carboxylase [
13
]. For glucose catabolism, up to three alternative routes are encoded in the genome: glycolysis, the pentose phosphate pathway and the Entner-Doudoroff pathway. At this point, it seems highly relevant to study the contribution of these potential pathways to the metabolism of bacteria in the
Roseobacter
clade to improve our understanding of their physiology. Our current knowledge of the
in vivo
fluxes through intracellular pathways among the
Roseobacter
lineage is still very limited.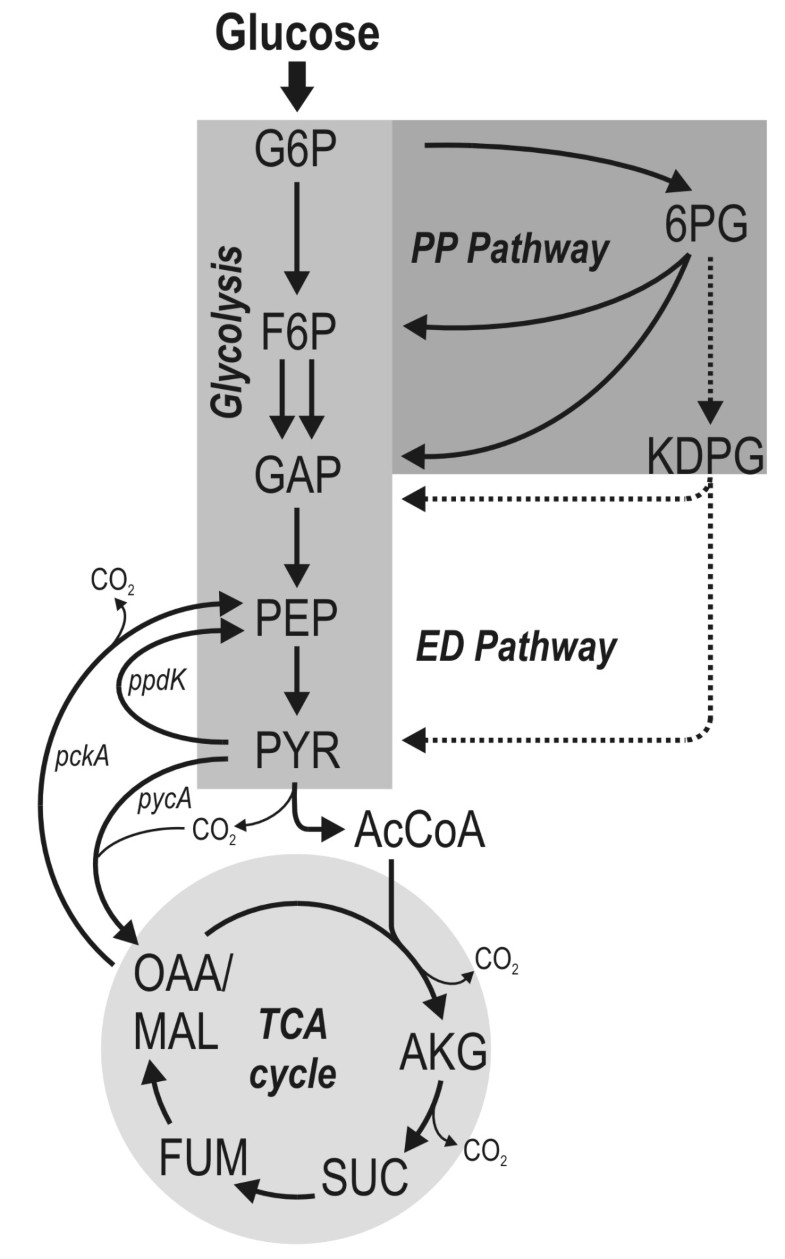 To address this issue, we applied metabolic flux analysis using 13C labelled isotopes to gain a first insight into the central catabolic pathways of Dinoroseobacter shibae DFL12 [1] and Phaeobacter gallaeciensis DSM 17395 [14]. These species represent two prominent members of the Roseobacter clade. P. gallaeciensis has received strong interest due to its ability to produce the antibiotic tropodithietic acid. D. shibae was isolated as a novel species from marine dinoflagellates and lives in a symbiotic relationship with eukaryotic algae [15]. Metabolic flux analysis using 13C labelled isotopes has proven a key technology in the unravelling of metabolic pathways and has recently been used to study different microorganisms mainly linked to biotechnological production processes [16–19]. No such study has yet been performed for members of the Roseobacter clade.
Conclusion
Being one of the first metabolic studies of members of the Roseobacter clade using the 13C labelling experimental approach, a deeper insight into the activity of the important metabolic routes of D. shibae and P. gallaeciensis was achieved. Interestingly, the use of intracellular pathways is highly similar in the studied species D. shibae and P. gallaeciensis. This stands in surprising contrast to the overall differences in phenotypic behaviour exhibited by these two strains, since D. shibae is an algal-associated microorganism whereas P. gallaeciensis is free-living in marine habitats. However, this may be a first indication of more general key properties among members of the Roseobacter clade that explain their enormous success in the marine realm.
Abbreviations
[1-13C] glucose:

Glucose labelled at C1-position
3PG:

3-phosphoglycerate
6PG:

6-phosphogluconate
AcCoA:

Acetyl-Coenzyme A
Ala:

Alanine
CLE:

labelling experiment
EDA:

2-keto-3-deoxy-6-phosphogluconate aldolase
EDD:

6-phosphogluconate dehydrogenase
EDP:

Entner-Doudoroff pathway
EMP:

Embden-Meyerhof-Parnas
F6P:

Fructose-6-phosphate
FUM:

Fumarate
G6P:

Glucose 6-phosphate
GAP:

Glyceraldehyde 3-phosphate
GC/MS:

Gas chromatography/mass spectrometry
KDPG:

2-keto-3-deoxy-6-phosphogluconate
MAL:

Malate
MDV:

Mass distribution vector
OAA:

Oxaloacetate
OD:

Optical density
OGA:

2-oxoglutarate
PEP:

Phosphoenolpyruvate
PEPCk:

pckA: Phosphoenolpyruvate carboxykinase
PFK:

6-phosphofructokinase
Phe:

Phenylalanine
PPP:

Pentose phosphate pathway
PPDK:

ppdK Pyruvate orthophosphate dikinase
PYR:

Pyruvate
PYRCx:

pycA: Pyruvate carboxylase
R5P:

Ribose 5-phosphate
Ser:

Serine
SUC:

Succinate
TCA:

Tricarboxylic acid
Tyr:

Tyrosine
Declarations
Acknowledgements
JT and IWD gratefully acknowledge the support of the Volkswagen Foundation under the grant VW-Vorab (ZN 2182, "Comparative functional genome analysis of representative members of the Roseobacter Clade"). We are grateful to Renate Gahl-Janssen (Oldenburg) for technical assistance. HZ and RR acknowledge support from of the Volkswagen Foundation under the grant VW-Vorab (ZN2235, "Comparative functional genome analysis of representative members of the Roseobacter clade") and the Marine Microbiology Initiative of the Moore Foundation (USA).
Authors' Affiliations
(1)
Institute of Biochemical Engineering, Braunschweig, Germany
(2)
Helmholtz Centre for Infection Research, Research Group Microbial Communication, Germany
(3)
Institute for Chemistry and Biology of the Marine Environment (ICBM), University of Oldenburg, Oldenburg, Germany
Copyright
© Fürch et al; licensee BioMed Central Ltd. 2009
This article is published under license to BioMed Central Ltd. This is an Open Access article distributed under the terms of the Creative Commons Attribution License (http://creativecommons.org/licenses/by/2.0), which permits unrestricted use, distribution, and reproduction in any medium, provided the original work is properly cited.