Research article

Open Access
The murine lung microbiome in relation to the intestinal and vaginal bacterial communities
BMC Microbiology
2013
13:303
Received: 18 July 2013
Accepted: 23 December 2013
Published: 28 December 2013
Abstract
Background
This work provides the first description of the bacterial population of the lung microbiota in mice. The aim of this study was to examine the lung microbiome in mice, the most used animal model for inflammatory lung diseases such as COPD, cystic fibrosis and asthma.
Bacterial communities from broncho-alveolar lavage fluids and lung tissue were compared to samples taken from fecal matter (caecum) and vaginal lavage fluid from female BALB/cJ mice.
Results
Using a customized 16S rRNA sequencing protocol amplifying the V3-V4 region our study shows that the mice have a lung microbiome that cluster separately from mouse intestinal microbiome (caecum). The mouse lung microbiome is dominated by Proteobacteria, Firmicutes, Actinobacteria, Bacteroidetes and Cyanobacteria overlapping the vaginal microbiome. We also show that removal of host tissue or cells from lung fluid during the DNA extraction step has an impact on the resulting bacterial community profile. Sample preparation needs to be considered when choosing an extraction method and interpreting data.
Conclusions
We have consistently amplified bacterial DNA from mouse lungs that is distinct from the intestinal microbiome in these mice. The gut microbiome has been extensively studied for its links to development of disease. Here we suggest that also the lung microbiome could be important in relation to inflammatory lung diseases. Further research is needed to understand the contribution of the lung microbiome and the gut-lung axis to the development of lung diseases such as COPD and asthma.
Keywords
Operational Taxonomic Unit
Lung Sample
Lung Tissue Sample
Vaginal Microbiota
Inflammatory Lung Disease
Background
Studies of the lung microbiome by culture independent techniques and its impact on lung immunity is a relatively new field and may contribute to new advances in understanding respiratory diseases [1]. Healthy human lungs have up until recently been considered to be sterile by culture-based techniques, but now new evidence have identified microbial communities both in healthy humans and in those with disease [2–4]. The human microbiome project [5] did not originally include the lungs, but recently the Lung HIV Microbiome Project has published the first results in this field [6, 7]. Investigations into lung microbiology and lung immunity in humans is limited largely because of technical, ethical considerations and small samples sizes, whereas the use of animal models can provide novel information useful in investigations into the importance of lung microbiome in the development of lung immunology. Effective utilization and development of animal models have recently been identified as one of the most important challenges in future lung microbiome research by the NIH [8]. Whereas many studies have focused on the gut microbiome and its impact on among others lung immunity and asthma, little work has been performed to examine the contribution of the lung microbiome on the pathogenesis of pulmonary diseases. Especially in inflammatory lung diseases such as asthma and COPD, the local microbiome may play an important role in the pathogenesis. The technical challenges related to the novel culture-dependent techniques include consistent extraction of useful DNA, the development of PCR methods and sampling methods for the less abundant bacterial load of the lungs.
We hypothesized that the problems with getting bacterial DNA from lungs was due to the presence of host DNA in the extractions. In this study, we have investigated the bacterial community from lungs of 20 mice using rDNA amplicon 454 pyrosequencing. We also performed a conventional cultivation study of 10 mouse bronchoalveolar lavage (BAL) fluids on different agar plates. Sampling methods and DNA extraction protocols were investigated systematically: one BAL sample still containing mouse cells (BAL-plus) and one BAL sample, where the mouse cells were removed (BAL-minus) by cytospin. The bacterial communities in BAL samples were compared using DNA extractions from washed lung tissue, caecum samples and vaginal flushing. We chose to include vaginal samples for two major reasons. The vaginal microbiome of BALB/c has not previously been described and could have influence on microbial "priming" and transfer from mother to pup. In this study, it also serves a reference sample from a different mucoid epithelium than lung. The bacteria were classified by their sequence into Operational Taxonomic Units (OTU). An OTU is an approximation to taxonomy derived from classical cultivation techniques.
We demonstrate the use of this methodology and describe an uncultivable lung and vaginal microbiome in mice that are diverse and distinct from caecal microbiome. Our results provide a basis for further studies into the lung microbiome in culture negative BAL fluids in mouse models of inflammatory lung diseases suggested by descriptive human studies.
Results
To determine the airway bacterial microbiota of the BALB/cJ mouse model based on 16S rDNA gene sequencing, we have compared sequences found in the lungs with three different approaches, to sequences found in corresponding vaginal and caecal samples.
Over all sequence quality and results from all sample types
We generated a total of 908256 sequences. After quality filtering and chimera check, 27% of sequences were removed and 660319 sequences were further processed for OTU picking (sequences ranged between 3530 up to 31638 per animal sample). The de novo OTU clustering revealed 6487 OTUs. The OTU table was randomly subsampled to avoid differences based on sequencing effort leaving 3318 OTUs for further analysis (Rarefaction curve are shown in Additional file 1: Figure S5).
We found a total of 19 bacterial phyla in the samples analysed. The most dominant (>0.5% abundance) phyla observed were
Acidobacteria, Actinobacteria, Bacteroidetes, Firmicutes, Proteobacteria
and
TM7.
The difference in bacterial composition at the phylum level between sampling sites is shown in Figure
1
A.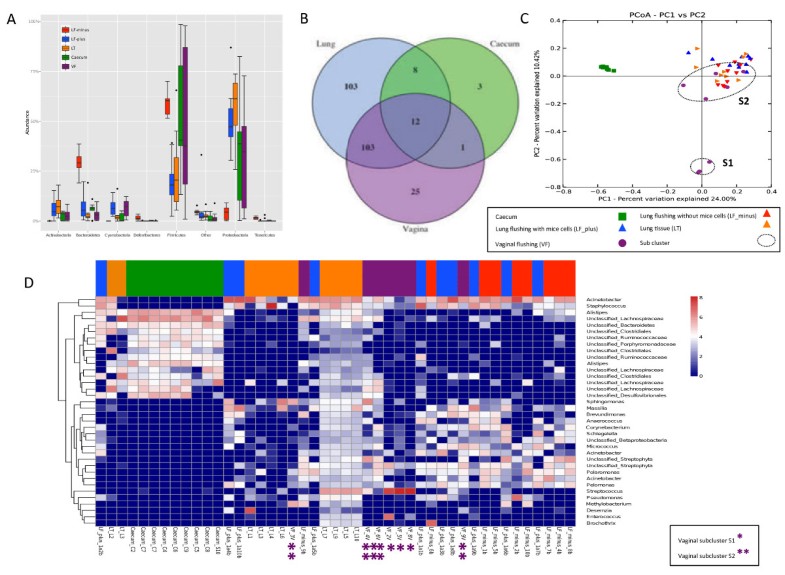 In Additional file 2: Table S2 we have listed all the bacteria that were found, which were unique for the lung samples and which were shared between sampling sites.
The bacterial sequences of the lung samples
If we only look at the lung samples, the most dominant lung phyla found were Proteobacteria, Firmicutes, Actinobacteria, Bacteroidetes and Cyanobacteria. Additionally we observed Fusobacteria and Cyanobacteria in the lung and vaginal samples.
In order to highlight phyla variations in the lung community compared to vaginal and caecal communities, we first we took the three lung sample types: bronchoalveolar lavage fluids (BAL-plus), and BAL-minus, where the mouse cells have been removed by a spin protocol and finally lung tissue from the distal tip of the lung and considered them as one ecological community. In this lung community profile, Actinobacteria, and Proteobacteria were clearly more abundant than in the caecum community (KW, p < 0.0001).
Then, looking at the differences between the three lung sample types, Firmicutes appeared (KW, p < 0.05) more abundant in lung tissue (57%) than in BAL samples (20%). The SR1 bacteria were found only in BAL-minus and Lung tissue samples, but Tenericutes was observed in all samples, except in the vaginal samples. Other phyla observed below 0.5% abundance were Chloroflexi, Deinococcus-Thermus, Fibrobacteres, Gemmatimonadetes, OD1, OP10, Planctomycetes, Verrucomicrobia, and WS3.
Comparing lung sampling methods we also found a significant variation for Actinobacteria and Cyanobacteria, which were largely abundant in both type of BAL communities relative to the lung tissue samples (KW, p < 0.05). At phylum level, the composition of the lung tissue samples appeared to be very similar to the vaginal samples except for a larger abundance of Cyanobacteria in vaginal samples (KW, p < 0.05).
Bacterial sequences of the caecum
Looking at the caecum samples, they contained more Firmicutes and Bacteroidetes KW, p < 0.0001) than the lung samples and Acidobacteria and Cyanobacteria were absent. The phylum Bacteroidetes (29%) appeared to be the second most abundant after the Firmicutes (59%). The vaginal and the caecal communities only had Ruminococcus in common, a genus that was not observed in the lung microbiota. Three genera were found in caecal samples alone; Robinsoniella, Parasutterella and Ramlibacter. The low numbers of genera detected in the caecal samples is due to the depth of taxonomic information obtained for these particular OTU sequences towards the consensus lineage of the database.
Overlapping genera
For an overview comparison between the different sample types, we have merged the results found in the different lung communities and displayed the overlapping generawit hcaecum and vagina in a venn diagram. This diagram reflects 255 identified genera (summarized in Additional file 3: Table S4), that covers 76% of the sequences from BAL-plus, 68% from BAL-minus, 66% of vaginal and lung tissue community and 27% of sequences assigned to the caecum community (Figure 1B).
Lung samples, vaginal and caecum samples shared the 12 core genera Bacteroides, Barnesiella, Odoribacter, Alistipes, Mucispirillum, Lactobacillus, Streptococcus, Peptoniphilus, Roseburia, Anaerotruncus, Oscillibacter, Pseudomonas. We observed Parabacteroides, Eubacterium, Marvinbryantia, Butyricicoccus, Papillibacter, Bosea, Anaeroplasma, lung and caecum. The pulmonic and vaginal community shared 103 genera (Additional file 3: Table S4). Additionally Akkermansia was also found in the lung but only in one caecum sample in the raw data set.
Variability in community composition between samples obtained from the same sampling site (Beta_diversity)
To make a sample to sample comparison and illustrate the variation between our mice we have performed a principle coordinate analysis (PCoA) based on the Bray-Curtis dissimilarity between OTU count metric PCoA plot (Figure 1C), which explains the largest variance between all samples (Additional PCoA 2 and 3 are found in Additional file 4: Figure S4).
The caecal samples cluster together at a significant distance from lung and vaginal communities, confirmed by the analysis of similarity, anosim (R = 0.673, p = 0.001)
The dissimilarity between the three lung communities was found to be little due to strong cluster overlap (anosim, R = 0.09, p = 0.05) when comparing only the lung distances.
We found large variation within the vaginal samples resulting in a division into subcluster 1 (S1), containing animal vaginal sample 8, 5 and 2, and subcluster 2 (S2), vaginal sample 3,4,6,9 and 10 (anosim, R = 0.72, p = 0.001). The separation is clearly shown in PCoA1 (Figure 1C) and PCoA3 (Additional file 4: Figure S4). Those samples that grouped into S1 were found to be less similar to caecum and lung communities, whereas samples grouping into S2 appeared more closely related to the lung microbiota.
A more detailed description of the taxa responsible for distinguishing bacterial communities in the lung, caecum and vagina is demonstrated using a heatmap dendrogram (Figure 1D).
We removed from the subsampled OTU table all observations accounting for less than 0.5% of the generated sequences to visualize the taxa with main impact on the community profile. This method provides maximal taxonomic resolution of each individual animal sample and directly reflects the PCoA plots since both analyses are based on OTU count dissimilarities.
For the caecum samples, 27% could be assigned to a taxonomic genus as mentioned before and the sequences belonged to Alistipes (16%) Anaeroplasma (1.5%) and a 22 genera listed in Additional file 3: Table S4. We observed a better taxonomic resolution on the family level, were 77% of the reads were successful assigned. The three major families in the caecum were Lachnospiraceae (33.8%), Ruminococcaceae (15.3%) and Porphyromonadaceae (7.9%).
Vaginal samples within S1 contained between 56-97% of Streptococcus, while vaginal samples within S2 only had 0.2 – 10% of the gram-positive bacterium, explaining why here appears to be such a distinction between the S1 and S2 groups. In addition to Streptococcus, notable contributions from Acinetobacter (6.2%), Sphinogmonas (3.3%), Enterococcus (3.1%), and Polaromonas (1.8%) were also observed in the vaginal community.
All lung samples had representative sequences from genera including Staphylococcus (8.3%) Massilia (2.6%), Corynebacterium (2.2%), Pseudomonas (2.53%), Streptococcus (2.3%) and Sphingomonas (1.7%) without significant variation (KW, p > 0.05).
Even though the beta diversity measure indicated that there were minimal differences between the lung communities sampled using different methods, six major genera varied significantly (KW, p < 0.05). Acinetobacter, Pelomonas, and Schlegella were more abundant in the BAL-plus samples in comparison to the BAL-minus or the lung tissue samples. Arcobacter, and Polaromonas were highly associated with BAL-minus, whereas Brochothrix was only found in the lung tissue samples.
Richness and diversity of sample type (Alpha diversity)
To compare the OTU diversity between sample approaches and sampling sites, we have calculated the alpha diversity index. There were two key points we were interested in. First, we wanted to know if the alpha diversity of the BAL samples was higher or lower than the diversity of the lung tissue samples. A larger or comparable alpha – diversity index would indicate that the BAL samples communities provide a representative snapshot picture of the microbial composition of the lung. However a lower alpha-diversity of the BAL samples would make functional assumption based on the BAL sampling difficult since a significant amount of taxa will not be described. Secondly, we expected that host cell removal from the BAL-minus material would reduce the diversity index because some bacteria could be stronger attached to the pulmonic cell surface than others and could be removed from the sample by centrifugation.
The bacterial community of the BAL-minus were in 50% of the cases (indicated by the median) richer than the BAL-plus (Figure
2
A). We found this difference to be significant (W, p < 0.05).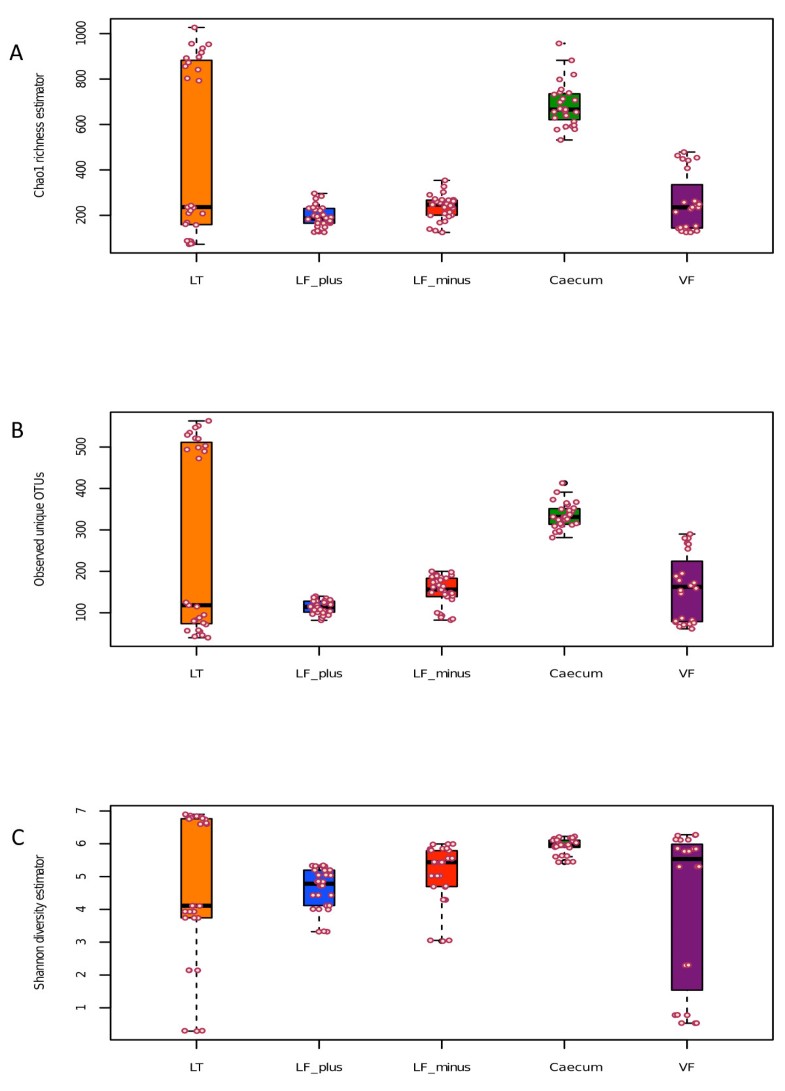 There was no significant variation between the BAL-minus and lung tissue samples. The mouse caecum community is generally richer than all other tested communities, except of the upper quartile of the tissue samples. The vaginal microbiota appeared to be as rich as the lung tissue community.
In more than half of the BAL-minus samples, more unique OTUs were observed than in the lung tissue material (Figure 2B). The BAL-plus samples contained significantly less OTUs than the BAL-minus samples (W, p < 0.001). The variation of Chao1 and observed OTUs comparing all pulmonic samples were significant (KW, p < 0.01)
We observed the highest number of unique OTUs in the caecum samples, compared to vaginal and lung tissue microbiota (W, p > 0.05).
A slightly different picture was observed for the diversity index (Figure 2C). In most cases the alpha diversity of BAL-minus samples appeared to be larger than the BAL-plus and lung tissue samples. However, the variation of diversity between all pulmonic samples was not significant (KW, p > 0.05). The Shannon index varied significantly when comparing both BAL-plus and BAL-minus communities only (W, p < 0.05) and reflect the observation of Chao1 and unique OTU sequences.
In summary, the mouse cell-free BAL samples yielded a richer microbial community, had a larger alpha-diversity and contained more unique OTU in comparison to the samples with mouse cells. In addition, at least 50% of the alpha-diversity observations the BAL-minus show larger diversity indexes than the lung tissue samples. The upper quartile of the lung tissue samples varied largely for all three diversity indicators approaching larger diversity (Shannon), richness (Chao1) and observed OTUs as found for the caecum samples. This could be the result of non-proper flushing or contamination during the experimental process. However, the low diversity, richness and fewer OTUs in the lung tissue samples correspond to higher diversity, richness and more OTUs in the matching BAL samples. There is also a large overlap in beta-diversity based on OTU abundance of lung tissue samples with the BAL samples, suggesting that, a biased flushing is more likely to be the reason, than contamination.
Bacteria found via traditional culturing of BAL
To establish any possibly cultivable part of the lung microbiota and possible viable contaminations, we performed a conventional cultivation study of BAL fluids from 10 additional mice. Of the 40 different agar plates under various conditions with 200 μL BAL per plate from each of the 10 mice, we only found a few bacterial colonies on 5 plates originating from only 4 different mice. These bacteria colonies were all identified to be Micrococcus luteus with 99% probability by the Vitek2 system (Bio Mérieux, France).
Conclusions
BALB/cj mice were shown to have a lung microbiome that was distinct from their caecal but overlapping with their vaginal bacterial community. We have consistently amplified bacterial DNA from mouse BAL fluid and have shown that host DNA present in the DNA extraction step influences the community profiles obtained and that this needs to be taken into account when choosing methods, performing the analyses and prior to biological interpretation. Mouse models provide the means to obtain mechanistic insights into the lung microbiome. We believe that the lung microbiota should be considered when working with these mouse models of human disease and further research is needed to reveal the contribution of the lung microbiota to the pathogenesis of diseases such as respiratory disease common in infants (i.e. RSV), cystic fibrosis, COPD and asthma.
Availability of supporting data
All supporting data are included as additional files and all sequences used in this study are available in the NCBI Sequence Read Archive under study accession number SRP033710 (http://0-www.ncbi.nlm.nih.gov.brum.beds.ac.uk/sra).
Declarations
Acknowledgements
The Danish National Advanced Technology Foundation, Lundbæk Foundation, Lars Andrup, Michael Guldbrandsen, Sofia Forssten, Al-Soud Waleed, Shannon Russell and Karin Vestberg.
Authors' Affiliations
(1)
Statens Serum Institut, Denmark
(2)
National Research Centre for the Working Environment, Copenhagen O, Denmark
(3)
Department of Biology, Microbiology, University of Copenhagen, Copenhagen O, Denmark
Copyright
© Barfod et al.; licensee BioMed Central Ltd. 2013
This article is published under license to BioMed Central Ltd. This is an open access article distributed under the terms of the Creative Commons Attribution License (http://creativecommons.org/licenses/by/2.0), which permits unrestricted use, distribution, and reproduction in any medium, provided the original work is properly cited.