Research article

Open Access
Ciprofloxacin triggered glutamate production by Corynebacterium glutamicum
BMC Microbiology
BMC series – open, inclusive and trusted
2016
16:235
Received: 19 May 2016
Accepted: 1 October 2016
Published: 7 October 2016
Abstract
Background
Corynebacterium glutamicum is a well-studied bacterium which naturally overproduces glutamate when induced by an elicitor. Glutamate production is accompanied by decreased 2-oxoglutatate dehydrogenase activity. Elicitors of glutamate production by C. glutamicum analyzed to molecular detail target the cell envelope.
Results
Ciprofloxacin, an inhibitor of bacterial DNA gyrase and topoisomerase IV, was shown to inhibit growth of C. glutamicum wild type with concomitant excretion of glutamate. Enzyme assays showed that 2-oxoglutarate dehydrogenase activity was decreased due to ciprofloxacin addition. Transcriptome analysis revealed that this inhibitor of DNA gyrase increased RNA levels of genes involved in DNA synthesis, repair and modification. Glutamate production triggered by ciprofloxacin led to glutamate titers of up to 37 ± 1 mM and a substrate specific glutamate yield of 0.13 g/g. Even in the absence of the putative glutamate exporter gene yggB, ciprofloxacin effectively triggered glutamate production. When C. glutamicum wild type was cultivated under nitrogen-limiting conditions, 2-oxoglutarate rather than glutamate was produced as consequence of exposure to ciprofloxacin. Recombinant C. glutamicum strains overproducing lysine, arginine, ornithine, and putrescine, respectively, secreted glutamate instead of the desired amino acid when exposed to ciprofloxacin.
Conclusions
Ciprofloxacin induced DNA synthesis and repair genes, reduced 2-oxoglutarate dehydrogenase activity and elicited glutamate production by C. glutamicum. Production of 2-oxoglutarate could be triggered by ciprofloxacin under nitrogen-limiting conditions.
Keywords
Corynebacterium glutamicum
Ciprofloxacin
DNA gyrase
Glutamate
Ornithine
Putrescine
Arginine
Lysine
2-oxoglutarate
Overflow metabolism
Background
Glutamic acid and its salts are used as flavor enhancers since decades, due to its "meaty" taste, designated as "umami" [1]. The annual global production of glutamic acid and its salts amounts to about three million tons per year and is still increasing [2]. Corynebacterium glutamicum was discovered because it naturally excretes high amounts of glutamate under certain conditions [3, 4]. Due to this ability, C. glutamicum and its close relatives are used for the industrial production of glutamate [2, 5]. This rod shaped, Gram-positive bacterium is biotin auxotrophic and secretes glutamate, for instance when biotin is limiting [4]. Biotin has to be supplemented to the growth media to maintain the function of the two enzymes pyruvate carboxylase (EC 6.4.1.1) and acetyl-CoA carboxylase (EC 6.4.1.2) [6, 7]. The second catalyzes the first committed step in fatty acid synthesis [7]. Thus, biotin limitation may be closely connected to changes in the membrane composition. It has also been shown, that glutamate production, induced by biotin limitation, is always accompanied with membrane alteration. However, membrane alterations alone are not a sufficient prerequisite for the production of glutamate [8]. Other membrane destabilizers like detergents (surfactants) or fatty acids like Polyoxyethylen(20)-sorbitan-monopalmitate (Tween-40) and cell wall affecting compounds are used to elicit glutamate production in C. glutamicum [9–15]. For example, Penicillin G which inhibits the transpeptidase activity and, thus, cross-linking of cell wall peptidoglycan is a commonly known elicitor of glutamate production by C. glutamicum [16, 17]. Another antibiotic affecting cell wall synthesis is ethambutol which inhibits the arabinosyltransferase, an enzyme involved in the polymerization of cell wall arabinogalactan [18–20].
Although the described elicitors for glutamate production affect the cell envelope of C. glutamicum, it is widely accepted that membrane alteration alone is not sufficient for glutamate production and the 'leak model' is obsolete [8, 21]. On the one hand, under several glutamate overproducing conditions the metabolic flux is changed, because 2-oxoglutarate dehydrogenase complex (ODHC) activity is reduced [22]. This is contributed to the inhibition of ODHC via OdhI [23, 24]. On the other hand, it is evident that glutamate is not only diffusing through the membrane passively, but involves active export [21, 25]. Recent results affirm that active glutamate export is due to the putative mechanosensitive channel protein YggB [26, 27]. Triggering glutamate overproduction by C. glutamicum is a complex phenomenon, but a growth limitation per se (e.g., due to phosphate limitation, [28]) does not lead to glutamate overproduction. It has also been established that triggering export alone is not sufficient for glutamate overproduction [20, 21, 29–31]. However, all known triggers of glutamate overproduction lead to reduced ODHC activity [22, 32–34]. The underlying regulatory mechanism is not transcriptional regulation, but inhibition of ODHC on the enzyme activity level by OdhI, a specific inhibitory protein [24, 35, 36].
Since the beginning of investigation of glutamate production by C. glutamicum it is known that agents targeting the DNA synthesis can elicit the production of glutamate [37]. Nevertheless, none of these inhibitors of DNA replication were analyzed in C. glutamicum regarding their mode of action in glutamate synthesis. Ciprofloxacin, a member of the fluoroquinolone antibiotics, inhibits DNA gyrase and topoisomerase IV of Gram-negative as well as of Gram-positive bacteria [38, 39]. Therefore, it causes the stagnation of the cell division due to its DNA replication inhibiting function. Here, we report that ciprofloxacin does not only arrest growth of C. glutamicum, but also triggers glutamate production.
Discussion
Here, we have characterized how glutamate production by C. glutamicum can be triggered by addition of the gyrase inhibitor ciprofloxacin. In fact, it is known for long that gyrase inhibitors like novobiocin can elicit glutamate efflux in corynebacteria [37]. However, all triggers of glutamate production analyzed to date to some molecular detail have in common to affect the cell membrane and/or cell wall. For example, biotin limitation and addition of the fatty acid synthase inhibitor cerelunin impair fatty acid and/or mycolic acid biosynthesis, penicillin G targets peptidoglycan cross-linking, ethambutol inhibits cell wall arabinogalactan biosynthesis, detergents like Tween 40 impair the surface integrity. The mechanism of ciprofloxacin action with respect to triggering glutamate production remains to be elucidated. In the simplest case, growth arrest by ciprofloxacin maintains metabolic activity of the cells which convert growth substrates to glutamate as overflow metabolite. This notion is supported by the fact that under nitrogen-limiting conditions 2-oxoglutarate, the immediate nitrogen-free precursor of glutamate is produced instead of glutamate (Table 2).
The exposure of
C. glutamicum
to ciprofloxacin altered expression of remarkably few genes (Table
1
). Genes of glutamate biosynthesis were not significantly altered (Fig.
5
). By contrast, one study reported decreased expression of almost all genes involved in the EMP pathway, the PPP, and the TCA cycle by cells triggered for glutamate by addition of detergent, penicillin or by biotin limitation for 12 hs [
45
]. These expression changes have since been observed when gene expression is compared between slow and fast growing cells [
46
]. To minimize secondary effects due to long exposures, cells treated with ciprofloxacin were analysed already 1 h after addition of ciprofloxacin (Table
1
). Accordingly, a coherent picture of differential gene expression emerged. The primary transcriptional response to ciprofloxacin targets DNA synthesis as in
Streptomyces coelicolor
[
47
]. The response of
C. glutamicum
to ciprofloxacin showed the typical expression pattern of the SOS response as consequence of DNA damage conditions [
40
]. Namely the genes
recA
,
cglM
,
cglR
,
radA
,
lexA
(autoregulation) and
divS
and several genes of unknown function (cg2381, cg2026, cg0841, cg1977) of the 48 genes of the LexA regulon were upregulated. As known for
C. glutamicum
and other bacteria, autoproteolytic cleavage of the transcriptional regulator LexA is induced by RecA bound to single stranded DNA leading to the induction of the LexA regulon [
48
–
51
]. Several genes of the LexA regulon [
40
] were induced by ciprofloxacin in
C. glutamicum
. Notably, the LexA regulon was induced in
E. coli
by nalidixic acid, which is a gyrase inhibitor of the class of quinoles as ciprofloxacin [
52
]. Transcriptional regulation by LexA is not a prerequisite of glutamate production in
C. glutamicum
since induction of the LexA regulon has not been reported when glutamate production was triggered by biotin limitation or by addition of ethambutol or tween 40 [
45
,
53
]. When
C. glutamicum
was treated with high ciprofloxacin concentrations, very few colony forming units were observed and these showed colony heterogeneity as depicted in Additional file
1
: Figure S1 for 100 μg/ml ciprofloxacin, a concentration about 60 fold higher than IC
50
. Likely, mutations have occurred leading to different ciprofloxacin susceptibility as is often observed for treatments triggering the LexA regulon and the SOS response [
54
].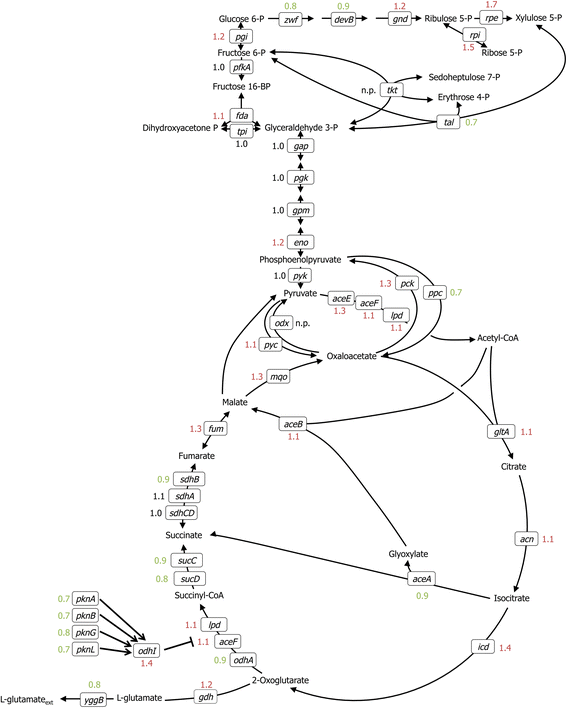 Genome resequencing of glutamine-producing E. coli mutants obtained by classical mutagenesis and screening revealed nonsynonymous mutations in gyrA which encodes the primary target of ciprofloxacin DNA gyrase and these mutations were shown to have caused glutamine overproduction and reduction of chromosomal DNA supercoils [55]. Similarly, overexpression of genes encoding topoisomerase I (topA) and topoisomerase IV (parC and parE) reduced chromosomal DNA coils and entailed glutamine production by E. coli [55]. MurI-type glutamate racemases are known to inhibit DNA gyrase activity in E. coli [56] and Bacillus subtilis [57]. These enzymes link DNA gyrase activity to murein biosynthesis since D-glutamate is present in peptidoglycan cross-links. As the closely related C. diphtieriae possesses D-glutamate in its tetrapeptides (L-Ala-D-Glu-meso-Dap-D-Ala) and tripeptides (L-Ala-D-Glu-meso-Dap) of peptidoglycan [58], it is likely that D-glutamate is also present in the peptidoglycan peptides of C. glutamicum. In fact, C. glutamicum possesses a murI gene [59]. However, excretion of D-amino acids by C. glutamicum has not been observed unless a heterologous racemase gene was overexpressed [60]. Altered murein biosynthesis and cell wall integrity due to ciprofloxacin may be involved in triggering glutamate production under these conditions.
Exposure to ciprofloxacin triggered glutamate production even in strains overproducing other amino acids such as lysine as it is true for penicillin G-triggered glutamate production [16]. Thus, ciprofloxacin is a specific trigger of glutamate production by C. glutamicum. Glutamate was also produced efficiently in the absence of yggB coding for the glutamate channel, which releases glutamate by passive diffusion [61]. By contrast, the deletion of yggB reduced, but not completely abolished glutamate production triggered by biotin limitation (see also Fig. 3) or Penicillin G [26, 62]. The residual glutamate production in the absence of YggB varied from trigger to trigger, but suggested that (an) additional glutamate export system(s) may exist. This is supported by the fact, that the export of glutamate is also observed when the external concentration exceeds the intracellular concentration, which suggests an additional energy-dependent transport mechanism [63].
Triggers of glutamate production are known to elicit a metabolic switch in the sense that ODHC activity is reduced [23, 24], and also ciprofloxacin reduced ODHC activity about seven fold (see above). The reduced ODHC activity in the presence of ciprofloxacin may also explain ciprofloxacin-triggered production of 2-oxoglutarate under nitrogen-limiting conditions (Table 2). Other triggers of glutamate production also led to 2-oxoglutarate production under nitrogen-limiting conditions [44, 64, 65]. When aceA (encoding isocitrate lyase), gltB (encoding glutamate-2-oxoglutarate aminotransferase) and gdh (encoding glutamatate dehydrogenase) were disrupted in addition, 2-oxoglutarate production was improved 16 fold and almost 50 g/L 2-oxoglutarate accumulated [65].
Conclusions
Glutamate production by C. glutamicum triggered by ciprofloxacin was characterized and shown not to be affected by the absence of the putative glutamate export system YggB. This gyrase inhibitor led to increased expression of genes that are involved in DNA synthesis, repair and modification and belong to the LexA regulon and SOS response of C. glutamicum. The exact mechanism(s) of triggering glutamate production by ciprofloxacin and other previously published triggers in C. glutamicum remain(s) enigmatic. However, as observed with all published triggers of glutamate production, ciprofloxacin reduced ODHC activity in C. glutamicum. Moreover, production of 2-oxoglutarate could be triggered by ciprofloxacin under nitrogen-limiting conditions.
Abbreviations
cfu:

colony forming units
Msc:

Mechanosensitive channel protein
ODHC:

2-oxoglutarate dehydrogenase complex
Declarations
Acknowledgements
We thank Jaide V. K. Jensen for construction of the Plasmid pK19∆yggB.
Funding
This work was partially supported by the program ZIM (grant. no. KF2969003SB2). We acknowledge support for the Article Processing Charge by the Deutsche Forschungsgemeinschaft and the Open Access Publication Fund of Bielefeld University.
Availability of data and materials
The transcriptomics data are available as Gene Expression Omnibus GSE77189 data set at http://0-www.ncbi.nlm.nih.gov.brum.beds.ac.uk/geo/.
Figure S1 is attached and depicts colony formation of C. glutamicum wild type without and after the addition of 100 μg/ml ciprofloxacin.
Authors' contributions
VFW and DL planned and designed the experiments. DL performed the experiments. VFW and DL analyzed the data. DL drafted the manuscript. VFW finalized the manuscript. Both authors read and approved the manuscript.
Competing interests
The authors declare that they have no competing interests.
Consent for publication
Not applicable.
Ethics approval and consent to participate
Not applicable.
Open AccessThis article is distributed under the terms of the Creative Commons Attribution 4.0 International License (http://creativecommons.org/licenses/by/4.0/), which permits unrestricted use, distribution, and reproduction in any medium, provided you give appropriate credit to the original author(s) and the source, provide a link to the Creative Commons license, and indicate if changes were made. The Creative Commons Public Domain Dedication waiver (http://creativecommons.org/publicdomain/zero/1.0/) applies to the data made available in this article, unless otherwise stated.
Authors' Affiliations
(1)
Genetics of Prokaryotes, Faculty of Biology and Center for Biotechnology, Bielefeld University, Bielefeld, Germany