Research article

Open Access
Identification of the minimal cytolytic unit for streptolysin S and an expansion of the toxin family
BMC Microbiology
2015
15:141
Received: 2 January 2015
Accepted: 11 June 2015
Published: 24 July 2015
Abstract
Background
Streptolysin S (SLS) is a cytolytic virulence factor produced by the human pathogen Streptococcus pyogenes and other Streptococcus species. Related "SLS-like" toxins have been characterized in select strains of Clostridium and Listeria, with homologous clusters bioinformatically identified in a variety of other species. SLS is a member of the thiazole/oxazole-modified microcin (TOMM) family of natural products. The structure of SLS has yet to be deciphered and many questions remain regarding its structure-activity relationships.
Results
In this work, we assessed the hemolytic activity of a series of C-terminally truncated SLS peptides expressed in SLS-deficient S. pyogenes. Our data indicate that while the N-terminal poly-heterocyclizable (NPH) region of SLS substantially contributes to its bioactivity, the variable C-terminal region of the toxin is largely dispensable. Through genome mining we identified additional SLS-like clusters in diverse Firmicutes, Spirochaetes and Actinobacteria. Among the Spirochaete clusters, naturally truncated SLS-like precursors were found in the genomes of three Lyme disease-causing Borrelia burgdorferi sensu lato (Bbsl) strains. Although unable to restore hemolysis in SLS-deficient S. pyogenes, a Bbsl SLS-like precursor peptide was converted to a cytolysin using purified SLS biosynthetic enzymes. A PCR-based screen demonstrated that SLS-like clusters are substantially more prevalent in Bbsl than inferred from publicly available genome sequences.
Conclusions
The mutagenesis data described herein indicate that the minimal cytolytic unit of SLS encompasses the NPH region of the core peptide. Interestingly, this region is found in all characterized TOMM cytolysins, as well as the novel putative TOMM cytolysins we discovered. We propose that this conserved region represents the defining feature of the SLS-like TOMM family. We demonstrate the cytolytic potential of a Bbsl SLS-like precursor peptide, which has a core region of similar length to the SLS minimal cytolytic unit, when modified with purified SLS biosynthetic enzymes. As such, we speculate that some Borrelia have the potential to produce a TOMM cytolysin, although the biological significance of this finding remains to be determined. In addition to providing new insight into the structure-activity relationships of SLS, this study greatly expands the cytolysin group of TOMMs.
Keywords
Streptolysin S Streptococcus pyogenes Group A Streptococcus Thiazole/oxazole-modified microcinCytolysin Borrelia burgdorferi sensu latoLyme diseaseLinear azole-containing peptide
Background
Streptococcus pyogenes
(Group A
Streptococcus
) commonly causes mild diseases such as pharyngitis and impetigo, and in rare cases, invasive infections such as necrotizing fasciitis and streptococcal toxic shock syndrome [
1
]. While the characteristic β-hemolytic phenotype of
S. pyogenes
grown on blood agar has long been known [
2
], more than four decades passed before the responsible hemolytic/cytolytic factor was identified [
3
], streptolysin S (SLS) [
4
]. The eventual discovery of the SLS biosynthetic gene cluster [
5
] prompted investigations that subsequently designated SLS a member of the
t
hiazole/
o
xazole-
m
odified
m
icrocin (TOMM) group of natural products [
6
–
8
]. TOMMs are a class of functionally and structurally diverse ribosomal peptides that are posttranslationally modified to contain the eponymous thiazole and (methyl)oxazole heterocycles derived from select cysteine, serine, and threonine residues [
8
]. The SLS biosynthetic operon (Fig.
1a
) encodes a precursor peptide, SagA (Fig.
1b
), and three heterocycle-forming proteins, SagBCD [
5
,
7
]. Similar to other characterized ribosomal natural products, the SagA N-terminal leader peptide contains residues recognized by the modifying enzymes, while the C-terminal core peptide undergoes heterocyclization [
7
,
9
,
10
] (Fig.
1b and c
). The suspected protease, SagE, is believed to remove the leader peptide [
11
,
12
], permitting the export of mature and bioactive SLS via a dedicated ABC transporter, SagGHI (Fig.
1a
).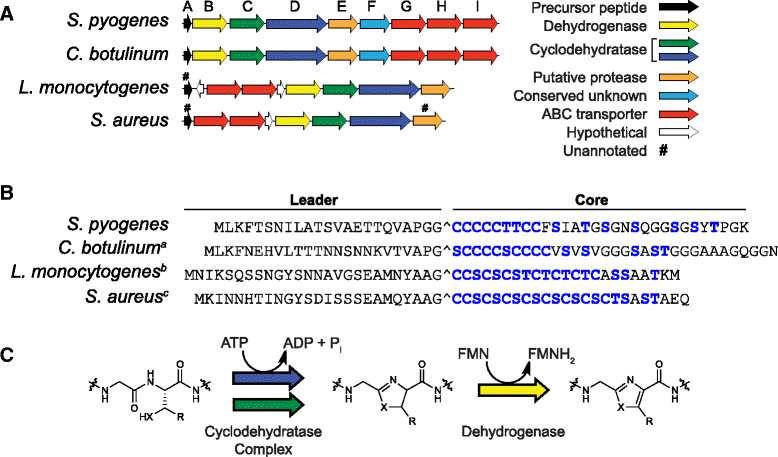 SLS is the founding member of a group of homologous TOMM cytolysins that have been characterized in other Streptococcus species (Additional file 1: Figure S1A), including invasive human isolates of the β-hemolytic Group C and Group G streptococci, which belong to S. dysgalactiae subsp. equisimilis [13]. SLS variants are also produced by the animal pathogens S. iniae [14] and S. equi [15]. More recently, S. anginosus, a human commensal organism and emerging opportunistic pathogen, has been shown to produce twin SLS homologs [16]. Notably, SLS-like toxins are not limited to Streptococcus, being produced by other Firmicutes including select strains of Clostridium [17] and Listeria [18–20] (Fig. 1a and b).
Despite intense study, the precise mechanism of SLS toxicity towards mammalian cells remains incompletely understood [
21
]. SLS has also thus far been recalcitrant to structural elucidation owing to its poor physicochemical properties, although an extensive mass spectral analysis detected two oxazole moieties at positions S46 and S48 of SLS modified with purified biosynthetic enzymes [
17
] (Fig.
2a
). Previous mutagenesis studies indicate that residues spanning the entire SLS core peptide are required for
S. pyogenes
hemolysis [
7
,
22
] (Additional file
1
: Figure S1B). This contrasts with the highly conserved N-terminal poly-heterocyclizable (NPH) region and variable C-terminus of SLS natural variants (Additional file
1
: Figure S1A). Here, we sought to reconcile these discrepancies by probing the contribution of the C-terminus to SLS bioactivity. We demonstrate that severely C-terminally truncated SLS peptides expressed in a
sagA
deletion mutant of
S. pyogenes
M1 5448 (
S. pyogenes ΔsagA
) retain hemolytic activity and posit that the NPH region found in all TOMM cytolysins is the defining feature of the family (Fig.
2a
, underlined portion). Using bioinformatics, we identified a set of SagA homologs containing the NPH region in TOMM biosynthetic clusters in additional
Firmicutes
, as well as the
Actinobacteria
and
Spirochaete
phyla. We demonstrate that a naturally truncated precursor peptide encoded by a member of
Borrelia burgdorferi
sensu lato (
Bbsl
) species group can be matured into a cytolysin using purified SLS biosynthetic enzymes. Notably, several
Bbsl
cause Lyme disease, the most commonly reported tick-borne illness in the Northern hemisphere [
23
,
24
], and our PCR-based screen revealed that genes encoding SLS-like precursors are prevalent in diverse
Bbsl
isolates. While our preliminary findings are intriguing, it remains to be seen if these putative cytolytic TOMMs are produced by
Borrelia
, and if so, whether they function to enhance virulence. Together, our results identify the minimal cytoytic determinant of SLS and indicate that there are potentially considerably more producers of related cytolysins than currently appreciated.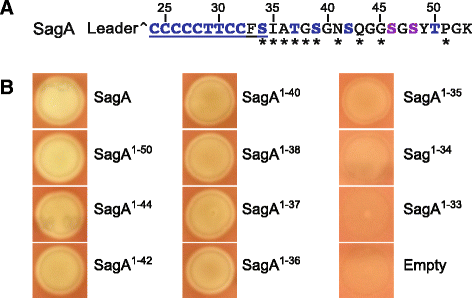 Conclusions
The results of our SagA truncation series indicate that, of the 30 predicted to comprise the core peptide, the first 11 residues (SagA24–34) are sufficient for detectable hemolytic activity of SLS when expressed in S. pyogenes ΔsagA. Thus, our data indicates that the C-terminus of SagA is largely dispensable and points to the NPH region as central to SLS functionality, consistent with the conservation of this motif in natural SLS variants as well as the greater TOMM cytolysin family. Similar regions consisting of contiguous heterocyclizable residues exist in the newly-described SLS-like precursors encoded in multiple genera within Firmicutes, Spirochaetes and Actinobacteria. Although the ability of BvalA and SagA1–35 to be matured into cytolysins by purified SagBCD suggests that the "minimal cytolytic unit" may be a general feature of TOMM cytolysins, additional study will be required to determine if this holds true for all family members, especially those with longer stretches of heterocyclizable residues (e.g. listeriolysin S). In order to comprehend our observation that much of the hemolytic activity of SLS can be attributed to a mere 11 residues, a complete chemical structure of SLS and greater molecular insight into the interaction of SLS with the cellular membrane will be required.
Our identification of novel SLS-like biosynthetic clusters greatly expands the TOMM cytolysin family. Of particular interest is our discovery that many pathogenic Bbsl harbor the genetic capacity to produce naturally truncated SLS-like toxins. Although confirmation is needed, the most probable function for the SLS-like biosynthetic clusters in Bbsl is to generate a cytolytic factor, akin to the virulence-enhancing SLS of S. pyogenes. Thus, the hypothetical "borreliolysin S" toxin we identify herein warrants further investigation as it would represent, to the best of our knowledge, the first posttranslationally modified natural product from any Spirochaete.
In summary, this work provides evidence that the core NPH motif represents the defining feature of the SLS-like TOMM family, as well as providing a foundation for studies of the potential utilization of cytolytic TOMMs by the diverse organisms described herein.
Abbreviations
SLS:

Streptolysin S
TOMM:

Thiazole/oxazole-modified microcin
NPH:

N-terminal poly-heterocyclizable (region)
Bbsl :

Borrelia burgdorferi sensu lato
Bbss :

Borrelia burgdorferi sensu stricto
MLST:

Multilocus sequence typing
MEGA:

Molecular Evolutionary Genetics Analysis
MBP:

Maltose-binding protein
PBS:

Phosphate buffered saline
ORF:

Open reading frame
Declarations
Acknowledgements
This research was supported in part by the NIH Director's New Innovator Award Program (DP2 OD008463) to DAM and NIH grant R01 AI49003 to SRC. TM was supported by the NIH Chemical Biology Interface Training Program (T32 GM070421). We are thankful for Bbsl genomic DNA from Institute Pasteur, Ira Schwartz, Richard Marconi, Arno Schönberg, Sven Bergstrom, Patricia Rosa, Ulrike Munderloh, Franc Strle, and Alje van Dam. We thank Stephan Hanowsky and Kate Woodall for performing preliminary work. We thank Dr. Song F. Lee for the gift of plasmid ptRNA2. We are grateful to Kyle L. Dunbar for critical review of the manuscript.
Authors' Affiliations
(1)
Carl R. Woese Institute for Genomic Biology, University of Illinois at Urbana-Champaign, Urbana, USA
(2)
Division of Microbiology and Immunology, Department of Pathology, University of Utah Medical School, Salt Lake City, USA
(3)
Department of Microbiology, University of Illinois at Urbana-Champaign, Urbana, USA
(4)
Department of Chemistry, University of Illinois at Urbana-Champaign, Urbana, USA
(5)
School of Molecular and Cellular Biology, University of Illinois at Urbana-Champaign, Urbana, USA
(6)
Bavarian Health and Food Safety Authority, National Reference Centre for Borrelia, Oberschleissheim, Germany
Copyright
© Molloy et al. 2015
This is an Open Access article distributed under the terms of the Creative Commons Attribution License (http://creativecommons.org/licenses/by/4.0), which permits unrestricted use, distribution, and reproduction in any medium, provided the original work is properly credited. The Creative Commons Public Domain Dedication waiver (http://creativecommons.org/publicdomain/zero/1.0/) applies to the data made available in this article, unless otherwise stated.