Research article
Open Access
LuxS-independent formation of AI-2 from ribulose-5-phosphate
Received: 18 December 2007
Accepted: 18 June 2008
Published: 18 June 2008
Abstract
Background
In many bacteria, the signal molecule AI-2 is generated from its precursor S-ribosyl-L-homocysteine in a reaction catalysed by the enzyme LuxS. However, generation of AI-2-like activity has also been reported for organisms lacking the luxS gene and the existence of alternative pathways for AI-2 formation in Escherichia coli has recently been predicted by stochastic modelling. Here, we investigate the possibility that spontaneous conversion of ribulose-5-phosphate could be responsible for AI-2 generation in the absence of luxS.
Results
Buffered solutions of ribulose-5-phosphate, but not ribose-5-phosphate, were found to contain high levels of AI-2 activity following incubation at concentrations similar to those reported in vivo. To test whether this process contributes to AI-2 formation by bacterial cells in vivo, an improved Vibrio harveyi bioassay was used. In agreement with previous studies, culture supernatants of E. coli and Staphylococcus aureus luxS mutants were found not to contain detectable levels of AI-2 activity. However, low activities were detected in an E. coli pgi-eda-edd-luxS mutant, a strain which degrades glucose entirely via the oxidative pentose phosphate pathway, with ribulose-5-phosphate as an obligatory intermediate.
Conclusion
Our results suggest that LuxS-independent formation of AI-2, via spontaneous conversion of ribulose-5-phosphate, may indeed occur in vivo. It does not contribute to AI-2 formation in wildtype E. coli and S. aureus under the conditions tested, but may be responsible for the AI-2-like activities reported for other organisms lacking the luxS gene.
Keywords
FuranoneSugar PhosphateReporter StrainOxidative Pentose Phosphate PathwayluxS Gene
Background
In the marine bacterium Vibrio harveyi, autoinducer 2 (AI-2) is one of three quorum-sensing molecules regulating the production of bioluminescence in a population-density-dependent fashion [1, 2]. In recent years, numerous pathogenic and non-pathogenic bacteria have also been shown to produce AI-2 (for a recent review see [3]), and for this reason the molecule has been suggested to function in interspecies communication [1, 4–7].
AI-2 is the collective term for a group of signal molecules formed from a common precursor, 4,5-dihydroxy-2,3-pentanedione (DPD). DPD is generated by many bacteria as a by-product of the activated methyl cycle in a reaction catalysed by LuxS [
4
,
8
]. LuxS acts by cleaving
S
-ribosylhomocysteine (SRH) to yield homocysteine and the reactive DPD, which spontaneously cyclises to from a range of furanone derivatives (Fig.
1
). Two of these, (2
S
,4
S
)-2-methyl-2,3,3,4-tetrahydroxytetrahydrofuran-borate (
S
-THMF-borate) and (2
R
,4
S
)-2-methyl-2,3,3,4-tetrahydroxytetrahydrofuran (
R
-THMF), are recognised by specific periplasmic binding proteins in
V. harveyi
and
Salmonella enterica
Serovar Typhimurium, respectively [
9
,
10
]. Another derivative, 4-hydroxy-5-methyl-3(
2H
)-furanone (MHF), has also been confirmed as a product of the LuxS catalysed reaction
in vitro
[
8
] and shown to have moderate bioluminescence inducing ability in
V. harveyi
[
4
,
8
].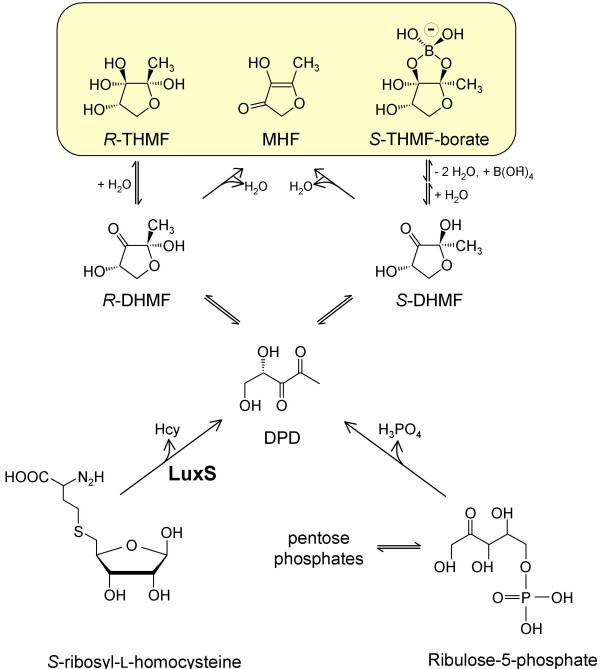 Interestingly, formation of MHF from D-ribulose-5-phosphate (Rul-5-P) has also been reported. This phenomenon was initially witnessed following the action of spinach phosphoriboisomerase on ribose-5-phosphate (Rib-5-P) but was dismissed as an anomalous side-activity of the enzyme [11]. The authors demonstrated a transient accumulation of an unknown intermediate, formed from the sugar phosphate, which subsequently converted to MHF. Later, Hauck et al. demonstrated that MHF arose spontaneously from Rul-5-P, and identified the unknown intermediate as DPD [12, 13]. Thus, spontaneous conversion of Rul-5-P may provide a novel route by which AI-2 could form in a luxS-independent fashion. However, whilst it is known that Rul-5-P gives rise to DPD under certain conditions in vitro, and that chemically synthesised DPD can stimulate bioluminescence in V. harveyi AI-2-responsive reporter strains [14–16] the principle of LuxS-independent formation of AI-2 activity from Rul-5-P in biologically relevant quantities has yet to be proved. Furthermore, the possibility and the ramifications of this process occurring in vivo have not been previously addressed. Here we demonstrate that spontaneous conversion of Rul-5-P does indeed give rise to potent AI-2 activity and investigate various luxS mutants, including an E. coli strain affected in central carbon metabolism, for LuxS-independent AI-2 formation in vivo. In addition, consideration is given to the possible implications of this alternative mechanism for AI-2 production.
Conclusion
In conclusion, we have demonstrated that spontaneous degradation of Rul-5-P gives rise to substantial amounts of AI-2 activity in vitro. However, our data suggest that whilst this route may also be operational in vivo, in E. coli its contribution to AI-2 production is negligible. It could, however, be responsible for the AI-2-like signals reported for some higher organisms or bacteria lacking luxS. Given the postulated importance of AI-2-based quorum sensing in many pathogenic bacteria, the generation of DPD via a LuxS-independent route may have important implications.
Methods
Strains and media
E. coli DH 5α, E. coli BL21 luxS, E. coli MG1655 derivatives, and S. aureus Newman luxS [35] were routinely grown in Luria-Bertani (LB) broth or agar plates at 37°C. V. harveyi BB170 was grown in LB or AB medium [17]. Where required, antibiotics were used at the following concentrations: 30 μg/ml chloramphenicol (for E. coli luxS mutants), 10 μg/ml tetracycline (S. aureus Newman), and 100 μg/ml kanamycin (V. harveyi BB170 and BB886).
Autoinducer bioassays
The V. harveyi BB170 bioassay was used for the detection of AI-2 activity in culture supernatants or in vitro reactions. Initially the procedure outlined by Bassler et al. [17] was followed. For more careful analyses of luxS mutants, the assay was modified so that the AB medium employed contained 25 mM HEPES buffer, pH7.8, as additional component. AI-2 activity was defined as the fold increase in light production in comparison with medium or buffer controls. In vitro reactions were also tested using the AI-1 responsive reporter V. harveyi BB886 [17].
Generation of luxS mutants
The luxS deletion of E. coli Bl21 luxS [9] was transferred into E. coli MG1655 wildtype and an E. coli MG1655 pgi-edd-eda triple mutant (E. coli pgi-EDP, [25] by phage transduction using the bacteriophage P1 and a standard protocol [36]. Successful transfer of the locus was established by PCR, using the primer pair LuxS-50-UF (CTCAGACTCGCCTGGGAAGAAAGAG) and LuxS-50-DR (GTGCGCACTAAGTACAACTAAGCC).
Preparation of sugar phosphates for the in vitro production of AI-2
Sugar phosphate solutions were prepared in 10 mM sodium phosphate buffer (pH 7.7) and, where indicated, were incubated at 37°C. Following the indicated incubation period each sample was frozen using dry ice and stored at -80°C. Rul-5-P and other sugar phosphates were obtained from Fluka/Riedel-de Haën and Sigma-Aldrich, respectively.
Enzymatic synthesis of Rul-5-P was carried out by incubation of 5 mM ribose-5-phosphate with 10 U/ml spinach phosphoriboisomerase in 10 mM sodium phosphate buffer (pH 7.7). The reaction was incubated at 30°C for 2 h. Catalysis was stopped by chloroform extraction of the enzyme followed by freezing the samples on dry ice. For negative controls, spinach phosphoriboisomerase was inactivated by heat treatment (5 min at 85°C).
Determination of DPD and MHF
DPD was detected after its derivatisation with o-phenylenediamine as described by Hauck et al. [13]. Detection and quantification of MHF was achieved by high-performance liquid chromatography coupled to tandem mass spectrometry (HPLC-MS-MS) after chemical derivatisation of the compound as described by Husek [37].
Abbreviations
AI-2:

Autoinducer-2
DPD:

4,5-dihydroxy-2,3-pentanedione
LC-MS/MS:

liquid chromatography/tandem mass spectrometry
MHF:

4-hydroxy-5-methyl-3(2H)-furanone
OPPP:

oxidative pentosephosphate pathway
Rib-5-P:

ribose-5-phosphate
Rul-5-P:

D-ribulose-5-phosphate
S-THMF-borate (2S:

,4S)-2-methyl-2,3,3,4-tetrahydroxytetrahydrofuran-borate
R-THMF (2R:

,4S)-2-methyl-2,3,3,4-tetrahydroxytetrahydrofuran
Xyl-5-P:

xylulose-5-phosphate.
Declarations
Acknowledgements
The work presented was funded by grants from the Welcome Trust and Biotechnology and Biological Sciences Research Council (Nigel Halliday) and a University of Nottingham studentship (Tim Tavender). We are grateful for the discussions and support provided by Prof Paul Williams and Dr Dave Barrett (both of Nottingham University). We would like to thank Prof. Uwe Sauer (ETH Zürich) for sending us the E. coli MG1655 pgi, edd, eda triple mutant, Prof Bonnie Bassler (Princeton University, USA) for providing the V. harveyi reporter strains and E. coli BL21 luxS, and Rebecca Pickard for her help in constructing luxS mutants.
Authors' Affiliations
(1)
Institute of Infections, Immunity, and Inflammation, University of Nottingham, Centre for Biomolecular Sciences, Nottingham, UK
(2)
School for Health and Medicine, Division of Biomedical and Life Sciences, Lancaster University, Bailrigg, Lancaster, UK
(3)
Faculty of Life Sciences, Michael Smith Building, University of Manchester, Manchester, UK
Copyright
© Tavender et al; licensee BioMed Central Ltd. 2008
This article is published under license to BioMed Central Ltd. This is an Open Access article distributed under the terms of the Creative Commons Attribution License (http://creativecommons.org/licenses/by/2.0), which permits unrestricted use, distribution, and reproduction in any medium, provided the original work is properly cited.