Research article
Open Access
Immunization of mice with YscF provides protection from Yersinia pestis infections
Received: 26 March 2005
Accepted: 24 June 2005
Published: 24 June 2005
Abstract
Background
Yersinia pestis, the causative agent of plague, is a pathogen with a tremendous ability to cause harm and panic in populations. Due to the severity of plague and its potential for use as a bioweapon, better preventatives and therapeutics for plague are desirable. Subunit vaccines directed against the F1 capsular antigen and the V antigen (also known as LcrV) of Y. pestis are under development. However, these new vaccine formulations have some possible limitations. The F1 antigen is not required for full virulence of Y. pestis and LcrV has a demonstrated immunosuppressive effect. These limitations could damper the ability of F1/LcrV based vaccines to protect against F1-minus Y. pestis strains and could lead to a high rate of undesired side effects in vaccinated populations. For these reasons, the use of other antigens in a plague vaccine formulation may be advantageous.
Results
Desired features in vaccine candidates would be antigens that are conserved, essential for virulence and accessible to circulating antibody. Several of the proteins required for the construction or function of the type III secretion system (TTSS) complex could be ideal contenders to meet the desired features of a vaccine candidate. Accordingly, the TTSS needle complex protein, YscF, was selected to investigate its potential as a protective antigen. In this study we describe the overexpression, purification and use of YscF as a protective antigen. YscF immunization triggers a robust antibody response to YscF and that antibody response is able to afford significant protection to immunized mice following challenge with Y. pestis. Additionally, evidence is presented that suggests antibody to YscF is likely not protective by blocking the activity of the TTSS.
Conclusion
In this study we investigated YscF, a surface-expressed protein of the Yersinia pestis type III secretion complex, as a protective antigen against experimental plague infection. Immunization of mice with YscF resulted in a high anti-YscF titer and provided protection against i.v. challenge with Y. pestis. This is the first report to our knowledge utilizing a conserved protein from the type III secretion complex of a gram-negative pathogen as a candidate for vaccine development.
Keywords
PlagueSubunit VaccineProtective AntigenYersinia PestisStrong Antibody Response
Background
Yersinia pestis, the causative agent of plague, causes rapidly progressing disease in humans with a high mortality rate, especially in the pneumonic form of the disease. Due to the severe nature of plague, its ability for aerosol transmission, and the potential for human to human transmission plague is considered to be a disease of high concern as an agent of biological warfare or biological terrorism [1]. For this reason, an improved vaccine for plague is desirable. Current efforts for vaccine development have focused on two proteins: LcrV (also known as the V antigen) and the capsular F1 antigen [2]. The best results to date have been obtained by using a combination of recombinant LcrV and F1 subunits [3] separately or as a fusion protein [4, 5]. These subunit vaccines demonstrate very good protection against both pneumonic and systemic forms of plague [2] in mouse models. One of the potential limitations of these subunit vaccines is that F1 is not required for full virulence of Y. pestis, as F1-negative strains have the same LD50 value as F1-positive strains [6–9]. A second limitation that could result in undesired side-effects in immunized individuals is the demonstrated immunosuppressive effect of LcrV [10–13]. Additionally, serologic diversity of LcrV has been reported, in Yersinia species other than Y. pestis, that could theoretically limit the usefulness of an LcrV based vaccine. While the recombinant subunit vaccines are very effective in experimental animals and offer protection against F1 minus strains of Y. pestis [2], the inclusion of other antigens with the LcrV/F1 subunit vaccine candidates could improve the ability of the resulting vaccine to offer protection against multiple Y. pestis strains, or the new antigens could be developed as separate vaccine candidates.
The type III secretion apparatus encoded on the low-calcium response (LCR) virulence plasmid, pCD1 in strain KIM [14], of Y. pestis is a conserved virulence mechanism that is absolutely required for virulence of Y. pestis [15]. YscF is a surface localized protein that is required both to secrete Yops and to translocate toxins into eukaryotic cells [16–19]. One report speculates that YscF polymerization is required for a YscF needle to puncture eukaryotic cell membranes [18]. Other researchers suggest that YscF and its homologs function to provide a base that a translocon complex is built upon, or that YscF builds a conduit from the bacterium to the eukaryotic membrane [20]. This suggestion seems more likely given that other proteins such as YopB, YopD, and LcrV are also required for translocation into eukaryotic cells [21–28]. Additionally, YscF needle producing Y. enterocolitica deficient in production of the translocators (LcrV, YopB, and YopD) do not translocate Yops into macrophages, demonstrating that the YscF-needle is not sufficient for translocation [19].
Most currently described pathogenesis-related type III secretion systems possess homologs to YscF. In pathogenic Salmonella and Shigella, the YscF homologs (PrgI and MxiH, respectively) have been demonstrated to form a needle structure that protrudes from the surface of bacterial cells [29–31]. The best-characterized homolog of YscF is EscF of enteropathogenic E. coli (EPEC). EscF is required for "attaching and effacing" (A/E) lesion formation on the intestinal mucosa and for type III secretion of effector proteins [32–34]. EscF is thought to be a structural component of the needle complex on the bacterial surface as it binds EspA, the major component of a filamentous surface organelle, and is required for formation of the EspA filaments. [32–34] However, this surface localization has never been visualized directly, as the only EscF antiserum generated was unable to recognize the native protein [33].
Based on the fact that YscF is thought to be a surface-expressed protein in Y. pestis and is required for virulence, we sought to determine if YscF could serve as a protective antigen against experimental plague infection. Immunization of mice with His-tagged YscF resulted in a high anti-YscF titer and significant protection against i.v. challenge with Y. pestis. The findings of this study suggest that YscF may be a potential plague vaccine candidate that could be used in conjunction with other plague antigens, or possibly alone if its efficacy can be improved by alternative delivery methods.
Conclusion
In this study we have determined that immunization of mice with recombinant YscF can protect mice from an i.v. challenge with
Y. pestis
. This is the first report to our knowledge that has utilized a conserved protein from the type III secretion complex of a gram-negative pathogen as a candidate for vaccine development. This result suggests that type III secretion complexes of other gram negative pathogens could also serve as vaccine targets. YscF and its homologs are obvious targets for use as vaccine candidates as they are surface exposed and are required for virulence in all the systems examined. The protective antibody response elicited by HT-YscF is evidence that YscF is not only expressed during the course of a plague infection, but is also in a location accessible to antibodies at some point in the infectious process. The mechanism of protection by the YscF antibody response is currently under investigation. Essentially three possibilities exist to explain the antibody's protective activity: increased opsonization of the bacteria, enhanced complement binding to the bacterial surface, or direct blocking of Yops translocation into the host cells. Cytotoxicity assays (data not shown) and the ability to translocate Elk-tagged YopE into HeLa cells (Figure
3
) have shown that it is unlikely that anti-YscF directly blocks Yops translocation into HeLa cells. Suggesting that a blockage of Yops translocation may not be the mechanism whereby anti-YscF antibodies are protective. The degree of protection observed after immunization with YscF is not as great as that seen for the two known protective antigens, F1 and LcrV. This result suggests that YscF could be best used in combination with the other known antigens to formulate a tri-valent vaccine for
Y. pestis
. However, further work could lead to the development of YscF as a monovalent vaccine or combined with other antigens that could be efficacious not only against
Y. pestis
, but also against
Y. enterocolitica
and
Y. pseudotuberculosis
.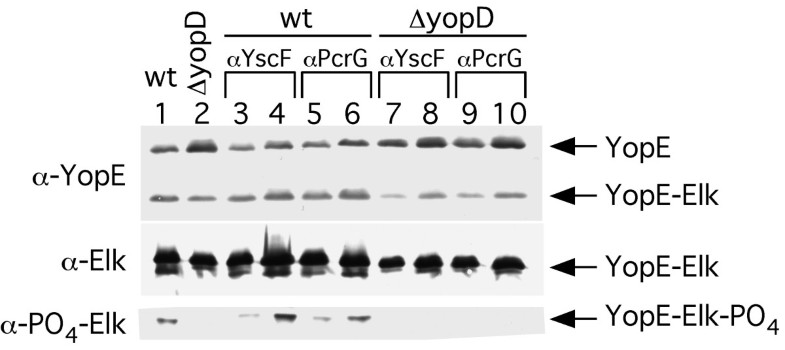 Declarations
Acknowledgements
The author's would like to thank Deanna O'Bryant and Jennifer Lamoureux for assistance with mouse experiments, Jennifer Miller for help with antibody ELISAs and Gregory Plano (University of Miami, Miami, FL) for YopE antiserum and the ΔyscF strain of Y. pestis. This work was supported by the UND Faculty Research Seed Money program. J. S. M was supported by a pre-doctoral fellowship from ND-EPSCoR. Work in M. L. N.'s laboratory is supported by NIAID grants R01-AI051520 and U01-AI54815.
Authors' Affiliations
(1)
Department of Microbiology and Immunology, University of North Dakota School of Medicine and Health Sciences, Grand Forks, USA
Copyright
© Matson et al; licensee BioMed Central Ltd. 2005
This article is published under license to BioMed Central Ltd. This is an Open Access article distributed under the terms of the Creative Commons Attribution License (http://creativecommons.org/licenses/by/2.0), which permits unrestricted use, distribution, and reproduction in any medium, provided the original work is properly cited.