Research article

Open Access
Bacterial variations on the methionine salvage pathway
Received: 07 January 2004
Accepted: 04 March 2004
Published: 04 March 2004
Abstract
Background
The thiomethyl group of S-adenosylmethionine is often recycled as methionine from methylthioadenosine. The corresponding pathway has been unravelled in Bacillus subtilis. However methylthioadenosine is subjected to alternative degradative pathways depending on the organism.
Results
This work uses genome in silico analysis to propose methionine salvage pathways for Klebsiella pneumoniae, Leptospira interrogans, Thermoanaerobacter tengcongensis and Xylella fastidiosa. Experiments performed with mutants of B. subtilis and Pseudomonas aeruginosa substantiate the hypotheses proposed. The enzymes that catalyze the reactions are recruited from a variety of origins. The first, ubiquitous, enzyme of the pathway, MtnA (methylthioribose-1-phosphate isomerase), belongs to a family of proteins related to eukaryotic intiation factor 2B alpha. mtnB codes for a methylthioribulose-1-phosphate dehydratase. Two reactions follow, that of an enolase and that of a phosphatase. While in B. subtilis this is performed by two distinct polypeptides, in the other organisms analyzed here an enolase-phosphatase yields 1,2-dihydroxy-3-keto-5-methylthiopentene. In the presence of dioxygen an aci-reductone dioxygenase yields the immediate precursor of methionine, ketomethylthiobutyrate. Under some conditions this enzyme produces carbon monoxide in B. subtilis, suggesting a route for a new gaseous mediator in bacteria. Ketomethylthiobutyrate is finally transaminated by an aminotransferase that exists usually as a broad specificity enzyme (often able to transaminate aromatic aminoacid keto-acid precursors or histidinol-phosphate).
Conclusion
A functional methionine salvage pathway was experimentally demonstrated, for the first time, in P. aeruginosa. Apparently, methionine salvage pathways are frequent in Bacteria (and in Eukarya), with recruitment of different polypeptides to perform the needed reactions (an ancestor of a translation initiation factor and RuBisCO, as an enolase, in some Firmicutes). Many are highly dependent on the presence of oxygen, suggesting that the ecological niche may play an important role for the existence and/or metabolic steps of the pathway, even in phylogenetically related bacteria. Further work is needed to uncover the corresponding steps when dioxygen is scarce or absent (this is important to explore the presence of the pathway in Archaea). The thermophile T. tengcongensis, that thrives in the absence of oxygen, appears to possess the pathway. It will be an interesting link to uncover the missing reactions in anaerobic environments.
Keywords
Homocysteine
Phosphorylase
Dioxygen
AdoMet
Purine Nucleoside Phosphorylase
Background
Availability of a huge number of genome sequences (1004 ongoing or completed genome sequencing programmes are listed at http://wit.integratedgenomics.com/GOLD/ on February 17th, 2004) now allows scientists to explore new avenues in the deciphering of metabolic pathways. While sulfur is ubiquitously used in life, it is a highly reactive atom, hence very sensitive to the oxido-reduction potential of its local environment. It is also very sensitive to dioxygen and reactive oxygen species. As a consequence, sparing processes that enable the cell to keep a sulfur atom in its final chemical and electronic environment (inside well characterized groups of atoms) often exists in cells [1]. A case in point is the fate of the ubiquitous S-adenosylmethionine molecule (AdoMet), which can donate each one of its sulfur connected groups: methyl-, aminobutyryl- (usually, after decarboxylation as aminopropyl-), and adenosyl- (ribosyl-). A vast number of AdoMet mediated methylation events continuously happen in most, if not all organisms. Methylases are present at the level of DNA metabolism, RNA metabolism and protein post-translational modifications [2–4]. They are also involved in formation of a variety of small metabolites (essential coenzymes or prosthetic groups in particular [5, 6]). This group transfer results in the synthesis of S-adenosyl homocysteine (AdoHcy). The latter molecule has to be recycled or further metabolized, either after excision of the adenine moiety by hydrolysis or phosphorolysis, or by direct hydrolysis into adenosine and homocysteine. When aminopropyl- is transferred, methylthioadenosine (MTA) is a by-product. It is produced during synthesis of spermidine and spermine, and also of N-acylhomoserine lactone synthases in Gram-negative bacteria [7] and 1-aminocyclopropane-1-carboxylate (ACC) synthase in plants (and possibly in bacteria producing ethylene). Furthermore, other still unknown reactions might exist, transferring the aminopropyl-group to yet unrecognized acceptors (most likely to be nitrogen atoms). Recycling the sulfur-containing compounds S-adenosylhomocysteine and MTA is a challenge for all cells. MTA may regenerate methionine in the process. The biochemical details of the MTA to methionine pathway remains unknown in most organisms. This prompted us to make a thorough analysis of available genome sequences to try and identify some of the metabolic pathways involved in MTA recycling through genomic and functional comparisons with our recent findings [8]. The present work aims at combining comparative genomics and biochemical or genetic data to propose a list of identified and putative genes associated to the corresponding functions. A self-consistent nomenclature will be proposed in parallel, so that homologous functions in various organisms could tentatively be identified from their genome sequences.
Results
MTA can be exported from the cell, or recycled, beginning with two main alternative pathways (Figure
1
). The most energy sparing one starts with MTA phosphorolysis and yields methylthioribose-1-phosphate (MTR-1-P) [
9
], while the second one splits this first step into two steps: the first one being hydrolysis of MTA to methylthioribose (MTR) and adenine, followed by ATP-dependent phosphorylation of MTR by MTR kinase [
10
,
11
]. In this latter case, MTR can also be excreted from the cell, especially in organisms that are not challenged by a high level of dioxygen (this happens in facultative anaerobes living in rich media, such as
Escherichia coli
[
12
]).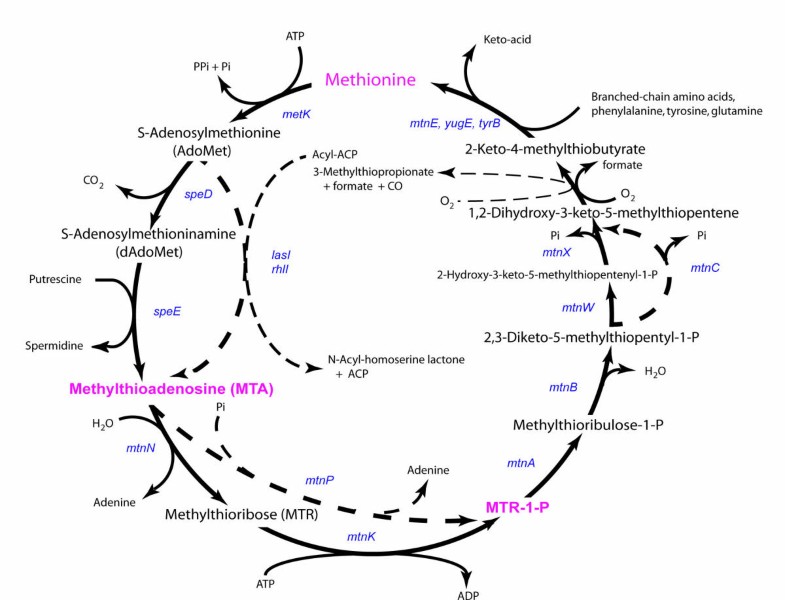 Discussion
The beginning of the methionine salvage pathway is variable, even in phylogenetically related organisms. It can either correspond to the tandem reactions, MTA nucleosidase/MTR kinase (as in B. subtilis or K. pneumoniae) or start with MTA phosphorylase as in P. aeruginosa, many Eukarya or presumably in T. tengcongensis, a Firmicute living at high temperature in partially anaerobic conditions. The pathway can further vary at the level of enolase, with either an enolase (RuBisCO-like) and a phosphatase (in B. subtilis, B. cereus and B. anthracis, for example), or, more often, with an enolase-phosphatase as in a variety of organisms, including many Bacteria (e.g. P. aeruginosa), Plants and Animals (Figure 1). An explicit substantiation of this latter pathway can be seen in A. thaliana where gene At5g53850 codes for a protein made of two domains, similar to KOG2631 and KOG2630, with proposed activities of the Class II aldolases and enolase-phosphatases. We do not discuss here the case of Archaea because, although there seems to be a clear counterpart of the methionine salvage pathway, starting from MTA phosphorolysis [27], no clearcut biochemical data are yet available, while the last step (dioxygenase) is probably missing or altered to another type of reaction (many Archaea are strict anaerobes).
In order to further support our description of the pathway we extrapolated from the
B. subtilis
data to other genomes, based on chromosome neighborhood [
35
] (Figure
8
). Here we discuss four cases:
K. pneumoniae
,
P. aeruginosa
,
Xylella fastidiosa
,
L. interrogans
and
T. tengcongensis
.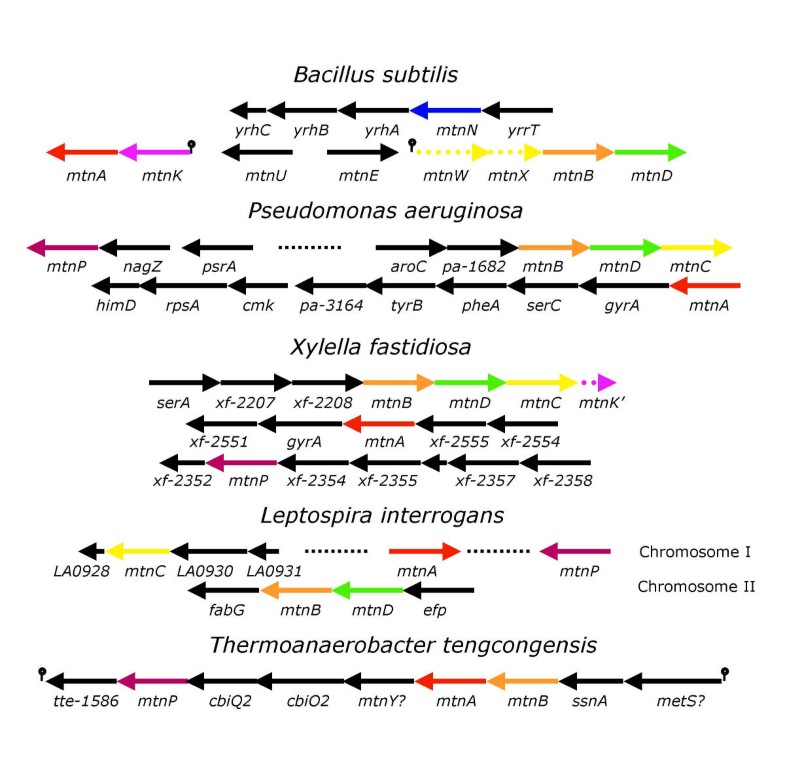 Most of the methionine salvage pathway has been uncovered in K. pneumoniae by the biochemical studies of Abeles and coworkers [25, 28, 29]. It was therefore interesting to identify the genes corresponding to the pathway. A complete genome sequence is known but not publicly available, while the K. pneumoniae genome programme at Washington University is still ongoing. We could however identify the genes for a complete methionine salvage pathway, which begins as in B. subtilis (MTA nucleosidase followed by MTR kinase), but differs at the level of the enolase-phosphatase step (Figures 3, 4, 5, 6).
In contrast with the behavior of K. pneumoniae, P. aeruginosa codes for an MTA phosphorylase. Gene PA-3004, located downstream from nagZ (coding for N-acetyl-D-glucosaminidase) and perhaps from transcriptional regulator gene psrA, corresponds to mtnP. Operon aroC(PA-1681)-PA-1682-PA-1683-PA-1684-masA(PA-1685) is likely to code for the core of the pathway in which PA-1682 has an unknown transport function, whereas PA-1683(mtnB), PA-1684(mtnD) and PA-1685(mtnC) correspond to the enzymatic steps described above. Finally, mtnA corresponds to gene PA-3169, possibly the first gene of a large mixed-function cluster mtnA-gyrA-serC-pheA-tyrB-aroE-cmk-rpsA-himD. This cluster is also involved in biosynthesis of aromatic molecules, and the gene tyrB coding for a wide spectrum aminotransferase is probably involved in KMTB transamination, as is its counterpart is in K. pneumoniae [34]. As a support to this analysis, both mtnP and mtnB mutants of P. aeruginosa could not grow on MTA as a sulfur source.
In X. fastidiosa a cluster of genes, presumably constituting an operon, is consistent with the existence of a complete methionine salvage pathway. This operon "serA-xf-2207-xf-2208-xf-2209-xf-2210-xf-2211-xf-2212" would code for glyceraldehyde-3-phosphate dehydrogenase (serine and one-carbon metabolism), subunits of a transporter, mtnB, mtnD, mtnC and a short fragment (N-terminus) of mtnK, respectively (Figure 3). A second gene cluster "xf-2555-xf-2554-mtnA-gyrA-xf-2551" codes for a tRNA synthetase, a protein of unknown function, mtnA, DNA gyrase and a protein of unknown function found in plants. There exists also a clear counterpart of mtnP (xf-2353, see Figure 2). This gene belongs to an operon (xf-2358->xf-2352), coding for an RNA methylase, a putative membrane protein highly conserved in cyanobacteria or bacteria associated to plants, a very short protein with similar sequence found in plants, a cell wall hydrolase, purine phosphoribosyltransferase, MtnP and a cold-shock-like protein. This operon is, at least in part, consistent with MTA and/or S-adenosylhomocysteine production and phosphorolysis. In particular, the first gene product would produce the latter molecule, while the phosphoribosyltransferase could scavenge adenine or a derivative. Thus, X. fastidiosa has all genes needed for a functional methionine salvage pathway. The truncated form of mtnK suggests that the core metabolic genes might have been obtained by horizontal gene transfer [36], and that MtnK was useless in the presence of a functional MtnP. Presence of a gene coding for spermidine synthase (xf-0143) as well as a counterpart of AdoMet decarboxylase (xf-1539) indicates that the substrate, MTA, is indeed synthesized in X. fastidiosa. The similarity between the steps of the methionine salvage pathway in K. pneumoniae, P. aeruginosa, and X. fastidiosa suggests that similar pathways will be found in many gamma-proteobacteria.
Leptospira interrogans genome annotation has been particularly difficult because the majority of the genes present in this organism are only poorly related to known genes in other organisms. Indeed, the annotated genome contains a large number of small putative genes that may not really be coding DNA sequences [37]. This prompted us to explore the presence of a methionine salvage pathway in this organism. In order to have better chances to find the genes of the pathway, we started by looking for counterparts of the first gene in the pathway, mtnA. There is a clear counterpart, LA2868, in L. interrogans (Figure 3), as an isolated gene in chromosome I. The gene for the phosphorylase with clear features (molecular footprint) of MTA phosphorylase (Figure 2), mtnP (LA4248), is also present as an isolated gene in the same chromosome. In chromosome II, operon LB294-LB293-LB292-fabG codes for translation factor EFP, MtnD, MtnB and a putative oxoacyl-ACP-reductase. The last enzyme required for the pathway is the enolase-phosphatase (MtnC): it is encoded in an operon present in chromosome I "LA0931-LA0930-LA0929-LA0928". The first gene codes for a peptide that could have a regulatory role, the following gene codes for a permease, then we find mtnC (Figure 5). The operon ends with a gene coding for a short peptide that could have features of transcriptional regulators. This indicates that L. interrogans most probably has the complete methionine salvage pathway. Interestingly, this organism has two counterparts of spermidine synthase (one on each chromosome), enzymes that should result in the production of MTA. Gene LB312, on the second chromosome could be the counterpart of speD in this genome.
Finally, we tried to explore the pathway in T. tengcongensis, because although similar to B. subtilis, this organism thrives mostly under anaerobic conditions. In T. tengcongensis the phosphorylase would be encoded in a large cluster (either continuous or split into two operons: tte-1584<-tte-1594) "ileS-ssnA-araD-tdh2-gcn3-cbiO2-cbiQ2-pnp2-tte-1586" upstream of "metC3-tte-1584". Both parts of this cluster, typical of a "sulfur island" [38], are preceded by a S-box riboswitch [20, 21]. Because of the consistency of the functions encoded in this cluster it is possible that ileS has been mistakenly thought to code for isoleucine tRNA synthetase, but rather codes for methionine tRNA synthetase (both enzymes are usually extremely similar). Because annotations are often propagated by similarity only, it would be most interesting to check experimentally whether this enzyme is an authentic methionine tRNA synthetase. If this were the case, this should prompt reanalysis and annotation of the whole class of cysteine, isoleucine, leucine, methionine and valine tRNA synthetases. The second gene could code for a metal-dependent hydrolase, probably hydrolyzing C-N bonds. The third gene, in the present context, is mtnB, tdh2 could code for a metal-dependent enolase (differing from its counterpart in other organisms, hence tentatively named mtnY, but this has to be substantiated experimentally), gcn3 is mtnA, the next two genes are divalent metal transporters, followed by mtnP, while the last gene could code for a component of a transporter. Thus the operon would be "S-box-metS-ssnA-mtnB-tte-1591(mtnY)-mtnA-cbiO2-cbiQ2-mtnP-tte-1586". For this organism, it is unlikely that a dioxygenase belongs to the pathway, because it lives mostly in the absence of oxygen. Indeed, we do not find a clear counterpart of mtnD. Starting from the end of the pathway we find that a broad-spectrum aminotransferase (labelled hisC, tte-0380) belongs to a large cluster mostly devoted to divalent-metal transport and synthesis of coenzyme B12, with two unknown genes tte-0378 and tte-0379. Coenzyme B12 is often involved in pathways operating under anaerobic conditions and this should prompt further studies of the methionine salvage pathway under these conditions (T. tengcongensis, that belongs to Bacteria, might provide a missing link to explore the pathway in Archaea).
Sulfur metabolism has probably to be compartmentalized, because of the extreme reactivity of this atom towards dioxygen and radicals. In this respect, it is interesting to observe that, despite their apparent variety of origins, genes of the methionine salvage pathway have a tendency to cluster into operons (translation products of neighboring cistrons are produced in close proximity in the cell), or even fuse and give multidomain proteins (this is frequent in eukaryotes [39]). Another case of gene fusion that might be related to comparmentalization of sulfur containing molecules can be seen in Aquifex aeoliqus where the MtnA protein begins with a domain of unknown function:
MDIRTHLGINQELSGKPVKVAEGYAEVLLKTQESMKADDKGLVHGGFIFSAADYASMLAVNHPNVVLAGANVKFLKPVKVGDEIICKARVSEDKGKKKKVLVECFKGEDKVFEGEFFTVFLID
that represents a whole COG domain, COG2050.1, PaaI. This domain has a signature for sulfur metabolite binding. This further substantiates the idea that sulfur metabolism is compartmentalized.
Finally it was interesting to note that B. subtilis, when in the presence of significant amounts of MTR, was likely to produce CO, that may act as a gaseous mediator. This is the more interesting because B. cereus and B. anthracis possess the same methionine salvage pathway as B. subtilis. Furthermore, because this pathway exists in humans, it may be relevant to the ongoing discussion about the role of CO as a neuronal or gastro-intestinal mediator [40, 41]. Analysis of similar arrangements in other genomes will lead to recognition of new features of the genetics of microbial sulfur metabolism.
Conclusions
The MTA => methionine salvage pathway is present in many Bacteria. This pathway provides us with a remarkable example of enzyme recruitment in bacteria associated to their biotope. Indeed the enolase-phosphatase step in the pathway is performed by enzymes of entirely different descent, RuBisCO being the most puzzling example. In the same way it seems quite remarkable that a family of GTP binding proteins, previously shown to be involved in translation elongation, universally belong to this pathway (MtnA). It will be an interesting link to compare the reactions in anaerobic environments. This will teach us how we could modify enzyme activities in the future and reprogram biochemical processes.
Methods
Genetic and biochemical experiments
Declarations
Acknowledgements
We would first like to acknowledge the contribution of the three anonymous reviewers who contributed to improve considerably the quality of this article. We wish to thank Evelyne Turlin for help in some of the experiments for monitoring reducing gasses in B. subtilis. This work benefited from support by the Innovation and Technology Fund, Hong Kong (BIOSUPPORT grant), Programme Commun de Recherche en Génie Biomédical (Swizerland) and by a grant from the Centre National de la Recherche Scientifique (Panoramix). Connection to human genes was made as a first contribution to the European Union BioSapiens programme.
Authors' Affiliations
(1)
HKU-Pasteur Research Centre, Pokfulam, SAR Hong Kong
(2)
Genetics of Bacterial Genomes, Institut Pasteur, Paris Cedex, France
(3)
Institut de Microbiologie Fondamentale, Université de Lausanne, Lausanne, Switzerland
(4)
Nara Institute of Science and Technology, Graduate School of Biological Sciences, Ikoma, Japan
(5)
Swiss Institute of Bioinformatics (ISB-SIB), Department of Medical Biochemistry, 1, rue Michel-Servet, Geneva 4, Switzerland
(6)
Present address: Laboratoire SYMPATHOS, Paris, France
Copyright
© Sekowska et al; licensee BioMed Central Ltd. 2004
This article is published under license to BioMed Central Ltd. This is an Open Access article: verbatim copying and redistribution of this article are permitted in all media for any purpose, provided this notice is preserved along with the article's original URL.