Research article

Open Access
Characterization of two transketolases encoded on the chromosome and the plasmid pBM19 of the facultative ribulose monophosphate cycle methylotroph Bacillus methanolicus
Received: 13 October 2013
Accepted: 7 January 2014
Published: 9 January 2014
Abstract
Background
Transketolase (TKT) is a key enzyme of the pentose phosphate pathway (PPP), the Calvin cycle and the ribulose monophosphate (RuMP) cycle. Bacillus methanolicus is a facultative RuMP pathway methylotroph. B. methanolicus MGA3 harbors two genes putatively coding for TKTs; one located on the chromosome (tkt C ) and one located on the natural occurring plasmid pBM19 (tkt P ).
Results
Both enzymes were produced in recombinant Escherichia coli, purified and shown to share similar biochemical parameters in vitro. They were found to be active as homotetramers and require thiamine pyrophosphate for catalytic activity. The inactive apoform of the TKTs, yielded by dialysis against buffer containing 10 mM EDTA, could be reconstituted most efficiently with Mn2+ and Mg2+. Both TKTs were thermo stable at physiological temperature (up to 65°C) with the highest activity at neutral pH. Ni2+, ATP and ADP significantly inhibited activity of both TKTs. Unlike the recently characterized RuMP pathway enzymes fructose 1,6-bisphosphate aldolase (FBA) and fructose 1,6-bisphosphatase/sedoheptulose 1,7-bisphosphatase (FBPase/SBPase) from B. methanolicus MGA3, both TKTs exhibited similar kinetic parameters although they only share 76% identical amino acids. The kinetic parameters were determined for the reaction with the substrates xylulose 5-phosphate (TKTC: kcat/KM: 264 s-1 mM-1; TKTP: kcat/KM: 231 s-1 mM) and ribulose 5-phosphate (TKTC: kcat/KM: 109 s-1 mM; TKTP: kcat/KM: 84 s-1 mM) as well as for the reaction with the substrates glyceraldehyde 3-phosphate (TKTC: kcat/KM: 108 s-1 mM; TKTP: kcat/KM: 71 s-1 mM) and fructose 6-phosphate (TKTC kcat/KM: 115 s-1 mM; TKTP: kcat/KM: 448 s-1 mM).
Conclusions
Based on the kinetic parameters no major TKT of B. methanolicus could be determined. Increased expression of tkt P , but not of tkt C during growth with methanol [J Bacteriol 188:3063–3072, 2006] argues for TKTP being the major TKT relevant in the RuMP pathway. Neither TKT exhibited activity as dihydroxyacetone synthase, as found in methylotrophic yeast, or as the evolutionary related 1-deoxyxylulose-5-phosphate synthase. The biological significance of the two TKTs for B. methanolicus methylotrophy is discussed.
Keywords
Bacillus methanolicus MethylotrophyRibulose monophosphate (RuMP) pathwayTransketolase (TKT)Thiamine pyrophosphate (THDP) dependent enzyme
Background
Transketolase (TKT, EC 2.2.1.1) catalyzes the cleavage of a carbon-carbon bond adjacent to a carbonyl group in ketosugars and transfers a two-carbon ketol group to aldosugars [1, 2], a reaction that might already have occurred under prebiotic conditions [3]. TKT requires divalent cations and thiamine diphosphate (ThDP) as a cofactor for its activity [4]. TKT is a key enzyme of the non-oxidative branch of the pentose phosphate pathway (PPP), the Calvin cycle and the ribulose monophosphate (RuMP) cycle. In these metabolic pathways, two ketol group transfers are relevant, the interconversion of xylulose 5-phosphate (X5-P) and ribose 5-phosphate (R5-P) to sedoheptulose 7-phosphate (S7-P) and glyceraldehyde phosphate (GAP) and the interconversion of GAP and fructose 6-phosphate (F6-P) to erythrose 4-phosphate (E4-P) and X5-P [5]. These substrates of TKT are important as precursors e.g. for nucleotide biosynthesis (R5-P), biosynthesis of aromatic amino acids (E4-P) and for cell wall biosynthesis in Gram-negative bacteria (S7-P). They are also intermediates of central pathways of carbon metabolism e.g. glycolysis (F6-P and GAP) and the Calvin and RuMP pathways [6].
TKT occurs in animals, plants, yeasts, archaea and bacteria like Corynebacterium glutamicum[7]. Properties of purified TKT have been reported mostly for eukaryotes like baker's yeast [4], spinach [8], rat liver [9], mouse brain [10], human leukocytes/erythrocytes [11] but also from bacteria such Escherichia coli[12]. TKT is usually a homodimer with two active centers located at the interface between the contacting monomers. Methylotrophic yeasts possess a related enzyme, dihydroxyacetone synthases (DHAS, EC 2.2.1.3), which catalyzes the two-carbon ketol transfer from X5-P to formaldehyde yielding dihydroxyacetone phosphate (DHAP) and GAP. Thus, in these yeasts formaldehyde is assimilated by DHAS and the products DHAP and GAP are further metabolized to regenerate the X5-P and in other reactions of the central carbon metabolism [13]. DHAS has been purified from Candida boidinii[13] and from the carboxydobacterium Acinetobacter sp. [14] and is likely to be present in the actinomycete Amycolatopsis methanolica[15]. Besides DHAS and TKT also DHAS-like proteins have been described, but their function remains unknown [16].
The Gram-positive, thermotolerant and facultative methylotrophic bacterium Bacillus methanolicus that can use the one-carbon (C1) compound methanol as a source of carbon and energy [17–19] possesses two genes annotated to encode TKT [20]. One of them is encoded on the chromosome (tkt C ), while the other one was found on the natural occurring plasmid pBM19 (tkt P ) [20, 21]. While the enzymes have not yet been characterized it has been proposed that they play an important role in the PPP and the RuMP pathway [20, 22].
The initial reaction of methanol utilization in
B. methanolicus
is the oxidation of methanol to formaldehyde catalyzed by methanol dehydrogenase (MDH) [
18
]. It is known that
B. methanolicus
possesses three distinct active MDHs [
23
]. Reduction equivalents are generated by the linear dissimilation pathway of formaldehyde to CO
2
and also by the PPP [
24
,
25
]. However, no formaldehyde dehydrogenase (FADH) was found in
B. methanolicus
[
21
]. Formaldehyde assimilation in
B. methanolicus
occurs via the RuMP pathway, which is divided in three different parts: fixation, cleavage and regeneration. The key reactions of the RuMP cycle are the aldol condensation of formaldehyde with ribulose 5-phosphate by 3-hexulose-6-phosphate synthase (HPS) and the subsequent isomerization of the product, D-arabino-3-hexulose 6-phosphate, to fructose 6-phosphate by 6-phospho-3-hexuloisomerase (PHI) in the fixation part. Fructose 1,6-bisphosphate (FBP) is generated in the subsequent phosphofructokinase reaction (Figure
1
). Fructose 1,6-bisphosphate aldolase (FBA, EC 4.1.2.13) cleaves FBP into GAP and DHAP.
B. methanolicus
has one chromosomal- and one plasmid-encoded FBA (FBA
P
and FBA
C
, respectively). Both catalyze the reversible cleavage of FBP to the triose phosphates GAP and DHAP [
26
]. We recently showed that FBA
P
is presumably the major gluconeogenic FBA while FBA
C
is the major glycolytic FBA in this bacterium [
26
]. The regeneration phase of the RuMP pathway, in which Ru5-P is regenerated, shares enzymes with the PPP and glycolysis [
27
] (Figure
1
). Two different variants of the regeneration part of the RuMP pathway are known, the TA (transaldolase) variant and the SBPase (sedoheptulose 1,7-bisphosphatase) variant. Based on its genome sequence,
B. methanolicus
possesses the whole genetic equipment for both variants of the RuMP pathway [
20
–
22
]. In the TA variant, S7-P is directly generated from F6-P and E4-P by a TA activity, while the SBPase variant requires the activity of a sedoheptulose 1,7-bisphosphate aldolase (SBA) to generate sedoheptulose 1,7-bisphosphate (SBP) and an SBPase activity for the further conversion of SBP to S7-P. We recently demonstrated, that both FBAs from
B. methanolicus
are promiscuous enzymes also active as SBA, while only the plasmid encoded GlpX
P
was active as FBPase and SBPase, which indicates that the SBPase variant of the RuMP pathway might operate in this organism [
28
]. Three enzymes, transketolase (TKT), ribose 5-phosphate isomerase (RPI) and ribulose 5-phosphate 3-epimerase (RPE), are shared in both variants. In the RuMP pathway, the predicted function of the TKT(s) is identical to the PPP and Calvin cycle.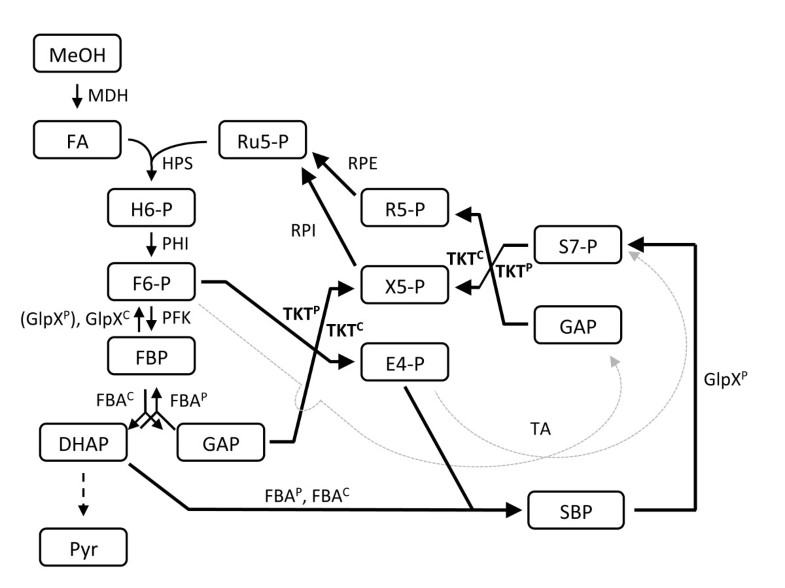 It has been shown that the natural plasmid pBM19 carries the key mdh gene and five genes with deduced roles in the RuMP pathway (glpX, fba, tkt, pfk, rpe). The absence of pBM19 results in the loss of the ability to grow on methanol and caused higher methanol tolerance and reduced formaldehyde tolerance levels in B. methanolicus cells [20]. Transcription levels of mdh and the five plasmid encoded RuMP pathway genes, as well as the chromosomal genes hps and phi, were increased during growth with methanol suggesting their importance for methylotrophy [21, 22]. Notably, 15 fold higher mRNA tkt P levels were found in methanol- as compared to mannitol-grown cells [21, 22]. Methanol consumption by this organism involves the concerted recruitment of both plasmid and chromosomal genes, and this discovery represented the first documentation of plasmid dependent methylotrophy [20, 22, 29].
The plasmid- encoded enzymes characterized to date differ from their chromosomally encoded counterparts as e.g. the three MDH enzymes exhibit different biochemical and physical properties and their genes are regulated differently [23]. GlpXC was shown to be the major FBPase of B. methanolicus, while GlpXP also carries SBPase activity [28]. Both FBAC and FBAP are SBAs, but their kinetic parameters allowed to distinguish FBAC as major glycolytic FBA and FBAP as major gluconeogenic FBA [26]. The objective of this study was to characterize the role and enzymatic properties of the two TKTs from B. methanolicus to get further insight into the genetic and biochemical aspects of methylotrophy
Discussion
The biochemical results provided here show that the plasmid (TKTP) and chromosomally (TKTP) encoded TKTs are similar and based on these data it is not feasible to predict their individual roles for methylotrophy in B. methanolicus. Both TKTs are active as homotetramers, a characterisitic shared with TKTs from Triticum aestivum and Sus scrova[5], but different from several microbial TKTs such as the enzymes from E. coli[12, 45], Saccharomyces cerevisiae[46] and Rhodobacer sphaeroides[47]. The requirement of bivalent cations for the activity of TKT from B. methanolicus with a preference of Mn2+. Mg2+, and Ca2+ is a common feature of TKTs, while the efficiency for the cations varies between different TKTs [12, 48]. It was assumed in the past, that purified mammalian TKTs do not require the addition of cofactors to maintain activity [9]. This led to the wrong conclusion that these enzymes did not require bivalent cations for activity. This was because the complex of TKT with THDP and cation is strong enough to carry the cofactors along the purification steps and though TKT remaining active. The cation can be removed by dialysis against EDTA [9, 49, 50]. Both TKTs showed comparable biochemical properties. This is in contrast to the recently characterized and biochemically diverse MDHs from B. methanolicus, which displayed different biochemical and regulatory properties [23]. Both TKTs were shown to be thermo stable at physiological temperature (50°C) of B. methanolicus. Neutral pH (6.5 to 7.8) was also reported to be optimal for both enzymes of E. coli[13, 31] and S. cerevisiae[51] and Rhodobacter sphaeroides[47]. Inhibition by ATP and ADP is unusual, however, since the intracellular concentrations of ATP and ADP in B. methanolicus are not known, it is difficult to judge the relevance of this inhibition in vivo.
TKT has been found so far in all organisms that have been investigated [31]. The presence of more than one TKT however, as described here for B. methanolicus is not a common phenomenon. Two TKTs are known in S. cerevisiae, encoded by tkl1 and tkl2[52, 53], and E. coli, encoded by tktA and tktB[12, 30]. As in B. methanolicus, the TKTs of E. coli and S. cerevisiae exhibit comparable kinetic parameters. However, deletion of tkl1, probably encoding the main TKT in S. cerevisiae, impaired growth in synthetic medium without added aromatic amino acids, whereas deletion of tkl2 did not cause such phenotype. In E. coli, the tktA gene product is the major isoenzyme and accounts for about 70 to 90% of TKT activity in cells and tktA mutants are highly sensitive to the presence of D-ribose, while tktB deletion mutants are not. tktA tktB double mutants are viable, but deficient in pentose catabolism and they require the addition of all three aromatic amino acids, aromatic vitamins and pyridoxine (vitamin B6). Transketolase A from Escherichia coli was shown to derepress the multiple antibiotic resistance operon marRAB by binding to the repressor MarR [54]. It remains to be shown if the TKTs from B. methanolicus show regulatory interactions with transcriptional repressors and if TKTP and TKTC differ in this respect.
Besides the common sugar phosphates F6-P, R5-P, GAP, X5-P and E4-P, TKTs from spinach leaves and S. cerevisiae are able to also utilize DHAP, dihydroxyacetone (DHA) and HP [50, 55, 56]. The reaction of TKTs with formaldehyde (called DHAS) is known in methylotrophic yeasts [57] and was recently also reported for transketolase A of E. coli[31]. However, among all substrates tested, both TKTs form B. methanolicus were only active with X5-P and R5-P as well as F6-P and GAP. Similar substrate specificity was described for mammalian TKTs [58]. Based on the catalytic efficiency (TKTC 82 s–1 mM–1 versus TKTP 448 s–1 mM–1) TKTP appears better suited for the interconversion of S7-P and GAP to R5-P and X5-P.
About 15 fold higher mRNA levels of tktP, but not of tktC, were previously observed when comparing growth in minimal medium with methanol and mannitol [21]. This induction was not observed here when assaying crude extracts of B. methanolicus MGA3(pTH1) which carries endogenous plasmid pBM19 after growth in complex medium SOBSuc induced with 200 mM methanol. Likely, this difference is due to the use of different media, namely complex medium with methanol vs. methanol minimal medium.
Conclusion
Both, TKTP and TKTC, showed comparable kinetic parameters. The about 15 fold increased mRNA levels of tkt P and of other RuMP pathway genes on the plasmid pBM19, which is essential for methanol utilization [12, 21] during growth in methanol minimal medium as compared to growth in mannitol minimal medium [20] argues for TKTP being the major TKT relevant in the RuMP pathway. In line with this argumentation, methanol-inducible GlpXP carries SBPase activity, which is relevant in the RuMP pathway [28], while the chromosomally encoded GlpXC is the major FBPase in gluconeogenesis and is not methanol-inducible.
Abbreviations
ADP:

Adenosine diphosphate
ATP:

Adenosine triphosphate
Bme:

B. methanolicus
C:

Chromosomal
DHA:

Dihydroxyacetone
DHAP:

Dihydroxyacetone phosphate
DHAS:

Dihydroxyacetone synthase
DTT:

Dithiothreitol
DXP:

1-deoxy-D-xylulose 5-phosphate Synthase
E4-P:

Erythrose 4-phosphate
Eco:

E. coli
EDTA:

Ethylenediaminetetraacetic acid
F6-P:

Fructose 6-phosphate
FBA:

Fructose 1,6-bisphosphate aldolase
FADH:

Formaldehyde dehydrogenase
FBP:

Fructose 1,6-bisphosphate
FBPase:

Fructose 1,6-bisphosphatase
GAP:

Glyceraldehyde phosphate
GlpX:

Fructose bisphosphatase
HP:

Hydroxypyruvat
HPS:

3-hexulose-6-phosphate synthase
MDH:

Methanol dehydrogenase
P:

Plasmid
PPP:

Pentose phosphate pathway
PHI:

6-phospho-3-hexuloisomerase
R5-P:

Ribose 5-phosphate
RPE:

Ribulose 5-phosphate 3-epimerase
RPI:

Ribose 5-phosphate isomerase
Ru5-P:

Ribulose 5-phosphate
RuMP:

Ribulose monophosphate
S7-P:

Sedoheptulose 7-phosphate
SBA:

Sedoheptulose 1,7-bisphosphate aldolase
SBPase:

Sedoheptulose 1,7-bisphosphatase
TA:

Transaldolase
ThDP:

Thiamine diphosphate
TKT:

Transketolase
X5-P:

Xylulose 5-phosphate.
Authors' Affiliations
(1)
Genetics of Prokaryotes, Faculty of Biology & CeBiTec, Bielefeld University, Bielefeld, Germany
(2)
Department of Molecular Biology, SINTEF Materials and Chemistry, Trondheim, Norway
Copyright
© Markert et al.; licensee BioMed Central Ltd. 2014
This article is published under license to BioMed Central Ltd. This is an Open Access article distributed under the terms of the Creative Commons Attribution License (http://creativecommons.org/licenses/by/2.0), which permits unrestricted use, distribution, and reproduction in any medium, provided the original work is properly cited. The Creative Commons Public Domain Dedication waiver (http://creativecommons.org/publicdomain/zero/1.0/) applies to the data made available in this article, unless otherwise stated.