Research article

Open Access
Broad-spectrum antiviral activity of chebulagic acid and punicalagin against viruses that use glycosaminoglycans for entry
BMC Microbiology
2013
13:187
Received: 31 December 2012
Accepted: 31 July 2013
Published: 7 August 2013
Abstract
Background
We previously identified two hydrolyzable tannins, chebulagic acid (CHLA) and punicalagin (PUG) that blocked herpes simplex virus type 1 (HSV-1) entry and spread. These compounds inhibited viral glycoprotein interactions with cell surface glycosaminoglycans (GAGs). Based on this property, we evaluated their antiviral efficacy against several different viruses known to employ GAGs for host cell entry.
Results
Extensive analysis of the tannins' mechanism of action was performed on a panel of viruses during the attachment and entry steps of infection. Virus-specific binding assays and the analysis of viral spread during treatment with these compounds were also conducted. CHLA and PUG were effective in abrogating infection by human cytomegalovirus (HCMV), hepatitis C virus (HCV), dengue virus (DENV), measles virus (MV), and respiratory syncytial virus (RSV), at μM concentrations and in dose-dependent manners without significant cytotoxicity. Moreover, the natural compounds inhibited viral attachment, penetration, and spread, to different degrees for each virus. Specifically, the tannins blocked all these steps of infection for HCMV, HCV, and MV, but had little effect on the post-fusion spread of DENV and RSV, which could suggest intriguing differences in the roles of GAG-interactions for these viruses.
Conclusions
CHLA and PUG may be of value as broad-spectrum antivirals for limiting emerging/recurring viruses known to engage host cell GAGs for entry. Further studies testing the efficacy of these tannins in vivo against certain viruses are justified.
Keywords
Chebulagic acid
Punicalagin
Tannin
Broad-spectrum antivirals
Viral entry
Glycosaminoglycans
Background
Viral infections are responsible for causing a significant number of human diseases, epidemic outbreaks, morbidity, and mortality. While vaccine efforts have proven successful for preventing and eradicating some viral infections, many viruses cannot be targeted by immunization, including dengue virus (DENV), human cytomegalovirus (HCMV), hepatitis C virus (HCV), human immunodeficiency virus (HIV), and respiratory syncytial virus (RSV) [1–5]. Alternative means of control include the use of antiviral drugs; however, there are currently few licensed and efficacious drugs available for prophylactic and therapeutic antiviral treatments. Global public health is therefore under constant threat of emerging and re-emerging viral infections, particularly those that do not currently have effective vaccines or have the potential to develop drug-resistant mutations [6]. Furthermore, due to increased global travel, trade, and rapid urbanization, increased numbers of viral pathogens are being introduced or re-introduced into areas where they are not normally indigenous [7]. This is reflected by the recent emergence of viral outbreaks caused by severe acute respiratory syndrome (SARS) virus, influenza virus (H1N1 and H5N1), DENV, West Nile virus (WNV), and measles virus (MV) [7–9]. In addition, the potential for outbreaks due to the intentional or accidental release of virus has also raised serious concerns. Thus, efforts in developing antiviral therapies are required to safeguard the public against viral pathogens.
Most antiviral therapies target defined steps in the viral life cycle, or more specifically, a particular viral protein. Examples include nucleoside analogues that inhibit herpes simplex virus (HSV) replication [10], protease inhibitors directed against the HCV NS3 protease [11], and neuraminidase inhibitors that block the release of influenza virus particles from infected cells [12]. However, the use of these antivirals is inevitably associated with the potential risk of selecting for drug-resistant viruses, which can pose a significant problem in the clinical management of these viral infections [10, 12, 13]. A combination cocktail of several inhibitors is often necessary to reduce the risk of generating drug resistant mutants. This is best exemplified by Highly Active Antiretroviral Therapy (HAART) for treating HIV infections [14]. However, experience with combination therapies is still limited, and the potential of producing viral escape mutants cannot be ruled out. An alternative, albeit less specific antiviral therapy is interferon (IFN) which, however, is only effective against a limited number of viral pathogens [15]. Moreover, because IFN treatment is prohibitively expensive and burdened with adverse side-effects, the therapy often results in low patient compliance [16, 17]. These characteristics make IFN impractical for widespread use in clinical settings. In view of these shortcomings, there is a clearly a need to develop novel and cost-effective antiviral therapeutics, particularly those that harbor broad-spectrum bioactivities, which can be employed to control and limit the spread of viral infections when immunization and standard therapies are unavailable.
Glycosaminoglycans (GAGs) are negatively charged linear polysaccharides that are typically sulfated and include chondroitin sulfate (CS) and heparan sulfate (HS). They represent a repertoire of complex natural glycans that are localized within extracellular matrices and on cell surfaces, and exhibit heterogeneous structures that allow them to bind to a wide range of protein partners such as adhesion molecules, chemokines, cytokines, growth factors, and matrix proteins [18]. Thus, GAGs play important roles in many biologic processes, which have profound physiological consequences that include cell signaling, inflammation, angiogenesis, and coagulation [18, 19]. Many viruses employ GAGs as primary entry factors that facilitate the infection of the host cell. These include DENV, HCMV, HCV, HIV, HSV, MV, RSV, and others [20–32]. Interactions of viral glycoproteins with GAGs are usually thought to increase the frequency of initial attachment of viral particles to the target cell surface. They, in turn, enable subsequent higher affinity binding with virus-specific entry receptors that promote virus entry. The importance of GAGs in facilitating viral infections has been demonstrated by using soluble heparin or GAG-deficient cell lines to block the entry of several viruses [20–31].
In our previous study, we identified chebulagic acid (CHLA) and punicalagin (PUG) (Figure
1
), two hydrolyzable tannins isolated from
Terminalia chebula
Retz., (
T. chebula
) as inhibitors of HSV type 1 (HSV-1) entry and spread [
33
]. We demonstrated that the two structurally-related compounds mediated their antiviral activities by targeting HSV-1 viral glycoproteins that interact with cell surface GAGs. Taking note of the fact that many viruses employ GAGs to initially bind to the host cell, and based on evidence that CHLA and PUG may act as GAG-competitors, we explored the antiviral-potential of these two tannins against a number of viruses known to interact with GAGs. Viral models included DENV, HCMV, HCV, MV, and RSV (Table
1
). Many of the diseases associated with these viruses lack preventative vaccines and/or drug treatment options [
1
–
4
,
13
,
34
–
36
]. Indeed, both CHLA and PUG efficiently inhibited entry and spread of these viruses to varying degrees. We suggest that CHLA and PUG have potential as novel cost-effective and broad-spectrum antivirals for controlling emerging/recurring infections by viruses that engage host cell surface GAGs.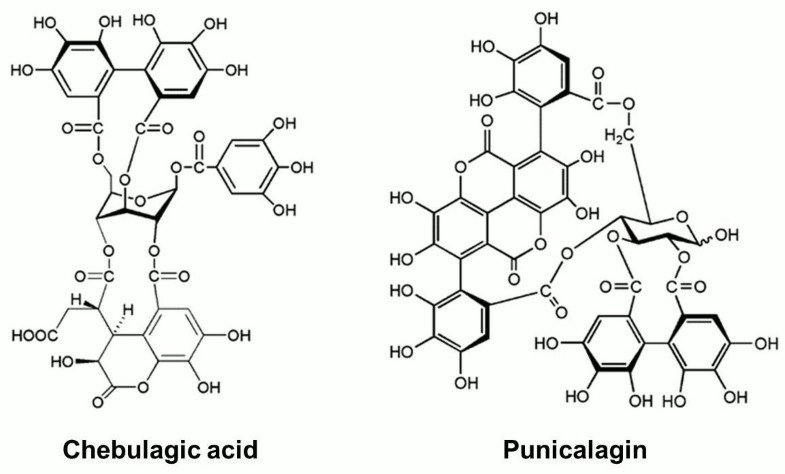 Table 1
Viruses used in this study and their requirement of cellular surface glycosaminoglycans for entry
| Virus | Family | Genome type | Envelope | Involvement of cellular surface glycosaminoglycans (GAGs) for entry |
| --- | --- | --- | --- | --- |
| HCMV | Herpesviridae | dsDNA | + | + |
| HCV | Flaviviridae | ssRNA (+) | + | + |
| DENV-2 | Flaviviridae | ssRNA (+) | + | + |
| MV | Paramyxoviridae | ssRNA (-) | + | + |
| RSV | Paramyxoviridae | ssRNA (-) | + | + |
| VSV | Rhabdoviridae | ssRNA (-) | + | ? |
| ADV-5 | Adenoviridae | dsDNA | - | +/- |
Discussion
The inhibition of virus-host cell entry is an effective antiviral control strategy. Based on the way a virus infects a host cell through interactions between viral glycoproteins and cellular membrane molecules, countermeasures against this process have been developed. For example, protective antibodies elicited by vaccines bind to viral particles and prevent infection [54]. Another strategy consists of using monoclonal antibodies or small molecules to bind host cell receptors and block virus interactions. Examples include an antibody directed against the HCV receptor claudin 1, and another is the antagonist maraviroc, which interacts with the HIV coreceptor CCR5 [14, 55]. Another HIV inhibitor called enfuvirtide blocks gp41-mediated membrane fusion during virus entry. Amantidine blocks influenza M2 ion channel activity during entry and viral assembly [14, 56]. On the other hand, non-specific approaches directed against the virus can influence membrane fluidity (lipid bilayer intercalator LJ001), membrane fusion (rigid amphipathic fusion inhibitors, RAFIs) [57, 58], or neutralize surface charge (cationic amphipathic sterol, squalamine) [59]. These are effective against a wide range of enveloped viruses. Similarly, we recently considered GAG receptors as targets for potential antiviral therapy. Two natural molecules of the hydrolyzable tannin class, CHLA and PUG, possess GAG-competing properties [33]. In this study, both compounds displayed significant in vitro antiviral activity against a variety of viruses, suggesting that blocking interaction with GAGs is a feasible way to prevent infection by some viruses. Our finding adds to the list of molecular strategies that are being developed to prevent and limit viral infections.
We previously showed that CHLA and PUG exerted their antiviral effects against HSV-1 by binding viral glycoproteins that interact with cell surface GAGs [33]. In the current study, these compounds were demonstrated to be effective against infection by other viruses, including HCMV, HCV, DENV-2, MV, and RSV, whose entry is known to be sensitive to neutralization by heparin (Table 3). Similar to HSV-1 [33], the tannins are hypothesized to bind to viral glycoproteins on these viruses and the cell surfaces of infected cells, blocking virus attachment, entry, and cell to cell spread. The two tannins may target more than one step of infection, including attachment, membrane fusion, and cell-to-cell fusion. Many viral glycoproteins have multiple roles including binding to host cell surface GAGs, interaction with higher affinity receptors, and mediating membrane fusion [25, 33, 60–64]. Since CHLA and PUG could not block the spread of DENV-2 and RSV, this might reflect situations where the inhibitors interact with specific sites on the viral glycoproteins involved with attachment, membrane fusion, or cell spread, but not all these functions. Conformational changes in the viral glycoproteins could result from binding to the tannins and interactions with the cellular microenvironment may vary for the different viruses. For example, heparin was observed to be relatively ineffective against post-entry spread for all viruses examined. This could be due to the fact that the molecular size of heparin limits its accessibility to viral glycoproteins in the intercellular junctions [33]. In addition, the tannins displayed differential efficacies against the viruses examined (Table 2). It is interesting that CHLA and PUG appeared to be particularly selective against RSV, which could be due to higher affinity of the compounds against the RSV glycoproteins. Detailed structure-activity relationship (SAR) studies coupled with the analysis of individual viral glycoproteins would be necessary to clarify these issues. In addition, the use of genetically altered virus lacking certain glycoproteins, for example the DeltaG RSV with deleted glycoprotein G [31], could further help clarify the tannins' antiviral mechanism.
Although vaccines represent the preferred method for protection against viruses, they have limited use against individuals who are already infected with a virus. Vaccines are also associated with problems of supply, cost of development, coverage and deployment, and efficacy against newly emerging and rapidly mutating viruses [65]. While some antiviral therapies have proven successful, treatment of many pathogenic viral infections have yet to be developed or approved. These include several of the infectious agents investigated in this study. The clinical value of current antiviral drugs is also frequently compromised by development of drug resistant variants causing recurrence of viral infections. Broad-spectrum antivirals may offer some relief in the treatment of these infections. Although many viruses use GAGs to initiate infection, therapies exploiting this interaction have yet to be developed. Heparin, which is also a type of GAG, is known to block the interaction of viral glycoproteins with GAGs in cell culture studies. However, it is not clinically useful in vivo for frequent/long-term administration due to side effects related to its anticoagulation activity [66]. Conversely, while the CHLA and PUG are structurally different from heparin, they also target the GAG-interacting properties of viruses and possess a much higher potency. In vivo toxicological and metabolic studies of these tannins have been explored with both showing minimal toxicity [67, 68]. Furthermore, the two compounds could be mass-produced by chemical synthesis or extracted from T. chebula, which is widespread throughout Southeast Asia, making them attractive, cost-effective drug candidates [69–72]. Therefore, development of broad-spectrum antivirals using CHLA and PUG or their structure as lead compounds could be useful. They could help control viruses such as HCV, DENV, MV, and RSV, especially in epidemic areas and resource-poor countries where active vaccine or commercial programs are unavailable. Potential applications include formulations of the tannins as topical creams, gels, aerosol inhalers, or incorporating these compounds in materials, such as wipes, surgical masks, and protective gloves.
Conclusions
In conclusion, we have demonstrated that CHLA and PUG have the ability to function as broad-spectrum antivirals in vitro. They effectively prevented infections by viruses utilizing GAG-assisted entry, and included HCMV, HCV, DENV, MV, and RSV. These natural molecules could serve as new therapeutic agents and help limit infections by viruses for which vaccines or FDA-licensed drugs do not yet exist. Future clinical applications and studies investigating their efficacy in vivo against specific viruses should be explored.
Declarations
Acknowledgement
The authors would like to thank Drs. Andrew C. Issekutz, Charles M. Rice, Karen L. Mossman, and Rodney S. Russell for reagents, and Dr. Michael G. Brown and Ayham Al-Afif for help with virus preparations. LTL was a recipient of the IWK Health Centre Postdoctoral Fellowship and the McCarlie Postdoctoral Award, and was supported in part by funding from Taipei Medical University (TMU101-AE1-B12) for the completion of this study. CCL was supported in part by a research grant from the National Science Council of Taiwan (NSC 98-2313-B-037-003-MY3). CDR was supported by operating grants from the Canadian Institutes of Health (CIHR-MOP-10638 and CIHR-MOP-114949).
Authors' Affiliations
(1)
Department of Microbiology and Immunology, School of Medicine, College of Medicine, Taipei Medical University, Taipei, Taiwan
(2)
Department of Pediatrics and Canadian Center for Vaccinology, IWK Health Centre, Halifax, Canada
(3)
School of Pharmacy, College of Pharmacy, Kaohsiung Medical University, Kaohsiung, Taiwan
(4)
Department of Pharmacology, School of Medicine, College of Medicine, Taipei Medical University, Taipei, Taiwan
(5)
Graduate Institute of Natural Products, College of Pharmacy, Kaohsiung Medical University, Kaohsiung, Taiwan
(6)
Graduate Institute of Pharmaceutical Science and Technology, Central Taiwan University of Science and Technology, Taichung, Taiwan
(7)
Department of Cosmetic Science, Chia Nan University of Pharmacy and Science, Tainan, Taiwan
(8)
Department of Microbiology and Immunology, Dalhousie University, Halifax, Canada
Copyright
© Lin et al.; licensee BioMed Central Ltd. 2013
This article is published under license to BioMed Central Ltd. This is an Open Access article distributed under the terms of the Creative Commons Attribution License (http://creativecommons.org/licenses/by/2.0), which permits unrestricted use, distribution, and reproduction in any medium, provided the original work is properly cited.