Research article
Open Access
Stabilized homoserine o-succinyltransferases (MetA) or L-methionine partially recovers the growth defect in Escherichia coli lacking ATP-dependent proteases or the DnaK chaperone
BMC Microbiology
2013
13:179
Received: 19 February 2013
Accepted: 24 July 2013
Published: 30 July 2013
Abstract
Background
The growth of Escherichia coli at elevated temperatures is limited due to the inherent instability of homoserine o-succinyltransferase, MetA, which is the first enzyme in the methionine biosynthesis pathway. MetA is also unstable under other stressful conditions, such as weak organic acids and oxidative stress. The MetA protein unfolds, even at 25°C, forms considerable aggregates at 37°C and completely aggregates at 44°C.
Results
We extended the MetA mutation studies using a consensus concept based on statistics and sequence database analysis to predict the point mutations resulting in increased MetA stability. In this study, four single amino acid substitutions (Q96K, I124L, I229Y and F247Y) in MetA designed according to the consensus concept and using the I-mutant2.0 modeling tool conferred accelerated growth on the E. coli strain WE at 44°C. MetA mutants that enabled E. coli growth at higher temperatures did not display increased melting temperatures (T m ) or enhanced catalytic activity but did show improved in vivo stability at mild (37°C) and elevated (44°C) temperatures. Notably, we observed that the stabilized MetA mutants partially recovered the growth defects of E. coli mutants in which ATP-dependent proteases or the DnaK chaperone was deleted. These results suggest that the impaired growth of these E. coli mutants primarily reflect the inherent instability of MetA and, thus, the methionine supply. As further evidence, the addition of methionine recovered most of the growth defects in mutants lacking either ATP-dependent proteases or the DnaK chaperone.
Conclusions
A collection of stable single-residue mutated MetA enzymes were constructed and investigated as background for engineering the stabilized mutants. In summary, the mutations in a single gene, metA, reframe the window of growth temperature in both normal and mutant E. coli strains.
Keywords
Escherichia coli ThermostabilityHomoserine o-succinyltransferase (MetA)Growth rateATP-dependent proteasesDnaK chaperone
Background
Methionine is an essential amino acid in mammalian cells, although most bacteria, fungi and plants synthesize this amino acid de novo from aspartate [1]. Methionine participates in protein biosynthesis both as an initial amino acid and as one of the basic building blocks [2]. In Escherichia coli, the first enzyme in the methionine biosynthesis pathway, homoserine o-succinyltransferase (MetA) [1, 3–5], is extremely sensitive to many stress conditions (e.g., thermal, oxidative or acidic stress) [6–8]. At temperatures higher than 25°C, MetA activity is reduced, and the protein tends to unfold, resulting in a methionine limitation in E. coli growth [9]. MetA reversibly unfolds at temperatures approaching 42°C and is a substrate for the ATP-dependent proteases Lon, ClpP/X and HslVU [6]. At temperatures of 44°C and higher, MetA completely aggregates and is no longer found in the soluble protein fraction, thus limiting growth [9]. The chemical chaperone trimethylamine oxide reduces insoluble MetA accumulation and improves E. coli growth at elevated temperatures [9]. It has been suggested that MetA could be classified as a Class III substrate for chaperones because this molecule is extremely prone to aggregation [10].
Despite the importance of MetA in E. coli growth, little information exists on the amino acid residues involved in the inherent instability of MetA. The sensitivity of MetA to multiple stress conditions suggests that this enzyme might be a type of 'metabolic fuse' for the detection of unfavorable growth conditions [7]. Previously, we used random mutagenesis of metA to improve E. coli growth at elevated temperatures [11]. Mutations that resulted in the amino acid substitutions I229T and N267D enabled the E. coli strain WE to grow at higher temperatures and increased the ability of the strain to tolerate acidic conditions. In this study, we extended our stabilization studies using a computer-based design and consensus approach [12] to identify additional mutations that might stabilize the inherently unstable MetA enzyme. To achieve pronounced thermal stabilization, we combined several single substitutions in a multiple mutant, as the thermo-stabilization effects of individual mutations in many cases were independent and nearly additive [12]. Here, we describe the successful application of the consensus concept approach and the I-mutant2.0 modeling tool [13] to design stabilized MetA mutants. The consensus concept approach for engineering thermally stable proteins is based on an idea that by multiple sequence alignment of the homologous counterparts from mesophiles and thermophiles, the nonconsensus amino acid might be determined and substituted with the respective consensus amino acid, contributing to the protein stability [12]. I-Mutant2.0 is a support vector machine-based web server for the automatic prediction of protein stability changes with single-site mutations (http://gpcr.biocomp.unibo.it/~emidio/I-Mutant2.0/I-Mutant2.0_Details.html).
Four substitutions, Q96K, I124L, I229Y and F247Y, improved the growth of the E. coli WE strain at elevated temperatures. Unexpectedly, the MetA mutants I124Y and I229Y, which conferred higher growth rates at 44°C, displayed melting temperatures similar to that of the native enzyme but exhibited improved in vivo stability. The stabilized MetA mutant enzymes at least partially recovered the growth defects of mutant E. coli strains with deletions of either ATP-dependent proteases or the DnaK chaperone. These results suggest that the growth defects of ΔdnaK or protease-deficient mutants primarily reflect malfunctioning MetA at 37°C, a standard physiological temperature. Consistently, the addition of methionine recovered the temperature-dependent growth defects of these mutants.
Discussion
The growth of
E. coli
strains at elevated temperatures in a defined medium is impaired by the extreme instability of the first enzyme in the methionine biosynthetic pathway, homoserine o-succinyltransferase (MetA) [
18
]. Although the key role of the MetA protein in
E. coli
growth under thermal stress has been known for 40 years [
8
], it is unclear which residues are involved in the inherent instability of MetA. Previously, we identified two amino acid substitutions, I229T and N267D, responsible for MetA tolerance to both thermal and acid stress [
11
]. In this study, we employed several approaches to design more stable MetA proteins
.
Using the consensus concept approach [
12
], stabilization was achieved through three single amino acid substitutions, Q96K, I124L and F247Y. We hypothesized that a combination of these amino acid substitutions might significantly increase MetA stability compared with the single mutants we identified in the randomly mutated thermotolerant MetA-333 [
11
]. The new MetA mutant enzymes were more resistant to heat-induced aggregation
in vitro
(Figure
2
). The enhanced
in vivo
stabilities of the MetA mutants were also demonstrated through the immunodetection of residual MetA protein after blocking protein synthesis (Figure
3
). However, the melting temperature, a good indicator of thermal stability [
19
], was only slightly increased. Instead of thermo-stabilization, the mutant MetAs might experience kinetic stabilization, in which a specific conformation change, which increases the unfolding barrier, ultimately results in slow unfolding rates [
20
]. This assumption is supported by a decreased level of the mutated MetAs observed in insoluble protein fraction under a temperature shift from 30° to 45°C compared with the native MetA protein (Additional file
4
: Figure S3). If a native protein is thermodynamically unstable and/or functions under stress conditions, then kinetic stabilization could enhance the functional properties of the protein [
21
]. Furthermore, improved kinetic stability is tightly associated with protease resistance [
22
]. Notably, the MetA mutants were more resistant to proteases;
in vitro
reconstitution experiments confirmed the resistance of the MetA mutants to the ATP-dependent cytosolic proteases, including Lon, ClpPX/PA and HslVU (Figure
6
). Previously, the aggregated MetA protein was identified as a substrate for intracellular proteases Lon, ClpPX/PA and HslVU [
6
]. Biran
et al.
[
6
] assumed the combinatorial action of these proteases on MetA degradation because the protein stabilization was detected in the triple deletion mutant
lon
,
clpP
,
hslVU
but not in any single (
lon
,
clpP
,
hflB
and
hslVU
) or double (
lon–clpP
) deletion mutants
.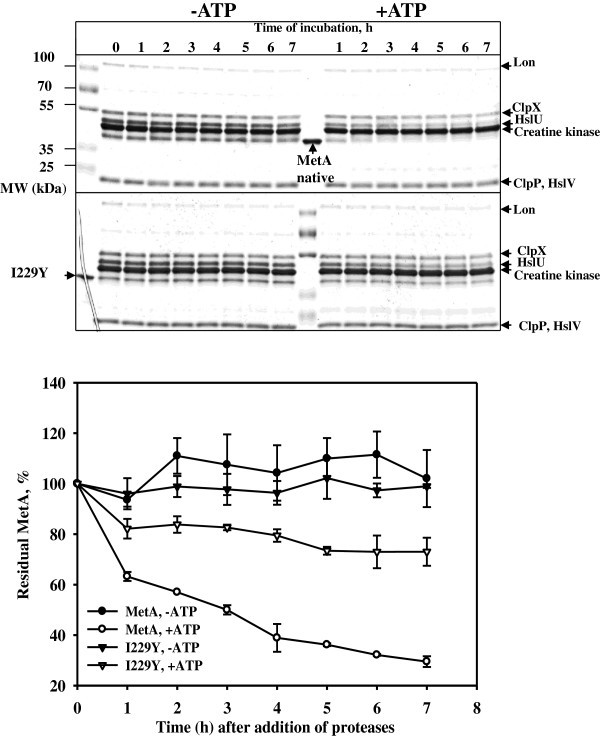 Previous studies have shown that the dnaK gene is not essential for growth and protein folding at 30°C but is required at temperatures above 37°C or below 15°C [23]. Here, we showed that the defective growth of a ΔdnaK mutant at 37°C can be partially restored using a stabilized MetA (Figure 4). This result suggests that the growth defect of the DnaK-deficient strain is primarily due to non-functional MetA because MetA, an inherently unstable protein even at the physiological temperature of 37°C, requires folding assistance from the DnaK chaperone system. The stabilized MetA mutants also partially restore the growth defects of protease-deficient strains at 42°C (Figure 4). We also examined whether the temperature-sensitive mutations (ΔmukB, ΔbamE and Δlpp) affecting other cellular processes are suppressed through methionine supplementation at higher temperatures. None of the mutants showed improved growth, indicating that proper methionine supply is a major issue in the growth defects of both a ∆dnaK and the triple protease mutants.
Taken together, these results suggest that the temperature-dependent growth defects of the ΔdnaK mutants and protease-deficient strains primarily reflect the malfunction of MetA and consequently, the methionine supply. Furthermore, the addition of methionine completely corrects the growth defect of the dnaK null mutant at 37°C and recovers most of the impaired growth of the protease-deficient strain at 42°C.
To evaluate the conformational changes caused by single-site mutations in the MetA protein, we performed molecular dynamics simulations of a homology model based on the closest MetA homolog, homoserine O-succinyltransferase from Thermotoga maritima (PDB code 2H2W). Our model has shown that the stabilizing MetA mutations were randomly distributed in different secondary structure elements (Additional file 8: Table S5). Stabilization has been shown for these mutants according to the altered free energy of protein folding (ΔΔG < −1 kcal/mol) (Additional file 8: Table S5). We observed that the highest ΔΔG value was correlated with the maximal melting temperature (T m ) for the Y229 mutant (Table 1; Additional file 8: Table S5). We also calculated the cavity volume change as a parameter associated with the conformational stability and folding reaction [24]. The cavity volumes of all mutants were diminished compared with the native enzyme, with maximal decrease for the I229Y substitution (Additional file 8: Table S5). Cavities in proteins are a major contributor to low packing densities and reduced stability [25]. Cavities and surface grooves are also potential sites for the binding of drugs, ligands and other proteins [26]. Therefore, decreased cavity volumes should lead to higher conformational stability and resistance to aggregation for originally unstable proteins, such as MetA. Thus, MetA might be an inherently unstable protein [27] because it unfolds at room temperature and dramatically loses activity at 30°C or higher [9]. Due to its increased sensitivity to many stress conditions, including temperature, weak organic acids and oxidative stress [7], MetA protein has been suggested to function as a 'metabolic fuse' to detect unfavorable growth conditions [7].
Conclusions
In this study, we further elucidated the mutations in MetA that facilitate faster E. coli growth at elevated temperatures (44°C) compared with the wild-type enzyme. Stabilized MetA proteins partially suppressed the temperature-sensitive phenotype of both dnaK and triple protease deficient mutants. Because improving the growth of E. coli at higher temperatures has an immediate application in realizing the bacterial cell factory, this improvement might also facilitate the identification of target genes and proteins, enabling thermotolerance or improved growth at higher operating temperatures [28–30].
Declarations
Acknowledgements
This work was financially supported through the 21C Frontier Program of Microbial Genomics and Applications (grant MGC2100834) of the Ministry of Education, Science and Technology (MEST) of the Republic of Korea and a KRIBB Innovation Grant.
Authors' Affiliations
(1)
Superbacteria Research Center, Korea Research Institute of Bioscience and Biotechnology (KRIBB), Yuseong-gu, South Korea
Copyright
© Mordukhova et al.; licensee BioMed Central Ltd. 2013
This article is published under license to BioMed Central Ltd. This is an Open Access article distributed under the terms of the Creative Commons Attribution License (http://creativecommons.org/licenses/by/2.0), which permits unrestricted use, distribution, and reproduction in any medium, provided the original work is properly cited.