Research article

Open Access
Effects of bacteriophage traits on plaque formation
BMC Microbiology
2011
11:181
Received: 10 March 2011
Accepted: 9 August 2011
Published: 9 August 2011
Abstract
Background
The appearance of plaques on a bacterial lawn is one of the enduring imageries in modern day biology. The seeming simplicity of a plaque has invited many hypotheses and models in trying to describe and explain the details of its formation. However, until now, there has been no systematic experimental exploration on how different bacteriophage (phage) traits may influence the formation of a plaque. In this study, we constructed a series of isogenic λ phages that differ in their adsorption rate, lysis timing, or morphology so that we can determine the effects if these changes on three plaque properties: size, progeny productivity, and phage concentration within plaques.
Results
We found that the adsorption rate has a diminishing, but negative impact on all three plaque measurements. Interestingly, there exists a concave relationship between the lysis time and plaque size, resulting in an apparent optimal lysis time that maximizes the plaque size. Although suggestive in appearance, we did not detect a significant effect of lysis time on plaque productivity. Nonetheless, the combined effects of plaque size and productivity resulted in an apparent convex relationship between the lysis time and phage concentration within plaques. Lastly, we found that virion morphology also affected plaque size. We compared our results to the available models on plaque size and productivity. For the models in their current forms, a few of them can capture the qualitative aspects of our results, but not consistently in both plaque properties.
Conclusions
By using a collection of isogenic phage strains, we were able to investigate the effects of individual phage traits on plaque size, plaque productivity, and average phage concentration in a plaque while holding all other traits constant. The controlled nature of our study allowed us to test several model predictions on plaque size and plaque productivity. It seems that a more realistic theoretical approach to plaque formation is needed in order to capture the complex interaction between phage and its bacterium host in a spatially restricted environment.
Keywords
Adsorption Rate
Burst Size
Plaque Size
Lysis Time
Tail Fiber
Background
Ever since the discovery of bacteriophages (phages), the prominent clearings that they produce on bacterial lawns (the lysis plaques) have fascinated countless microbiologists. In fact, the name bacteriophage, literally meaning bacteria eater, was derived at least in part from the phage's ability to form clearings [1] (for English translation see d'Hérelle [2]). Besides a few exceptions, such as the phage T7, for which the plaque continues to increase in size [3, 4], most phage plaques, after a period of incubation, assume a certain size and acquire a definitive boundary, either with a fuzzy or clear-cut edge. The ability to form plaques is not restricted to phages only since animal and plant viruses also form plaques and lesions on cell cultures [5], host tissues [6], or leaf surfaces [7].
It is usually assumed that each plaque on plates is initiated by a single virus particle, although not all virus particles in the sample can initiate infections [8] and reference therein]. The typical circular plaque morphology is simply the result of cycles of infection of the embedded host cells by the numerous viral progeny disseminating in all directions from the original focus of infection, reminiscent of the traveling wave of an epidemic [9]. With a standardized condition, the plaque morphology can be quite consistent. Therefore, a change in plaque morphology during study is commonly used as an indication that the viral strain may have sustained a mutation(s) [10]. Furthermore, with proper calibration, the phage plaque size has also been used as a surrogate for the fitness measurement [11] (however, see [12]). Plaque size can also be a good indicator of genetic changes for animal viruses [13–15]. More importantly, investigation of plaque formation in a simplified and controlled laboratory condition of an agar gel should allow us to better understand how phages interact with their bacterial hosts in a more natural and complex biofilm environment [16–18].
The perceived simplicity of phage plaques has invited several efforts in mathematical modeling. The first of such efforts was pioneered by Koch [
19
], who approximated the enlargement of a plaque by equating it with the diffusion of phage particles through a fixed host density with either reversible or irreversible adsorption onto the encountered host cells. After a few decades of inactivity by microbiologists, Yin and coworkers [
9
,
20
] reinvigorated the effort by incorporating diffusion, adsorption, and production of phage particles into the models. Abedon and coworkers [
16
,
21
] have provided an excellent and comprehensive survey of mathematical models on the enlargement of a phage plaque. The commonly considered factors include the virion diffusivity (rate of virion particle diffusion without the presence of the host), various rate constants for phage-bacterium attachment, phage latent period, burst size, and host density. Figure
1
shows the impacts of selected factors on plaque size, as summarized by Abedon and Yin [
12
]. All else being equal, the phage with a higher diffusivity would have a larger plaque size; specifically the size would be a quadratic function of the diffusivity (Figure
1A
). Although the model predictions are not always in total agreement with each other [
16
], the consensus is that too high or too low an adsorption rate would generally result in a smaller plaque size. That is, there is likely an optimal adsorption rate, leading to a maximal plaque size (Figure
1B
). The plaque size is also predicted to be negatively correlated with the latent period (or lysis time), specifically a quadratic function of the latent period (Figure
1C
). It is reasoned that the more time the phage progeny spends inside the host, the less time it would be able to diffuse to a new host. It is also intuitively apparent that a larger burst size would result in a larger plaque size. However, simulations [
9
,
20
] showed that there is a diminishing impact of burst size on plaque size (Figure
1D
).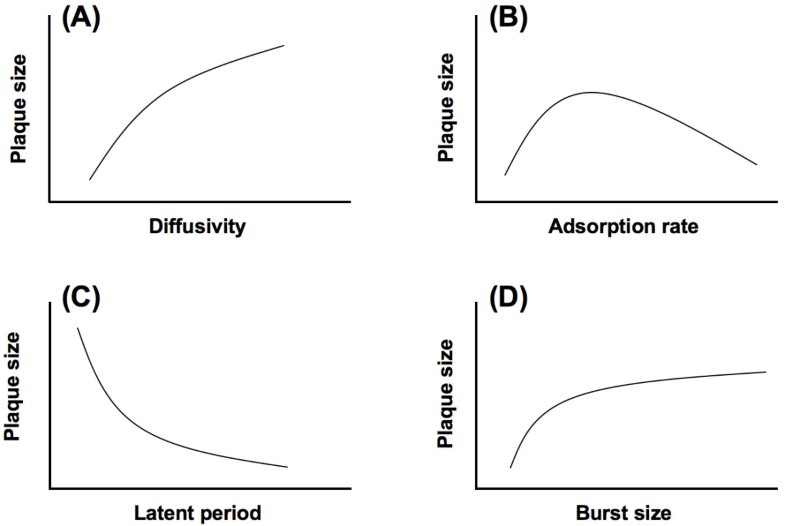 When compared to studies on plaque size, considerations of plaque productivity, the total number of phage progeny inside a plaque, has received less attention. The most systematic theoretical study was conducted by Abedon and Culler [22]. This was a natural extension of their previous work on phage plaque size [16]. By taking advantage of various mathematical models describing the plaque size enlargement, they were able to derive the relationships between plaque productivity (plaque fecundity, in their terminology) and various phage traits. Not surprisingly, all models predicted that a shorter latent period would result in a lower plaque productivity. However, in some models, the long latent period did not influence the productivity much, thus assuming a plateau-like relationship, while others predicted an optimal latent period, maximizing the plaque productivity [[16]; their Figure 3].
The problem with studies on phage plaque formation is that there are few empirical tests of the various proposed mathematical models [9, 19, 23]. Most observations are anecdotal, lacking a systematic focus. Typically, only a narrow facet of the model was tested [20]. The main obstacle to conducting experimental tests of these models is that values of various phage traits are not easily changed, unlike in mathematical models and computer simulations. However, the difficulty of experimentally assessing the impacts of phage traits on plaque size and productivity can be overcome by using a series of isogenic phage strains that only differ in one or two traits.
In this study, we constructed and assembled a collection of isogenic λ phage strains that only differed in one, two, or all three phage traits: adsorption rate, lysis time, and morphology. By measuring the plaque sizes with digital image analysis and estimating the plaque productivities of these isogenic phages, we were able to assess the impact of each phage trait while holding other variables constant. We also tested the model predictions using our current results. We found that some of the models were able to capture the empirical results qualitatively but not always quantitatively.
Discussion
The appearance of a plaque is the oldest, but also the most useful and direct way of confirming the presence of a phage. Even with the advent of modern technologies, such as real-time quantitative PCR and fluorescence-labeling, the simplicity of plaque counting is still the easiest and the most commonly used method for quantifying the number of infectious phages in a sample [28, 29]. Even in the earliest days, researchers have been divining the various idiosyncratic traits of a phage through the size and shape of the plaque it makes [30].
Except for plaques made by phages like T7, most plaques have a definitive size after overnight incubation. One of the most important changes during this typical incubation period is the switch of host physiology from the initial exponential growth to the eventual stationary stagnation. With few exceptions [3, 4, 31], most phages cannot sustain productive infections when infecting stationary phase cells. Consequently, the plaque size would be limited by the amount of time available for productive infections. The length of productive time can be manipulated by either the initial host density or host physiology (e.g., growth rate). For example, in the case of phage ϕ6, the phage made a larger plaque when plated with a lower initial host density [19, 32]. In the most extreme case, addition of sub-lethal amount of antibiotics and/or glycerol in the agar plate, presumably changing the host physiology, greatly improved the appearance of the plaque, transforming it from small and turbid to large and clear [33]. In our study, however, all the plating conditions were kept constant (except when determining the impact of phage morphology on plaque size, in which we used different host strains), therefore, the differences in plaque size and productivity would simply be due to the differences in phage traits, rather than the amount of time available for productive infection.
The life cycle of a phage in an agar plate can be divided into two parts: the extracellular phase for virion diffusion/adsorption and the intracellular phase for progeny production. All else being equal, more time for the extracellular phase would allow the virion to diffuse farther. On the other hand, more time for the intracellular phase would produce more progeny that could be diffused. From this point-of-view, it can be argued that the problems of plaque size and plaque productivity can be seen as a problem of how to optimally allocate the limited time between the extra- and intra-cellular phases. It is possible that the optimal time allocation for maximum plaque size may not be the same for maximum plaque productivity [22].
Conclusions
Our experimental study examined the effects of phage traits on various plaque properties. We showed that adsorption rate negatively impacts plaque size, plaque productivity, and phage concentration in plaques. On the other hand, the plaque size is at its maximum when the lysis time is intermediate in length. But differences in lysis time did not significantly influence plaque productivity. Moreover, the phage with an expected larger virion size showed a smaller plaque size. However, available mathematical models on plaque size and plaque productivity, in their current forms, did not consistently capture the general trends revealed in our study, suggesting that more works are needed to incorporate realism into model description of plaque formation.
Methods
Bacterial and phage strains, plasmids, and primers
Bacterial and phage strains used in this study are listed in Table
3
. Plasmids and primers are listed in the Additional file
2
. Bacterial cultures were grown in LB medium with antibiotics when appropriate.
Table 3
List of bacterial and phage strains used in this study.
| Name | Relevant genotype | References |
| --- | --- | --- |
| XL1 Blue | lacZΔM15 | Stratagene |
| SYP052 | MC4100(λ cI857 S wt Δ ( J-orf401 )::cam) | [27] |
| IN714 | JW2203 (CGSC#9781), ΔompC768::kan | [45] |
| SYP124 | MG1655 with lacZΔM15 | Shao (unpublished data) |
| IN731 | SYP124 with ΔompC768::kan lcaZΔM15 | This study |
| SYP045 | MC4100(λcI857 Swt R::LacZα + J WT stf - ) | [27] |
| SYP046 | MC4100(λcI857 Swt R::LacZα + J WT stf + ) | [27] |
| SYP085 | MC4100(λcI857 S S68C R::LacZα + J WT stf - ) | [27] |
| SYP093 | MC4100(λcI857 S S68C R::LacZα + J WT stf + ) | [27] |
| SYP086 | MC4100(λcI857 S M1L R::LacZα + J WT stf - ) | [27] |
| SYP094 | MC4100(λcI857 S M1L R::LacZα + J WT stf + ) | [27] |
| SYP087 | MC4100(λcI857 S M1L/C51S R::LacZα + J WT stf - ) | [27] |
| SYP095 | MC4100(λcI857 S M1L/C51S R::LacZα + J WT stf + ) | [27] |
| SYP088 | MC4100(λcI857 S M1L/C51SS76C R::LacZα + J WT stf - ) | [27] |
| SYP096 | MC4100(λcI857 S M1L/C51SS76C R::LacZα + J WT stf + ) | [27] |
| RG26 | MG1655(λcI857 Swt R::LacZα + J 245-2 stf - ) | This study |
| RG23 | MG1655(λcI857 Swt R::LacZα + J 245-2 stf + ) | This study |
| RG31 | MG1655(λcI857 Swt R::LacZα + J 1077-1 stf - ) | [17] |
| RG30 | MG1655(λcI857 Swt R::LacZα + J 1077-1 stf + ) | This study |
| RG29 | MG1655(λcI857 Swt R::LacZα + J 1127-1 stf - ) | This study |
| RG32 | MG1655(λcI857 Swt R::LacZα + J 1127-1 stf + ) | This study |
Phage strain constructions
For phage λ, the host recognition and adsorption is mediated through interaction between the phage tail fiber J (encoded by gene J) and E. coli outer membrane protein LamB [55, 56]. Side-tail fibers (Stf, encoded by the non-essential stf gene [54]) also contribute to host adsorption [27, 54]. The lysis timing is determined by the activity of the S holin protein, encoded by the S gene [57, 58]. The main goal of phage strain construction is to generate various isogenic λ strains that would differ in one or two of the following phenotypic traits: (i) the adsorption rate (via different J or stf alleles), (ii) the lysis time (via different S alleles), and (iii) the phage morphology (via the stf alleles). All these strains also carry the LacZα marker to facilitate image capture for plaque size measurement.
The method used in generating the λ strain carrying the J 1077-1 allele [17] was adopted in this study to generate two more J alleles: J 245-2 (carrying the T1040M mutation) and J 1127-1 (carrying the Q1078R and L1127P mutations) [24]. Briefly, site-directed mutagenesis was used to introduce desired mutations into parental plasmids pZE1-J-stf and pZE1-J-stf+ [27]. The resulting plasmids were then transformed into SYP052 [27], a λ lysogen with the region between J and orf401 replaced by the cam marker. After thermal induction of the lysogen, only phage progeny that restored the tail fiber J function would be able to form plaques. Therefore, for each phage strain carrying the engineered J alleles, two associated states at the side tail fiber gene also existed: stf + or stf - . The primer sequences used for site-directed mutagenesis are shown in the Addition file 1.
To increase the contrast of the plaque against the background, we also introduced the lacZα gene into the λ genome by fusing it at the end of the endolysin R gene [27]. This is accomplished by transforming the plasmid pSwtRlacZblueRz [27], which carries the R::lacZα gene, into the lysogens containing the above constructed prophages. The desired recombinant λ strains were obtained by thermally inducing the lysogens and screening for blue plaques in the presence of IPTG and X-gal, and on the host strain XL1 Blue, which carries the complementary ω fragment of the E. coli β-galactosidase.
The identities of all strain constructs were confirmed by DNA sequencing.
Construction of the ΔompC::kan E. coli
To construct an E. coli strain defective in OmpC production, we chose JW2203 from the Keio collection (CGSC#9781), which carries the desired ΔompC768::kan mutation [45], as our donor strain for P1 transduction. However, for some unknown reasons, we were unable to successfully P1-transduce the chromosomal region containing the ΔompC768::kan mutation into our XL1 Blue strain. To further our goal of determining the effect of phage morphology on plaque size, we constructed the strain IN731 by P1-transducing the mutation into the recipient strain SYP124, which is essentially the strain MG1655 but carrying the necessary ω-fragment expressed from lcaZΔM15 (unpublished data). Plaque size was determined by plating on SYP124 and its ΔompC counterpart, IN731.
Standard PCR and DNA sequencing
Standard PCR reactions were performed using the following conditions: one cycle of 95°C for 1 min, followed by 30 cycles of 95°C for 30 s, 50°C for 30 s, and 72°C for several minutes, depending on the template size (using an extension of 1 min/Kb). PfuUltra (Stratagene, La Jolla, CA), a high-fidelity thermostable DNA polymerase, was used for amplification. The BigDye Terminator Cycle Sequencing kit (v3.1; ABI) was used for DNA sequencing according to the manufacturer's recommendation.
Phage plating
To minimize variation, all plating conditions were standardized. A total of ~100 phages were mixed with fresh 100 μL of E. coli cells, prepared by two-fold dilution of overnight culture and grown at 37°C for 90 min in TB medium (5 g NaCl and 10 g Tryptone in 1 L H2O), and then incubated at room temperature for 20 min for pre-adsorption. In our experience, >90% of phages would be adsorbed onto the cells during the pre-adsorption period. The mixture was then mixed with 3 mL of molten H-top agar with IPTG and X-gal and overlaid on plates containing 40 mL LB-agar. Both the LB plates and the H-top agar were freshly prepared a few hours before use. The plates were then incubated for 18-22 h at 37°C before plaque size determination [17]. In our experience, the plaques would have reached their maximum size within this incubation period.
Determination of phage adsorption rate
The protocol for adsorption rate determination, which is essentially the same as that used by Schlesinger [51], has been described previously [17]. Briefly, ~4.5 × 104 phages were mixed with 10 mL of E. coli XL1 Blue stationary phase cells (grown at 37°C for overnight in TB medium of 1% tryptone and 0.5% NaCl) in a flask with constant shaking (250 rpm/min) at 37°C. Two different cell concentrations-approximately 107 cells/mL for the Stf+ phages and ~108 cells/mL for Stf- the phages- were used because a lower cell concentration allows a more precise determination of free phage concentration for phages with a very high adsorption rate. At time 0, 5 and 15 min, 300 μl of the culture was withdrawn and immediately filtered on a 0.2 μm 96-well filter plate (Pall, East Hills, NY). The number of free phages in each sample was then determined by plating. Six replicates were performed for each phage strain. An exponential function of y = be -at , where a and b are the parameters to be estimated, and t the time, was used to fit the data from individual experiments. The adsorption rate was obtained by dividing each of the estimated parameter a with its corresponding cell concentration. For more detail on how the adsorption rates were calculated, please see Additional file 3.
Determination of plaque size
For each phage strain, images of four to five plates with phage plaques were taken with Qcount (Spiral Biotech, Inc.; Norwood, MA) and then analyzed using the ImageJ software (NIH). To convert the pixel count to surface area, we arbitrarily generated a computer printout with a known surface area and used it as the size standard. In this study, we found that 1 pixel = 0.01588 mm2.
Besides the phage traits, many other factors may also influence the plaque size. Several precautions were taken to minimize potential unintended effects. For example, to minimize plaque variation due to plating conditions [12], the plating conditions were standardized and only freshly prepared plates were used (see above). To reduce variation due to the timing of the formation of the initial attachments of phage particles, adequate amount of pre-adsorption time and high host concentrations (see above) were used to synchronize the timing of the formation of the initial infection centers before plating. This practice is especially critical for phages with low adsorption rates. To reduce the incidence of fusion of two nearby plaques, thus being measured as one large plaque, the number of phages on each plate was kept below 100. However, other factors, such as the edge effect (plaques on the edge of the plate were usually smaller), were unable to be controlled. Therefore, to further minimize potential skewing effects, plaque size distributions obtained from the four to five replicated plates were pooled, and the mode, rather than the mean, was used as the descriptive measure of these distributions. The determination of plaque size was performed nine times independently.
Determination of plaque productivity
In order to estimate phage numbers in plaques (productivity), three random plaques from each of the four plates (used to estimate plaque size - see above) were obtained by taking agar plugs containing the plaques [17]. The 12 plaques were pooled together and then homogenized in 6 mL TB medium using a glass homogenizer with a Teflon plunger [17]. The homogenate was centrifuged for 10 min at 3000 × g (Eppendorf centrifuge 5702) at room temperature and the supernatant was then plated in triplicates at appropriate dilutions on a lawn of E. coli XL1 Blue. The experiment was performed nine times independently.
Statistics
ANOVA and regressions (linear or quadratic) were used to detect significant relationships between phage traits and plaque properties. Lysis time (continuous) adsorption rate (continuous) and date (categorical) were used as explanatory variables in our statistical models. All statistical analyses were performed using the software package JMP, ver. 7.0.2 (SAS Institute Inc., Cary, NC) for the Macintosh computer. The 95% confidence intervals for various ratios shown in Figures 4A to 4F were calculated by following method devised by Fieller [59].
Appendix
Appendix
List of models on plaque formation
| Equation1 | Main assumptions | Reference |
| --- | --- | --- |
| (1) | phage propagating through a constant host density | [19], eqn. 18 |
| (2) | phage adsorption/desorption processes are fast relative to cell death rate | [20], eqn. 6a |
| (3) | larger burst size | [20], eqn. 6b |
| (4) | phage adsorption/desorption processes are slow relative to cell death rate | [20], eqn. A8 |
| (5) | phage adsorption process is fast relative to cell death rate | [20], eqn. A9 |
| (6) | hindered diffusion through a high constant host density | [23], eqn. 14, solution 1 |
| (7) | hindered diffusion through a high constant host density | [23], eqn. 14, solution 2 |
Declarations
Acknowledgements
We would like to thank Steve Abedon for providing various unpublished manuscripts and documents regarding phage plaque formation. We would also like to thank Kurt McKean for providing the Qcount counter, Dr. G. Esteban Fernandez from University of Missouri for his help in writing macros for ImageJ, S. Bangre for his "Merge" program in pearl, and various anonymous reviewers for thorough and helpful comments. This study is supported by National Institute of Health GM072815 to INW.
Authors' Affiliations
(1)
Department of Biological Sciences, University at Albany, Albany, USA
(2)
CEFE - UMR 5175, 1919 route de Mende, France
Copyright
© Gallet et al; licensee BioMed Central Ltd. 2011
This article is published under license to BioMed Central Ltd. This is an Open Access article distributed under the terms of the Creative Commons Attribution License (http://creativecommons.org/licenses/by/2.0), which permits unrestricted use, distribution, and reproduction in any medium, provided the original work is properly cited.