Research article

Open Access
A bacteria-specific 2[4Fe-4S] ferredoxin is essential in Pseudomonas aeruginosa
BMC Microbiology
2010
10:271
Received: 21 May 2010
Accepted: 28 October 2010
Published: 28 October 2010
Abstract
Background
Ferredoxins are small iron-sulfur proteins belonging to all domains of life. A sub-group binds two [4Fe-4S] clusters with unequal and extremely low values of the reduction potentials. These unusual properties are associated with two specific fragments of sequence. The functional importance of the very low potential ferredoxins is unknown.
Results
A bioinformatic screening of the sequence features defining very low potential 2[4Fe-4S] ferredoxins has revealed the almost exclusive presence of the corresponding fdx gene in the Proteobacteria phylum, without occurrence in Archaea and Eukaryota. The transcript was found to be monocistronic in Pseudomonas aeruginosa, and not part of an operon in most bacteria. Only fdx genes of bacteria which anaerobically degrade aromatic compounds belong to operons. As this pathway is not present in all bacteria having very low potential 2[4Fe-4S] ferredoxins, these proteins cannot exclusively be reductants of benzoyl CoA reductases. Expression of the ferredoxin gene did not change in response to varying growth conditions, including upon macrophage infection or aerobic growth with 4-hydroxy benzoate as carbon source. However, it increased along the growth curve in Pseudomonas aeruginosa and in Escherichia coli. The sequence immediately 5' upstream of the coding sequence contributed to the promotor activity. Deleting the fdx gene in Pseudomonas aeruginosa abolished growth, unless a plasmid copy of the gene was provided to the deleted strain.
Conclusions
The gene of the very low potential 2[4Fe-4S] ferredoxin displays characteristics of a housekeeping gene, and it belongs to the minority of genes that are essential in Pseudomonas aeruginosa. These data identify a new potential antimicrobial target in this and other pathogenic Proteobacteria.
Keywords
Luria Broth
Pylorus Strain
Miller Unit
Francisella Tularensis
Amino Acid Insertion
Background
Ferredoxin (Fdx) is the name given to a variety of small proteins binding inorganic clusters organized around two to four iron atoms and a complementary number of sulfur atoms [1]. Complete genomic sequences have revealed the presence of a very large number of genes encoding such proteins, mainly in bacteria and archaea [2].
Fdxs are most often assigned electron transfer roles and some of them occupy central positions in metabolism [3], but the roles of a majority of Fdxs remain unknown [4, 5]. Functional substitution among Fdxs may occur, and other soluble electron shuttles, such as flavodoxins, may act as Fdx-substitutes. This is the case upon iron starvation for a 2[4Fe-4S] Fdx in glycolytic Clostridia [6] or a [2Fe-2S] Fdx in some photosynthetic organisms [7], for instance. Despite this apparent functional redundancy, most sequenced genomes display a wealth of genes encoding various Fdxs. For example, the reference PAO1 strain of the opportunistic pathogen Pseudomonas aeruginosa [8] has at least 6 genes encoding Fdxs of different families. A flavodoxin (PA3435) is also present in this strain. It is often unclear in which reactions Fdxs are involved and which biological function relies on a given Fdx.
One of
P. aeruginosa
Fdxs is encoded by the PA0362 locus (
fdx1
) and it belongs to a separated family of proteins containing two [4Fe-4S] clusters [
9
]. The sequences of proteins of this family are characterized by a segment of six amino acids between two cysteine ligands of one cluster and a C terminal extension of more than 20 amino acids beyond the last ligand of the other cluster (Figure
1
). The structure of this Fdx [
10
] shows that these two characteristic peptides fold as a particular turn close to one cluster and as a turn and a long α-helix, respectively (Figure
1
). The first member of this family (hereafter abbreviated AlvinFdx) to be identified was that of the purple sulfur γ-proteobacterium
Allochromatium vinosum
, originally named
Chromatium vinosum
, and it was initially classified among other [4Fe 4S] 'bacterial' Fdxs (as opposed to 'plant' [2Fe 2S] Fdxs) [
11
]. It was later found that the characteristic sequence differences of proteins of the AlvinFdx family shifted the reduction potential of the [4Fe 4S] clusters to very negative values, below -450 mV with reference to the Normal Hydrogen Electrode, with one reaching -650 mV or less [
12
]. Because of this unusual property, it is not easy to find an efficient physiological reductant for such proteins, especially in non-photosynthetic organisms. Additional unique spectroscopic [
13
] and structural [
10
,
14
,
15
] properties have also been evidenced in these proteins.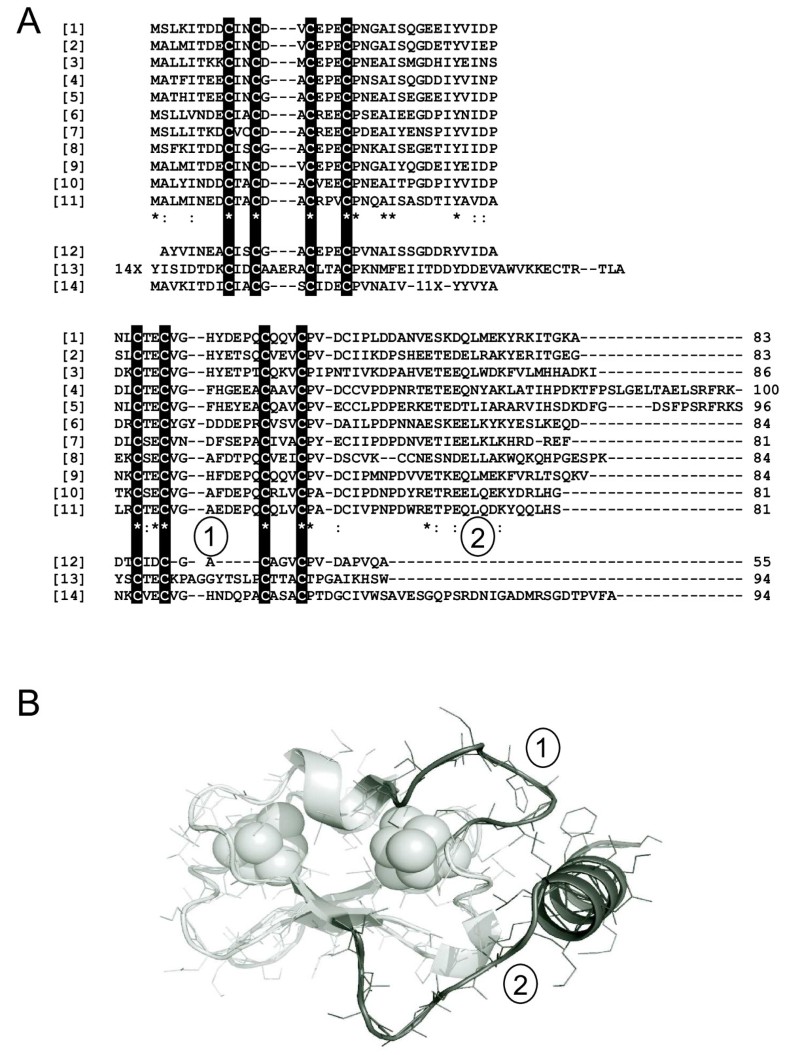 A well defined function for members of this family of Fdxs has only been found in bacteria catabolizing aromatic compounds in the absence of oxygen [16]. The Thauera aromatica Fdx participates in an electron transfer chain, as electron acceptor from 2-oxoglutarate:Fdx oxidoreductase and donor to benzoyl-CoA reductase [17]. However, this particular Fdx displays the less negative reduction potentials among Fdxs of the AlvinFdx family [18], and this catabolic pathway is not always present in all bacteria containing fdx genes (i.e. genes encoding Fdxs similar to that of AlvinFdx).
Since the role of Fdxs of the AlvinFdx family is not known in most bacteria (those that do not anaerobically catabolize aromatics), the importance of the fdx1 gene of the P. aeruginosa PA0362 locus has been investigated in the present work. The possibility of endogenous in vivo functional substitution has been examined by removing the chromosomal copy of the gene. Also, the main properties of fdx1 expression have been explored and the distribution of similar genes has been analyzed in the available sequence databases. These newly obtained data strongly indicate a non-exchangeable and housekeeping function for fdx1.
Discussion
The fact that fdx1 is essential in P. aeruginosa challenges any speculation about its function. The present work shows that this gene is indeed expressed in P. aeruginosa (Figure 3), but little previous work addressed its regulation. The transcriptome subset varying between biofilm and planktonic cultures of P. aeruginosa PAO1 has been reported [29]: fdx1 transcription was increased ca. 3 times in biofilms as compared to free living bacteria. However, such variations were not confirmed in another similar study [30].
Considering other members of the AlvinFdx family, one of the two fdx genes in Campylobacter jejuni (sequence [14] of Figure 1A) was found to be iron-regulated and involved in the aerobic survival of cells in the stationary phase [31]. The sequence of another Fdx of this bacterium (sequence [7] of Figure 1A) is more similar to the Fdx consensus. We could not demonstrate iron regulation for the single fdx gene of P. aeruginosa or E. coli (not shown), in line with previous results obtained with H. pylori [32] and P. aeruginosa [33]. H. pylori strains are of particular interest since their only annotated ferredoxin gene is of the type discussed here. The encoded protein has been associated with metronidazole resistance, at least for some strains [34, 35], including because it is suspected to donate electrons to a nitroreductase (the product of the frxA gene) that is required to activate the drug. The observation that the gene could be deleted in some, but not all, H. pylori strains [35] did not help assigning a function to Fdx. In particular, the actual involvement of Fdx as low potential electron shuttle between oxidoreductases in H. pylori as suggested [34] remains to be clearly delineated since Fdx proteins have been shown to be poor electron donors/acceptors in coupled reactions using such enzymes [36, 37]. Indeed, flavodoxin has been assigned this role in H. pylori and C. jejuni [37]. Furthermore, the induced high-level expression of frxA resulting from the deletion of fdx in some H. pylori strains suggested a repressor function for fdx and additional important, but undefined, roles [35].
The genome context around the fdx genes is not conserved in different bacteria, and evidence for transcription as part of an operon is lacking, with the exception of clusters of genes involved in the anaerobic degradation of aromatic compounds [19–21]. In P. aeruginosa several, often putative, oxidoreductases can be identified in the analysis of the genome, and many low-potential electron transfer molecules coexist. P. aeruginosa fdx1 is transcribed as a short messenger in a constitutive-like manner, and our attempts at deleting fdx1 indicated that it belongs to the minority of essential genes (estimated around 10% [38]) in this bacterium. This conclusion agrees with the absence of P. aeruginosa transposon mutants for PA0362, both in PAO1 http://pseudomutant.pseudomonas.com/index.html and PA14 http://pga.mgh.harvard.edu/Parabiosys/projects/host-pathogen_interactions/library_construction.php libraries. An exception is in a library with phoA and lacZ insertions, in which the PA0362 locus was targeted in two mutants [38]. These insertions occur in the genomic sequence very close to the 3' end of the fdx1 ORF. Therefore, most of P. aeruginosa Fdx should be synthesized in these mutants: the variability of the C-terminus among Fdxs and inspection of the structure (Figure 1) indicate that the insertions should not completely inactivate Fdx in these mutants.
Conclusions
The data presented herein demonstrate that donation of electrons to benzoyl-CoA reductase cannot be the sole function of ferredoxins of the AlvinFdx family. The lethality of fdx1 removal indicates that functional substitution of Fdx by other proteins of P. aeruginosa does not occur, maybe because the product of fdx1 fulfils other functions than conventional electron transfer between redox enzymes. This possibility was previously inferred by changes in frxA expression upon fdx removal in strains of H. pylori [35]. Similar suggestions arose from various kinds of data obtained with other small iron-sulfur proteins, such as thioredoxin-like ferredoxins [39] and the [2Fe-2S] isc-associated Fdx of E. coli in the secretion of cytotoxic necrotizing factor 1 [40]. Potential regulating mechanisms involving Fdx cannot be discussed at this stage, but they may include stabilization of proteins or protein complexes, electron exchange with redox-sensitive regulators, and others.
As detailed above, many bacteria of the Proteobacteria phylum, such as Francisella tularensis, Neisseria meningitidis, or Yersinia pestis among many, contain the fdx gene and they are human pathogens. If this gene is essential in many of them, as shown here for P. aeruginosa, proteins of the AlvinFdx family may provide new targets for future antibiotics.
Abbreviations
Fdx:

ferredoxin
Alvin:

short-hand for Allochromatium vinosum
fdx1 :

gene of the Pseudomonas aeruginosa PA0362 locus
fdx :

gene encoding a Fdx similar to that of AlvinFdx in other bacteria than Pseudomonas aeruginosa
SOE-PCR:

Splicing by Overlap Extension-Polymerase Chain Reaction
T3SS:

type 3 secretion system
Cb:

carbenicillin
Tc:

tetracycline
Gm:

gentamycin
PIA:

Pseudomonas Isolation Agar.
Declarations
Acknowledgements
This work received support from the Greek-French program Plato and a CNRS (French Centre National de la Recherche Scientifique - PICS)-GSRT (Greek General Secretariat of Research and Technology) grant N°3335. PP received a grant from the Greek State Scholarship's Foundation (IKY). The authors thank H.P. Schweizer and C. Fuqua for the gift of the mini-CTX-lacZ and the pJN105 plasmids, respectively, and I. Attree for her interest in this work. PP thanksDr S. Amillis for help and guidance with some experiments. Peter Robinson is thanked for suggestions about the use of English in the manuscript.
This paper is dedicated to Dr Jacques Meyer on the occasion of his retirement: his mentoring and guidance into the field of iron-sulfur proteins and beyond have been much appreciated over the years.
Authors' Affiliations
(1)
Laboratoire de Biochimie et Biophysique des Systèmes Intégrés;, CEA, France
(2)
BBSI, CNRS, Grenoble, France
(3)
Université Joseph Fourier, Grenoble, France
(4)
Department of Inorganic Chemistry, Faculty of Chemistry, University of Athens, Panepistimioupolis, Greece
(5)
Department of Botany, Faculty of Biology, University of Athens, Panepistimioupolis, Greece
(6)
Laboratoire de Chimie et Biologie des Métaux, iRTSV, CEA, Grenoble, France
(7)
LCBM, CNRS, Grenoble, France
Copyright
© Elsen et al; licensee BioMed Central Ltd. 2010
This article is published under license to BioMed Central Ltd. This is an Open Access article distributed under the terms of the Creative Commons Attribution License (http://creativecommons.org/licenses/by/2.0), which permits unrestricted use, distribution, and reproduction in any medium, provided the original work is properly cited.