Research article

Open Access
Global regulation of gene expression in response to cysteine availability in Clostridium perfringens
BMC Microbiology
2010
10:234
Received: 5 May 2010
Accepted: 7 September 2010
Published: 7 September 2010
Abstract
Background
Cysteine has a crucial role in cellular physiology and its synthesis is tightly controlled due to its reactivity. However, little is known about the sulfur metabolism and its regulation in clostridia compared with other firmicutes. In Clostridium perfringens, the two-component system, VirR/VirS, controls the expression of the ubiG operon involved in methionine to cysteine conversion in addition to the expression of several toxin genes. The existence of links between the C. perfringens virulence regulon and sulfur metabolism prompted us to analyze this metabolism in more detail.
Results
We first performed a tentative reconstruction of sulfur metabolism in C. perfringens and correlated these data with the growth of strain 13 in the presence of various sulfur sources. Surprisingly, C. perfringens can convert cysteine to methionine by an atypical still uncharacterized pathway. We further compared the expression profiles of strain 13 after growth in the presence of cystine or homocysteine that corresponds to conditions of cysteine depletion. Among the 177 genes differentially expressed, we found genes involved in sulfur metabolism and controlled by premature termination of transcription via a cysteine specific T-box system (cysK-cysE, cysP1 and cysP2) or an S-box riboswitch (metK and metT). We also showed that the ubiG operon was submitted to a triple regulation by cysteine availability via a T-box system, by the VirR/VirS system via the VR-RNA and by the VirX regulatory RNA.
In addition, we found that expression of pfoA (theta-toxin), nagL (one of the five genes encoding hyaluronidases) and genes involved in the maintenance of cell redox status was differentially expressed in response to cysteine availability. Finally, we showed that the expression of genes involved in [Fe-S] clusters biogenesis and of the ldh gene encoding the lactate dehydrogenase was induced during cysteine limitation.
Conclusion
Several key functions for the cellular physiology of this anaerobic bacterium were controlled in response to cysteine availability. While most of the genes involved in sulfur metabolism are regulated by premature termination of transcription, other still uncharacterized mechanisms of regulation participated in the induction of gene expression during cysteine starvation.
Keywords
Homocysteine
Cystine
Sulfur Metabolism
rubR2
Sulfite Reductase
Background
Sulfur is a crucial element for cysteine and methionine, and is also present in several coenzymes and cofactors (thiamine, biotin, lipoic acid, coenzyme A and coenzyme M). Cysteine is important in the biogenesis of iron-sulfur ([Fe-S]) clusters [1], is found in the catalytic site of several enzymes and also aids protein folding and assembly by forming disulfide bonds. Cysteine-containing molecules such as thioredoxin, glutaredoxin, glutathione, mycothiol or bacilithiol are also important in protecting cells against oxidative stress [2–4]. Methionine, the universal initiator of protein synthesis, is also a key factor in various cellular functions. Its derivatives, S-adenosylmethionine (SAM) and autoinducer 2 (AI-2), are involved in several cellular processes including methylations and polyamine biosynthesis for SAM and quorum sensing and gene regulation for AI-2 [5].
Sulfur metabolism is well characterized in
Bacillus subtilis
[
6
]. In this bacterium, cysteine is synthesized either from homocysteine via the reverse transsulfuration pathway or from sulfide or thiosulfate via the thiolation pathway that directly incorporates these compounds into
O
-acetyl-L-serine (OAS). Sulfide is obtained from the transport and reduction of inorganic sulfate. CysE, the serine acetyltransferase produces OAS from acetyl-CoA and serine while the OAS-thiol-lyase, CysK, further condenses sulfide and OAS to form cysteine [
7
]. An efficient conversion of methionine into cysteine is also observed in
B. subtilis
through the SAM recycling pathway and then the reverse transsulfuration pathway (Fig.
1
) that requires the sequential action of cystathionine β-synthase (MccA) and cystathionine γ-lyase (MccB) [
8
]. Cysteine is converted into methionine by the transsulfuration pathway followed by a methylation due to methionine synthases. In other firmicutes like
Bacillus cereus
,
Listeria monocytogenes
and several
Streptococci
, sulfide is directly converted into homocysteine by thiolation [
9
].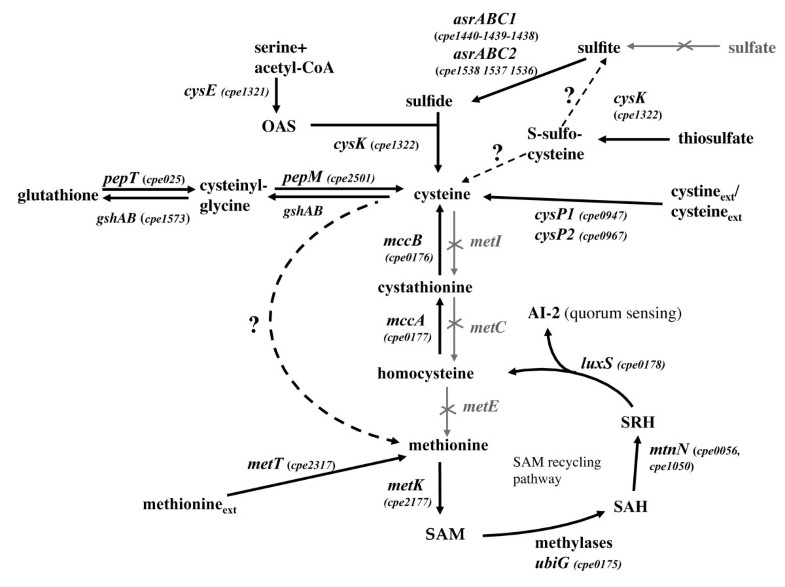 As a result of its crucial role in cellular physiology and the reactivity of the SH group of cysteine, sulfur metabolism is tightly controlled in response to environmental changes. Several molecular regulatory mechanisms have been identified in firmicutes. This includes regulation by premature termination of transcription at S-box and T-box systems responding to SAM pools and to the level of charge of tRNA, respectively [10, 11]. LysR-type transcriptional regulators are also involved in the control of sulfur metabolism: CysL and YtlI in B. subtilis[12, 13], CmbR in Lactococcus lactis and CysR and MetR/MtaR in Streptococci[14, 15]. In B. subtilis and Staphylococcus aureus, the CymR repressor is the master regulator of cysteine metabolism [16, 17]. CymR and CysK, the OAS-thiol-lyase, form a regulatory complex. CymR is the DNA binding protein while CysK increases the stability of CymR bound to DNA. In the signal transduction pathway controlling cysteine metabolism, CysK, via its substrate OAS, is the sensor of the cysteine pool in the cell for the regulatory complex [18].
As compared with other firmicutes, little is known about the sulfur metabolism and its regulation in the spore forming anaerobic clostridia. We have recently identified an original mechanism of control of the ubiGmccBA operon involved in methionine to cysteine conversion in Clostridium acetobutylicum. This regulatory mechanism involves two systems of premature termination of transcription, a cysteine specific T-box and an S-box, as well as the formation of antisense RNAs [19]. The cis-acting antisense RNAs transcribed from the downstream S-box-dependent promoter play a central role in the regulation of ubiG transcription in response to methionine availability.
Clostridium perfringens is the causative agent of various diseases including gas gangrene and food poisoning. This bacterium produces numerous extracellular toxins [20, 21]. In C. perfringens strain 13, the VirS/VirR two component system is involved in the coordinated regulation of production of several toxins: the alpha-toxin (plc), the theta-toxin (pfoA) and the kappa-toxin (colA) [22, 23]. The response regulator VirR directly regulates the expression of pfoA and of three non-coding RNAs, the VR-RNA, VirU and VirT, which in turns control the expression of plc and colA[24–26]. Another small non-coding RNA, VirX regulates pfoA, plc and colA expression independently from the VirS/VirR system [27]. Interestingly, the expression of the ubiGmccBAluxS operon of C. perfringens is repressed by the two-component system VirS/VirR via the VR-RNA [26, 28, 29]. This suggested the existence of links between the regulatory cascade of virulence and sulfur metabolism in C. perfringens. We therefore decided to study the sulfur metabolism and its regulation. We combined metabolic reconstruction, growth assays and expression profiling to obtain a global view of the sulfur metabolic network in C. perfringens. By comparative transcriptome analysis, we showed that a large set of genes was differentially expressed in C. perfringens strain 13 after growth in the presence of homocysteine or cystine, the dimer of cysteine being used as sole sulfur source. Among them, cysteine biosynthesis and transport, [Fe-S] clusters biogenesis, PfoA production and lactate dehydrogenase were regulated in response to cysteine availability. Finally, we showed the involvement of cysteine specific T-boxes in the derepression of genes involved in cysteine uptake and biosynthesis during cysteine depletion.
Methods
Bacterial strains and culture conditions
In this study, we used the C. perfringens strain 13 and several mutants of this strain: TS133 (virR::tet), TS140 (Δvrr::erm) and TS186 (ΔvirX::erm) [25, 27]. C. perfringens strain 13 and its derivatives were grown under anaerobic conditions (10% H2, 10% CO2, 80% N2) in a sulfur-free minimal medium. We prepared a medium containing per liter: 1.14 g Na2HPO4, 0.28 g KH2PO4, 0.25 g alanine, 2.5 g arginine, 0.5 g glycine, 0.5 g histidine, 0.5 g isoleucine, 0.5 g leucine, 0.25 g phenylalanine, 0.375 g serine, 0.5 g threonine, 0.375 g valine, 1 g aspartate, 1 g glutamate, 0.25 g tyrosine, 0.0174 g adenine, 0.01 g uracil [30]. The pH was adjusted to 7 with HCl and the medium was autoclaved at 105°C for 20 min. Salts were then added at the following concentrations: 1 mM MgCl2, 50 μ M MnCl2, 35 μ M FeCl3 and 300 μ M ZnCl2. We also added 0.1 g/L glucose, 1 g/L tryptophane and 10 ml/L of a 100 × solution containing per liter 2 mg biotin, 2 mg folic acid, 10 mg pyridoxine, 5 mg thiamine, 5 mg riboflavin, 5 mg nicotinic acid, 5 mg calcium pantothenate, 5 mg paraminobenzoic acid, 5 mg lipoic acid and 0.1 mg vitamin B12. Various sulfur sources were then added to this sulfur-free medium at the following concentration: 0.5 mM cystine, 1 mM homocysteine, 1 mM glutathione, 1 mM thiosulfate, 1 mM sulfite, 1 mM sulfide, 1 mM or 5 mM methionine. When needed, antibiotics were added at the following concentration: erythromycin 25 μg ml-1 and tetracycline 25 μg ml-1.
Enzyme assays and estimation of metabolite content
Zymogram was performed to detect homocysteine γ-lyase activity. Strains 13, TS133, TS140 and TS186 were grown in minimal medium in the presence of 1 mM homocysteine or 0.5 mM cystine. Cells were harvested in exponential phase. After protein extraction, 100 μ g of crude extracts was applied to a non-denaturing protein gel (12% Tris-Glycine gel). After electrophoresis, the gel was washed twice for 10 minutes in 50 ml of water and twice for 10 minutes in 50 ml of Tris-HCl (50 mM, pH 7.4). The gel was then incubated at 37°C for 2 h with 50 mM Tris-HCl (pH 7.4), 10 mM MgCl2, 10 mM homocysteine, 0.5 mM Pb(Ac)2, 5 mM dithiothreitol and 0.4 mM pyridoxal phosphate (PLP). H2S formed during the enzymatic reaction precipitated as insoluble PbS. We therefore detected homocysteine γ-lyase activity by precipitated PbS. The signal was quantified with the "quantity one" software (Bio-Rad, USA). Visual observation of H2S production was performed using lead-acetate paper (Macherey-Nagel) that turned black following the incubation for up to 3 h at 37°C.
Intracellular concentrations of amino acids and other ninhydrin-reactive compounds were estimated using high-pressure liquid chromatography (HPLC). Briefly, cells were suspended in a sulfosalicylic acid buffer (3% final concentration) and disrupted using a FastPrep apparatus (Bio101). Supernatant samples were analyzed by cation-exchange chromatography, followed by ninhydrin postcolumn derivatization as previously described [8]. Intracellular metabolite concentrations were estimated assuming a cell volume of 4 μl per mg of proteins or a C. perfringens intracellular volume of 3 μm3[31]. Metabolite concentration was estimated with the ratio between total quantity of a metabolite and the total cellular volume. The mean value is calculated from three independent experiments. A statistical Wilcoxon test was realized giving a p-value < 0.05.
RNA isolation, Northern blot analysis and quantitative RT-PCR
We extracted total RNA from strains 13, TS133 or TS186 grown in minimal medium with 0.5 mM cystine or 1 mM homocysteine as sole sulfur source. Cells were harvested at an OD600 nm of 0.6 (homocysteine) or 0.8 (cystine) by centrifugation for 2 min at 4°C. The cells were first broken by shaking in a Fastprep apparatus (Bio101) for 2 × 30 sec in the presence of one gram of 0.1-mm diameter glass beads (Sigma), then treated with Trizol reagent, chloroform/isoamylalcohol and precipitated with isopropanol. The pellet was resuspended in 100 μL of TE buffer (Tris 10 mM, EDTA 0.1 mM).
For Northern blot analysis, 10 μg of total RNA was separated in a 1.5% denaturing agarose gel containing 2% formaldehyde, and transferred to Hybond-N+ membrane (Amersham) in 20 × SSC buffer (3 M NaCl, 0.3 M sodium citrate pH 7). Prehybridization was carried out for 2 h at 68°C in 10 ml of prehybridization buffer ULTRAHyb (Ambion). Hybridization was performed overnight at 68°C in the same buffer in the presence of a single strand RNA [α-32P]-labeled probe. The probes were synthesized from a PCR product containing a T7 phage promoter sequence on one of its extremities. One probe is located in the 5' untranslated region of the cysP2 gene (-326 to -181 relative to the cysP2 translational start point) and the second probe hybridizes with the coding region of cysP2 (+71 to +299 relative to the cysP2 translational start point). 1 μg of each PCR product was used as a matrix for in vitro transcription reaction with phage T7 RNA polymerase, 0.5 mM each ATP, GTP, CTP, and 50 μCi of [α-32P]UTP using Maxiscript kit (Ambion). The probe was then treated with TURBO DNAse I and purified on "Nucaway spin column" (Ambion). After hybridization, membranes were washed twice for 5 min in 50 ml 2× SSC 0.1%SDS buffer and twice for 15 min in 50 ml 0.1 × SSC 0.1% SDS buffer. Verification of equal loading was achieved by measurement of RNA concentration by absorbance at 260 nm and by direct comparison of rRNA band intensities after staining by ethidium bromide ("Quantity One" software, Bio-Rad, USA). The transcript size was estimated by comparison with RNA molecular weight standards (Ambion).
For quantitative RT-PCR (qRT-PCR) experiments, one μg of total RNA was heated at 65°C for 5 min. After a slow cooling, cDNAs were synthesized for 1 h at 42°C with Superscript II Reverse Transcriptase (Invitrogen), and 1 pmol of hexamer oligonucleotide primers (pDN6, Roche). The reverse transcriptase was inactivated by incubation at 70°C for 15 min. Real-time quantitative PCR was performed twice in a 20 μl reaction volume containing 100 ng or 1 μ g of cDNAs, 12.75 μl of the SYBR PCR master mix (Applied Biosystems), and 400 nM of gene-specific primers. Amplification and detection were performed as previously described [19]. In each sample, the quantity of cDNAs of a gene was normalized to the quantity of cDNAs of gyrA, which is a stably expressed gene in our transcriptome experiments. The relative change in gene expression was recorded as the ratio of normalized target concentrations (ΔΔct) [32].
Microarray design for the C. perfringens genome, DNA-array hybridization and data analysis
The C. perfringens strain 13 genome was obtained from EMBL database. Probe design for the microarray was performed using the OligoArray 2.0 software [33]. 2 or 3 oligonucleotides were designed for each 2706 genes. We could not design oligonucleotides for 17 genes. Agilent produced the microarrays. Probes were replicated twice on the array to reach a final density of 13814 probes per array. 536 positive controls and 1394 negative controls were also included. The description of the microarray design was submitted to the GEO database (accession number GPL9765).
Total RNA was extracted from cells of 4 independent cultures for each growth condition. RNA was labeled with either Cy3 or Cy5 fluorescent dye (GE healthcare) using the SuperScript Indirect cDNA labeling kit (Invitrogen) according to the manufacturer's recommendations. A mixture of 10 μg of RNA and of pdN6 primers (Roche) was heated to 70°C for 5 min and quickly chilled on ice. We then sequentially added: 1× first-strand buffer, dithiothreitol (20 mM), dNTP mix, RNase OUT and 1600 units of Superscript III reverse transcriptase in a total volume of 24 μl. The reaction was incubated 3 h at 42°C to generate cDNAs. After alkaline hydrolysis and neutralization, cDNAs were purified on SNAP columns (Invitrogen) and precipitated with ethanol. The cDNAs were then mixed with Cy3 or Cy5 dyes (GE healthcare), incubated 1 h at room temperature in the dark, and purified on SNAP columns. 200 pmol of Cy3 and Cy5-labeled cDNAs was mixed and concentrated with microcon (Millipore). Hybridization was performed in micro-chambers for 17 h at 65°C according to the manufacturer's recommendations. 8 differential hybridizations were performed and each RNA preparation was hybridized twice with a dye swap. The array was then washed successively with Gene Expression Wash Buffer 1 and 2 (Agilent). We realized arrays scanning with a GenePix 4200L dual-channel (635 nm and 532 nm) laser scanner (GenePix). The complete experimental data set was deposited in the GEO database with accession numbers GSM480613 to GSM480620. All slides were analyzed using R and limma software (Linear Model for Microarray Data) from Bioconductor project http://www.bioconductor.org. For each slide, we corrected background with the 'normexp' method [34], resulting in strictly positive values and reducing variability in the log ratios for genes with low levels of hybridization signal. Then, we normalized each slide with the 'loess' method [35]. In order to identify genes differentially expressed, we used the bayesian adjusted t-statistics and we performed a multiple testing correction of Benjamini & Hochberg [36] based on the false discovery rate. A gene was considered as differentially expressed when the p-value is < 0.05.
Stress response analysis
Disk diffusion assays were performed as follows: 20 ml calibrated agar plates were poured on a horizontal plane. C. perfringens strain 13 was grown in minimal medium containing 0.5 mM cystine or 1 mM homocysteine until it reached an OD600 nm of 0.5. The cells were then spread onto solid minimal medium containing the same sulfur source. After absorption, a sterile 6 mm disk was placed on the agar and 10 μl of 1 M H2O2, 1 M diamide or 0.2 M paraquat was added to the disk. The plates were incubated 48 h at 37°C and the diameters of growth inhibition were measured. These experiments were repeated 5-fold and a Wilcoxon test was realized giving a p-value < 0.05.
Conclusion
Most of genes involved in sulfur metabolism in C. perfringens are controlled in response to sulfur availability by premature termination of transcription. An S-box motif is located upstream of the metK gene encoding a SAM synthase and the metT gene encoding a probable methionine transporter. Two pathways leading to cysteine production from methionine (LuxS, MccA, MccB) or sulfide (CysKE) and two cyst(e)ine transporters are controlled by a T-boxcys regulatory element. By different approaches, we have demonstrated that the 4 cysteine specific T-boxes of C. perfringens respond to cysteine availability and that the T-box upstream of cysP2 promotes premature termination of transcription in the presence of cysteine. Interestingly, T-boxes are present upstream of the ubiG and cysKE operons and the cysP2 gene of C. botulinum[42] as well as the cysKE and ubiG operons of C. kluyveri suggesting conserved mechanisms for the control of cysteine metabolism in these clostridia. By contrast, no T-box is present upstream of cysK of C. acetobutylicum, C. tetani and C. novyi or cysP2 of C. tetani and C. novyi suggesting that other mechanisms of control of cysteine metabolism may exist in clostridia. In other firmicutes, cysteine specific T-boxes are mainly found upstream of cysS encoding the cysteinyl-tRNA synthetase or cysES while cysteine metabolism is controlled by CymR-type regulators in Bacillales and by CysR in Streptococci [16].
In C. perfringens, the expression of the ubiG operon involved in methionine to cysteine conversion and in AI-2 production is submitted to a complex regulatory network with a triple control: i) a drastic induction during cysteine starvation via the cysteine specific T-box system present upstream of ubiG that senses the level of charge of tRNAcys[11]; ii) a control by the VirS/VirR two-component system via the VR-RNA by a still uncharacterized mechanism and iii) a regulation by VirX, a regulatory RNA, which controls toxin production independently from VirR. The control of ubiG expression by global virulence regulators like VirR and VirX suggests a role of this operon during infection. Its control by VirR and VirX might allow i) maintaining the pool of methionine, an amino-acid that cannot be synthesized by human cells and/or ii) limiting the pool of cysteine, an amino-acid that promotes oxidative DNA damages by driving the Fenton reaction due to the efficient reduction of Fe3+ by cysteine [63]. This may contribute to increased resistance to reactive oxygen species during infection.
Finally, several genes are up-regulated during cysteine depletion via mechanisms different from the T-box and S-box systems in C. perfringens. It is worth noting that among the genes induced during cysteine limitation, there is cpe1786 encoding a repressor of the Rrf2 family. Cpe1786 is a good candidate to participate in cysteine-dependent regulation of iron-sulfur clusters biogenesis but maybe also of some steps of fermentation pathways. This deserves further investigations.
Declarations
Acknowledgements
We are grateful to A. Danchin O. Soutourina and M. Popoff for stimulating discussions. We thank A. Antunes and E. Camiade for their help and P. Courtin for metabolite analysis. I. M.-V. and E. H. are full professor and ATER at the Université Paris 7, respectively. Research was supported by grants from the Centre National de la Recherche Scientifique (CNRS URA 2171) and the Institut Pasteur (PTR N°256). G. A was the recipient of a grant from the Ministère de l'enseignement supérieur et de la recherche and from the Pasteur-Weizmann foundation.
Authors' Affiliations
(1)
Institut Pasteur, Unité de Génétique des Génomes Bactériens and Unité des Bactéries Anaérobies et Toxines, Paris, France
(3)
Institut Pasteur, Laboratoire de Pathogénèse des Bactéries Anaérobies, Paris, France
(4)
Université Paris 7-Denis Diderot, Paris, France
(5)
Department of Bacteriology, Graduate School of Medical Science, Kanazawa University, Ishikawa, Japan
Copyright
© André et al; licensee BioMed Central Ltd. 2010
This article is published under license to BioMed Central Ltd. This is an Open Access article distributed under the terms of the Creative Commons Attribution License (http://creativecommons.org/licenses/by/2.0), which permits unrestricted use, distribution, and reproduction in any medium, provided the original work is properly cited.